The Comixpedia End of 2006 Roundtable
|
Xerexes: Everyone here writes about comics -- looking back on what you wrote this year what was your favorite piece and what piece provoked the largest response from your readership?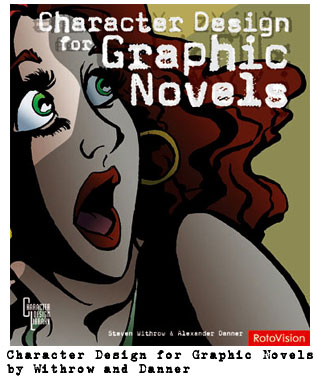 Danner: My favorite piece of writing that I did about comics this year won't actually have a chance to receive an audience response until next year. I've been largely absent for the past half year or so because I've been working on a new book with Steven Withrow, called Character Design for Graphic Novels. And I'm particularly happy with it because we were able to get away from the idea that character design is a purely visual process -- we explored the writing aspects as much as the visual aspects, which I hope will distinguish it from most of the design books out there. More pertinent to webcomics, though, is that in looking at a broad swath of working creators, we didn't draw any sharp distinction between graphic novels in print and graphic novels online. So we have the work of creators like Jenn Manley Lee, Dylan Meconis, and Demian5 discussed right alongside folks like Craig Thompson, Kurt Busiek, and Jeff Smith. My hope is that this will help expose more readers of print comics to online creators who might interest them, and vise versa.
Draper Carlson: The pieces that provoked the largest response are those that I would also nominate for biggest story: the treatment of women in comics, both as people and as characters. Sexism has been a problem for decades (and one, sadly, that some webcomics aren't immune to), and while it's disheartening to note the lack of progress, it's refreshing to see so many individuals aware of and speaking out about the problem. My favorite piece? Probably the interview with manga adaptor Kelly Sue DeConnick that I did for Publishers Weekly Comic Week, because it was so well-received.
Burns: I like a lot of what I wrote this year, though there was a lot less of it than there was in years past. If I had to pick one -- both in terms of the response I got and in terms of the subject matter, I'd have to pick my essay on sexism in comic depictions. It wasn't anywhere near the best such essay written this year, but it's a subject that bears repeating over and over again.
Pellaeon: I think the greatest response from my readership was when I posted my thoughts on the Web Cartoonists' Choice Awards. I think some people may have already been on edge since the WCCAs got so royally screwed up this year, and then I took a cheap shot at Comic Genesis which got interpreted as an attack on the quality of certain comics -- which got me in hot water with some folks. My favorite thing I wrote was when I established some words for the lexicon of my blog that people seemed to really enjoy and even elicited a response from Eric Burns, which I rather enjoyed.
Daku: My favorite was Digital Strips' interview with all the Platinum Studios guys. I felt it was the best one I have done to date.
Milikin: The largest response I got was when Fetus-X was disqualified from the Web Cartoonist Choice Awards category for Romance Comics. Those conversations spread across multiple sites, but there's a roundup of comments on my livejournal site here. I'm still not sure what that was all about other than that some dudes on the Internet decided they know all about being romantic with the ladies, and they thought my comics about how much I miss my dead girlfriend weren't up to their romantic standards. Plus apparently they thought that the person with the long-hair and the beard in my autobiographical comics was like my mom or something. Seriously, I'm not making this shit up.
Tyrrell: I can never tell what's going to cause a big reaction, but I think the biggest response came from the pre-release drama regarding TCampbell's "A History of Webcomics" back in March. My favorite was probably the investigative piece I did about Kris Straub's hidden attacks against T Campbell. If I can toot somebody else's horn a bit, I really enjoyed Eric's well-thought-out dissertation when HOLY CRAP RAY SMUCKLES TORE THAT GUY' S FACE OFF.
Xerexes: We spend a lot of time at Comixpedia on webcomics, but it's always interesting to look at comics as a whole. What were the biggest stories in comics this year and how different are they from what you thought the biggest webcomic stories are?
Burns: At the core -- I really wonder when DC and Marvel became ashamed of superheroes. It's really the only explanation -- both Infinite Crisis and Civil War are wholesale attacks on the very foundations of what the superhero is. Both his trappings (codes vs. killing, secret identities) and philosophical underpinnings (heroes are a good thing in society). Somewhere along the line, they decided they didn't want to be in the superhero business any more, and they've written accordingly. Now, we have devastation across both lines -- and most of the core comics in both lines really aren't appropriate for twelve year olds any more -- and no real exit strategy for them. This pops short term sales, but a year from now who's going to still be reading Iron Man? Hell, *why* would someone still want to read Iron Man? Iron Man's depressing. Regardless, whatever they turn the post-superhero comic into might be interesting, but I have to admit I kind of wish there was still a place for guys and girls in tights fighting crime in comics.
Pellaeon: It's hard to say what really qualifies as "big news" in the comic industry. Is DCs "One Year Later" storyline big news? What about Marvel's "Civil War"? I'm guessing the biggest news of the year is American Born Chinese getting nominated for a National Book Award, suggesting that the mainstream media is finally beginning to recognize graphic novels as legitimate forms of literature. I can only hope that someday my children will be reading comic books in their English class, and not having to hide them behind their "real books".
Milikin: The Danish Muhammad cartoons controversy was the biggest comics story of 2006 and probably all time. It was a powerful reminder of the potential that comics have to shape world events, of the global media network that we're all part of, and of the dangers of cross-cultural miscommunication inherent in making comics in that globally networked world. I would hope that most artists when they see a dozen people die in protests and buildings being torched over comics are forced to evaluate their own role in the world and whether their comics are helping or hurting things.
The other top story that comes immediately to my mind -- and this may just be the timing -- is the recent death of Playboy magazine's long-time comics editor Michelle Urry. First, I think it's important to remember that she did so much for so many artists and readers, and that there are really so many people in comics beyond just artists and readers that make this magic happen. And second, I think with the relative youth of webcomics, the artists and the various webcomics blogs are sort of insulated from mortality. It'll probably be another quarter to half a century, knock on your lucky surface of choice, before we're regularly writing webcomic artist obituaries. I think that each of the many different webcomics scenes will probably change quite drastically when we start blogging about going to each other's funerals. And I think that change will probably be for the better because I think there is a sense of urgency and responsibility and respect and, I don't know how to put this, and just getting the artistic priorities in order that comes with really feeling that sense that tragic death isn't this thing that just happens to other types of people.