Archive - Nov 2006
November 30th
Submitted by Xaviar Xerexes on November 30, 2006 - 18:31
Justin Pierce is stopping Kilroy & Tina - a very funny comic about an alien and a young girl that is currently running on Graphic Smash. It doesn't sound like burnout so much as the realization that K&T as currently structured could take years to finish.
K&T is often very funny and as a premise, it's excellent. (Someone correct me if I'm wrong, but it seems very original.) It's entirely possible after a break, Pierce will find another way to return to the project.
Fleen catches that it's also the end of Ali Graham's HOUSD.
November 29th
November 28th
Submitted by Xaviar Xerexes on November 28, 2006 - 08:02
A recurring comment that popped up in discussions about the announcement of the new animated PvP series was whether or not Scott Kurtz was being hypocritical for embracing almost in total a project and business plan that he had criticized previously when rival videogame webcomic creator Tim Buckley had launched Ctrl-Alt-Del: The Animated Series.
Ok. Not to rag on Scott Kurtz or anything, but someone's got to say it. We've seen lots of announcement posts, some discussion, and a somewhat tangential piece by Eric Burns on voice acting, and people have been dancing around the topic, so I'm just going to come right out and say it:

Scott Kurtz is a hypocritical man and he's ripping Tim Buckley off.

It's a gross oversimplification of actual events, completely one-sided, and a half-truth at best, but someone had to say it.
Is Kurtz being hypocritical? Arguably yeah. Should anyone care? Probably not so much. People can change their minds, people can be inconsistent over time. Would it be better to acknowledge a change in opinion or if possible explain the differences between this PvP project and the CAD project that inspired so much criticism? Probably, but it's understandable why talking about CAD wouldn't be the first thing on Kurtz's mind yesterday.
AROUND THE WORLD IN 80 BLOGS
November 27th
Submitted by Xaviar Xerexes on November 27, 2006 - 07:51
NEWS
INTERVIEWS
JUSTIFY MY HYPE
AROUND THE WORLD IN 80 BLOGS
November 26th
Submitted by Xaviar Xerexes on November 26, 2006 - 13:15
On most some Sundays on her Narbonic webcomic site, Shaenon Garrity has featured a sort of companion piece to the main comic - a Victorian age tale featuring characters similar to the Narbonic comic titled "The Astonishing Excursions of Helen Narbon & Co., or A Trip to the Moon." Today seems to be the last installment. I'm not sure if there's an easy way to read just the Victorian age comics in order but it's worth it. They're charming and the comic as a whole would be worthy of a main project for most cartoonists.
November 24th
Submitted by Xaviar Xerexes on November 24, 2006 - 21:20
REVIEWS
LEGAL
AROUND THE WORLD IN 80 BLOGS
November 22nd
Submitted by Xaviar Xerexes on November 22, 2006 - 10:23
Just a heads up: posting will be low through the rest of the week. Be sure to check out the user blogs for updates!
The turkey day image is from A.P. Furtado (you can check out his comic Elf N' Troll every Monday and Wednesday).
NEWS
INTERVIEW
DEAD TREES
JUSTIFY MY HYPE
AROUND THE WORLD IN 80 BLOGS
November 21st
Submitted by Xaviar Xerexes on November 21, 2006 - 23:46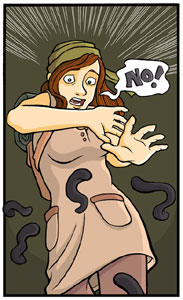 It's the second week of Bomb Shelter Idol. Last week I sang the praises of the fast-paced, buddy-comedy/vampire flick webcomic, Zed Reckoning.
This week I want to highlight a completely different webcomic called What Birds Know. What Birds Know is also incredibly well-rendered with a lot of obvious thought given to the characters, the backgrounds, the "camera angles". It's also well laid-out on the page (each installment is about 660 by 930 pixels which provides enough space to make panel arrangement important). The story of three girls out on an adventure certainly has a much more measured pace then Zed but it doesn't drag even as you read through the fairly solid archives. In fact, Birds seems confident in its pace and its careful layering of foreshadowing and tension is enough to build to what could be a big pay-off. Could be. I have no idea what is going to happen next, but I'm definitely hooked.
So far it looks like both Zed and Birds are safe with the voters in the Bomb Shelter Idol contest. I hope we keep it that way as both of these are great comics in their own ways.