Archive - Nov 2006
November 7th
Submitted by Xaviar Xerexes on November 7, 2006 - 16:53
Dave Roman is asking for help to compile a list of kid-friendly webcomics for Nickelodean Magazine:
The list is including comics that are "okay" for kids...or "all ages"...but I'd really like to find and spotlight ones that are created with kids age 7-12 specifically in mind (Since that's the the Nick Mag demographic). Tricky business, especially on the web where anything goes. I'd rather not link to comics that are on the same site as stuff a parent might object to.
Submitted by Xaviar Xerexes on November 7, 2006 - 10:42
Starting today, Dave Kellett's Sheldon is now available at http://sheldoncomics.com (Fleen reports, "Kellett's new home on the web will be provided by Dumbrella Hosting, parent corporation of Fleen.").
Be sure to check out the note from Kellett on his site explaining the move away from Comics.com.
November 6th
Submitted by Xaviar Xerexes on November 6, 2006 - 23:32
Attention Citizens of the United States:
Get your self to the polls and vote. No matter what crazy automated calls you might hear or flyers you may read to the contrary, the election WILL take place tomorrow TUESDAY, NOVEMBER 7. If it's Tuesday put down the mouse and keyboard and go to your polling place and vote. (Need to know where your polling place is? Try this website which has gobs of information on polling locations.)
Thanks.
Submitted by Xaviar Xerexes on November 6, 2006 - 12:16

Warren Ellis announced on his Bad Signal mail list that Rocket Pirates, a webcomics anthology site ("Stuff Warren Likes") will launch in January 2007.
November 5th
|
This month Neil Cohn presents another essay in his series of features on comics as visual language. This article delves into the notion of "what is poetic" in visual language. Poems reflect the language they are written in. If we conceive of comics as a language then there should be particular poetic "forms" that innately reflect comics as visual language. What is Visual Language's answer to English's sonnet? Read on for Cohn's answer.
Submitted by Xaviar Xerexes on November 5, 2006 - 11:18
Hometown futbol club DC UNITED is in the conference championship. Go DC! (I will be there screaming like an eagle). Okay back to webcomics... UPDATE: DC UNITED lost 1-0. There is no joy in Mudville tonight...
NEWS
The Smithsonian has an exhibit on America's cartoonists: "Cartoon America: Highlights from the Art Wood Collection of Cartoon and Caricature" is now open at the Library of Congress in the Great Hall of the Thomas Jefferson Building, 10 First St. S.E., Washington, D.C. The exhibition features 100 masterworks of such celebrated artists as political cartoonists Thomas Nast, Rube Goldberg, Bill Mauldin and Patrick Oliphant; comic strip creators Winsor McCay, George Herriman, Chic Young, Milt Caniff, Charles Schulz and Lynn Johnston; humorous gag cartoonists Peter Arno and William Steig; caricaturists Al Hirschfeld and David Levine; animation drawings and cels from Walt Disney Productions and Hanna-Barbera; and illustrations by Edwin A. Abbey, John Held and Michael Hague.
CONTESTS
MILESTONES
This Monday (November 6) is the 900 mark for Arthur, King of Time and Space. Congrats!
AROUND THE WORLD IN 80 BLOGS
November 3rd
Submitted by Xaviar Xerexes on November 3, 2006 - 12:48
November's cover is from Shaenon Garrity, the creator of Narbonic (and several other comics). We will have the first stories for the November issue up this Sunday so check for those on Monday morning.
We have a new sponsor this week - a design competition from the website My Favorite Mirror. We'd also like to thank continuing sponsors, the books, The Physics of Superheroes and An Anthology of Graphic Fiction, the 8 Films to Die For film festival, TBS' Very Funny Ads, and the webcomics Alma Mater, Things Change, A Pirate's Life For Me, O''Deer, I See You, Gunnerkrigg Court, Devil Water, Family Bones, and The Flowfield Unity.
INTERVIEWS
AROUND THE WORLD IN 80 BLOGS
November 2nd
November 1st
Submitted by Xaviar Xerexes on November 1, 2006 - 22:18
The Beat reports that submissions are open for nominations for the 2007 Glyph Awards, which will honor the best in black comics and creators.
Materials released from January 1 to December 31, 2006 are eligible. Only completed works will be considered, not works in progress. Online comics creators and newspaper/periodical cartoonists with websites should send a direct URL link to their site or page. Daily cartoonists must have a minimum of one month's work archived and available for viewing; weekly cartoonists a minimum of two months.
Submitted by Xaviar Xerexes on November 1, 2006 - 11:42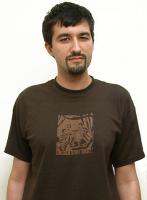 Kris Straub's classic webcomic Checkerboard Nightmare is now out in a book titled: A Brief History of Webcomics.
It's more than 160 classic webcomic parodies, along with five chapters on webcomic history:
Chapter 1. The Boring Years
Chapter 2. The Seven Swordsmen of Online Comics
Chapter 3. Tools of the Trade
Chapter 4. No Milestone Too Small
Chapter 5. Into The Future