Archive - Mar 31, 2006
Submitted by Xaviar Xerexes on March 31, 2006 - 12:39
Jon Rosenberg's Goats is 10 9 years this weekend. I've been reading Goats for about forever and at a long ago point Rosenberg was as crappy an artist as I am. He has, however, stuck with it since then. Practice makes perfect a lot of progress actually.
And of course he's always been funny. So he's got that going for him...
Here's a snapshot of Goats: the first is from April 30, 1997 and the second is from mid-2005: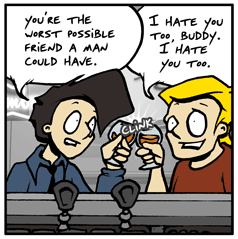 Submitted by Xaviar Xerexes on March 31, 2006 - 10:41
A few housecleaning, self-promotional details first: we added one more article to the March issue this week: Kelly Cooper's column, The Webcomics Reader, which this month examines aspects of comics criticism, including noted critic R.C. Harvey. You can check out the entire March issue by clicking here.
I moved Comixpedia.net over to the new server last night. A few things got garbled in the move and it looks like it's not entirely functional today. My apologies to the toplist members - I will be working on it tonight and I'm pretty confident I'll have it fixed.
Also don't forget that there are two conventions this weekend (at least that I'm aware of): Technicon and Fluke - if you're exhibiting or hanging out at either feel free to post a comment to the note for each convention to let folks know you'll be there.
And now the news! (click through to read more)
|
Another installment in Kelly J. Cooper's quest for webcomics enlightenment. This month, Kelly discovers comics criticism and consults the work of R.C. Harvey.