Archive - Aug 22, 2007
Submitted by Black_Kitty on August 22, 2007 - 21:08
I was visiting my usual round of forums when I stumbled upon a thread about an upcoming magazine called Comix Magazine. The name should be self-explainatory as to what this magazine is about.
[XEREXES: Comix Magazine is not associated in anyway with ComixTalk or Comixpedia. My usual disclaimer on other comic journalism projects applies: if you're a good writer wanting to write about comics, WRITE FOR US!]
Submitted by Black_Kitty on August 22, 2007 - 20:45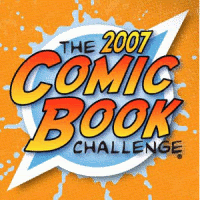 Only three more days left before voting closes for the winner of this year's Comic Book Challenge! The top three finalists were revealed earlier this month and they were: Josiah Grahn's Banana Barry, Shawn Granger's Grey Shades, and Jorge Vega's Gunplay.
The winner of this year's Comic Book Challenge will be announced on August 28th and will be published by Platinum Studios. The winner will also receive a copy of Toon Boom Solo, Comic Book Creator Super Pack, and an Intuos3 6x11 tablet. The winning entry will also debut at a Wizard World Tour event in 2008.
Additional information about prizes and timeline can be found at Platinum Studios' Comic Book Challenge website.
Submitted by posiduck on August 22, 2007 - 05:58
This year at comic-con I made two purchases on spec, as they say. Most of my Comic-Con purchases are from creators whose content I am familiar with. However, I also make a couple of purchases where I don't know exactly what to expect, either on a recommendation or because they look interesting.