Archive - Aug 2007
August 28th
Submitted by Adrian on August 29, 2007 - 00:11
Every once in a while, I feel like punching someone in the face. A crazy person with a chicken intheir hands will approach me on the subway and demand I give up my seat for her, because it's their "special" seat. Other times, the nice people at my cable company's tech support will keep asking me to wait another week before sending the signal, which doesn't come a week later, which prompts me to call, which leads the nice people to ask me to wait another week, in a never ending cycle.
Submitted by moovok on August 28, 2007 - 16:34
Webcomics Anonymous has been swimming around quietly in the facebook group bay for quite some time now but finally it's launched its very first webcomic magazine, available to read, sit at home with and ponder at.
August 27th
Submitted by Adrian on August 28, 2007 - 00:03
I will never look at Snoopy the same way again. Or Calvin and Hobbes, or even Garfield. They have all been ruined for me. Not ruined, but rather changed. Disfigured, you could say.

August 26th
Submitted by Adrian on August 27, 2007 - 00:22
Hello Comixtalk readers, my name is Adrian Ramos, author of something called Count Your Sheep, and I'll be your host this week, thanks to the kind invitation by Xavier. Being here is somewhat of an anomaly for me, as I'm not the most actively involved webcartoonist in the world, but like most artists, I have an inflated sense of self importance and I couldn't resist the invitation to blog.
Submitted by posiduck on August 26, 2007 - 23:23
Let me start out this farewell post by thanking Xavier for allowing me to guest blog here. It has been much fun. I'm sorry my rate of posting lost a little steam towards the end of the week.
Let me also re-encourage you all to check out the comic I do, and if you want to read more of my ramblings, check out my webcomics blog.
August 25th
Submitted by posiduck on August 25, 2007 - 15:28
If not, you are making a huge mistake.
The Non-Adventures of Wonderella is one of the funniest strips I read, and so I want to take this opportunity to make sure all of you are reading it as well.
August 23rd
Submitted by posiduck on August 23, 2007 - 23:03
So, here's something I don't know, and maybe other Comickers could fill me in on the etiquette.
I see various comics do "guest weeks" from time to time. Often the guest week is a fun look at the way another artist would treat the same subject matter or its a fun send-up of the style of the comic.
Here's what I don't know. How do guest weeks happen? Do other artists approach you and ask if they can do a guest strip? Do you ask them? I imagine people who are in collectives have an easier time of this.
August 22nd
Submitted by Black_Kitty on August 22, 2007 - 21:08
I was visiting my usual round of forums when I stumbled upon a thread about an upcoming magazine called Comix Magazine. The name should be self-explainatory as to what this magazine is about.
[XEREXES: Comix Magazine is not associated in anyway with ComixTalk or Comixpedia. My usual disclaimer on other comic journalism projects applies: if you're a good writer wanting to write about comics, WRITE FOR US!]
Submitted by Black_Kitty on August 22, 2007 - 20:45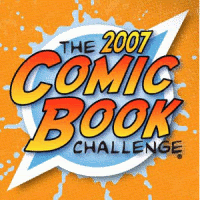 Only three more days left before voting closes for the winner of this year's Comic Book Challenge! The top three finalists were revealed earlier this month and they were: Josiah Grahn's Banana Barry, Shawn Granger's Grey Shades, and Jorge Vega's Gunplay.
The winner of this year's Comic Book Challenge will be announced on August 28th and will be published by Platinum Studios. The winner will also receive a copy of Toon Boom Solo, Comic Book Creator Super Pack, and an Intuos3 6x11 tablet. The winning entry will also debut at a Wizard World Tour event in 2008.
Additional information about prizes and timeline can be found at Platinum Studios' Comic Book Challenge website.