Archive - 2009
November 12th
Submitted by Xaviar Xerexes on November 12, 2009 - 10:50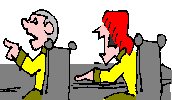 A round of applause for Paul Gadzikowski, creator of Arthur, King of Time and Space, which reached the 2000th update milestone. And moreover, Paul has updated the comic every single day. Start updating those ultra-marathoner webcomic lists now! (h/t to Fleen).
Submitted by Xaviar Xerexes on November 12, 2009 - 10:17
Well it's not everyday I get a press release from Slovenia:
Just as a press-release, we would like to inform all comic and webcomic oriented media that the first online weekly comic from tiny Slovenia, called Paradise Misplaced, recently hit the web.

Created by small-time hermit and self-proclaimed holy man Anonymus Gosh, it recounts the goings on in Eden at the beginning of time with a fresh sin being propagated by a different animal every week. Adam, Eve, God and the gang have not only the old-fashioned snake-and-apple to fear but also monkeys selling tropical fruit, sloths offering comfy beds and bunnies plugging the playboy lifestyle. Read it (and even better, review it publicly in for many readers) every Sunday at www.paradisemisplaced.si
November 9th
Submitted by Xaviar Xerexes on November 9, 2009 - 12:21
I thought this story on how Kiva, a new micro-lending site and organization, really works might be of interest to many webcomic folks, particularly those who got involved with Team Webcomics. Still sounds like a worthy approach to charity but it also may not be what it was perceived to be by many.
November 7th
Submitted by Xaviar Xerexes on November 7, 2009 - 14:13
Herman the Manatee Gets Hit by a Boat is like those Peanuts strips with Charlie Brown, the football and Lucy except they're underwater, Charlie Brown is a manatee, Lucy is a boat and there is no football! Despite the repetition of the same basic joke (how many times can Herman the Manatee hit his head on a boat?) creator Jason Viola does a pretty good job of keeping it funny. The mini is a collection from the ongoing webcomic version of Herman the Manatee. There's also a second mini out called Herman the Manatee Fails Again but for some reason I didn't pick it up (maybe Jason was already out of it when I walked by his table at SPX).
Herman has been online for two years now - Viola updates every Wednesday. It's surprisingly familar to reading Peanuts, the laughs are low-key and mixed with shades of doubt and angst. The last little storyline of Herman following his friend Knuckles the Narwhal to Manartica is a pretty good snapshot of the comic's style.
Submitted by Xaviar Xerexes on November 7, 2009 - 13:36
I picked up Jeff Gibbons' mini comic Fading Memories #1: Caricatures at SPX this year. A short little tale about the time he had to draw caricatures of the cast of his highschool play. To be honest, there's nothing actually all that exciting or moving about this comic to someone who wasn't there, but it's a story competently told (and that's nothing to discount). So I checked out his website (marketing 101 -- URL on the mini? check!) an infrequently updated journal comic called Pretty Jeff. It had a few moments (like this one and this one), but mostly it's pretty rough.
Sometimes life isn't all that interesting -- there are reasons for fiction and crafting a tale that's compelling is sometimes easier to do when you're not bound by the constraints of your memory of how things actually were. Don't take this short blurb the wrong way (especially you Jeff if you ever read this) - I hope Gibbons keeps at it, maybe pushes himself to tell another complete story and take some liberties to make it truly compelling reading.
November 6th
Submitted by Xaviar Xerexes on November 6, 2009 - 10:46
The Boston Comics Roundtable, in partnership with River Bird Studios, is pleased to announce the release of the premier issue of Outbound, a Science Fiction anthology. Outbound is a spin-off of sister publication Inbound, the anthology of comics from Boston. Outbound contains comics and short stories from a mix of Boston-based creators and artists all over the world, from Australia to South America, including a cover from talented Uruguayan artist Marcelo Buchelli.
November 4th
November 1st
Submitted by Xaviar Xerexes on November 1, 2009 - 22:13
500 webcomics is still a pretty tough milestone on the road of webcomics. And perserverence in comics is nothing to sneeze at. Congrats to Joe Chiappetta on 500 installments of his all-ages family webcomic Silly Daddy! Here's the press release:
The family comic series, "Silly Daddy," posts its 500th online cartoon November 9th, 2009. Started as a print comic book in 1991 with the birth of his first child, cartoonist Joe Chiappetta has received much award recognition for the series, including Harvey and Ignatz nominations. When his story arc combined science fiction with real life family drama and humor, he won the Xeric Award.
October 29th
Submitted by Xaviar Xerexes on October 29, 2009 - 11:10
Ideally anyhow. Just a reminder that ComixTalk does review comics in all forms now (not just webcomics) so if you want to send us a review copy of a book send it to ComixTALK world HQ care of Robert Tanner, P.O. Box 3362, Arlington, Virginia 22203.
Right now I've got a review copy of Malice by Chris Wooding on my desk - extremely cool packaging of this book (a molded cover gives it a little extra heft); I also got a review copy of The Good Neighbors: Kith (Book Two) by Holly Black and Ted Naifeh but it's a sequel so I may try to pick up the first volume before reading it. I just finished the print collection of Rice Boy from Evan Dahm which I bought from Dahm at SPX this year. A little expensive for a paperback (although it is in full color) but factor in the fact that you already read it for free on the web. Rice Boy deserves more review and praise online (unless I'm just not googling it right) -- it's has this demented Dr.Seuss artwork that creates a sustained other world from Dahm's imagination. I was struck by how much more I enjoyed it as a book -- taking a long chunk of time to sit in a comfortable chair and just read it through.