Archive - Apr 2006 - Story
April 30th
April 28th
Submitted by Xaviar Xerexes on April 29, 2006 - 00:02
Just watched it - early sci-fi, right after 2001. It was John Carpenter's first movie (you can tell its Carpenter b/c of the monotonous one note music throughout that he likes to write) based on his student film. It's really dry, sort of a parody, very dark. About a crew out in space for a verrry long time and they're all bored, lazy and slightly crazy. The ship is falling apart.
Submitted by Xaviar Xerexes on April 28, 2006 - 10:42
Alison Bechdel, creator of Dykes To Watch Out For posts in her blog about the possibility of charging readers a modest subscription fee to receive the comics via email as soon as they're done. Bechdel would delay posting them on the web for a month or so. And if that's not enough she offers an alternative idea:
Hey, and what about this? The email version could be like HBO. I could leave all the swear words in, and perhaps even have occasional frontal nudity. Instead of the #@&*'s and artful drapery that I employ in the newspaper version.
There was a lot of discussion from fans in the comments there. I wonder what Comixpedia readers think of this idea. Surely someone has tried this already - has it worked for anyone?
April 27th
Submitted by Xaviar Xerexes on April 27, 2006 - 21:12
Pete Abram's Sluggy Freelance is one of the longest running webcomics out there. In some ways it hasn't changed dramatically - looking at our first from 1999 and our last from 2006 next to each other the changes seem evolutionary and not revolutionary.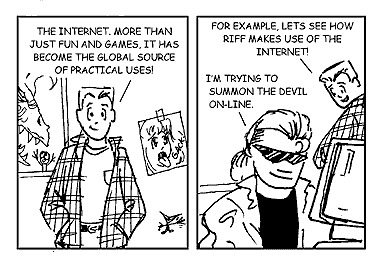 First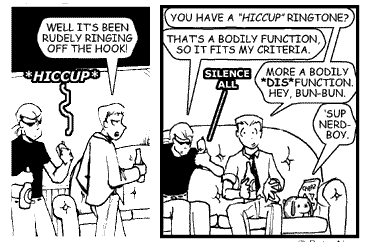 Last
Of course for certain storylines such as "Oceans Unmoving", Pete Abrams has also ventured far from his usual style and produced more elaborate artwork for Sluggy.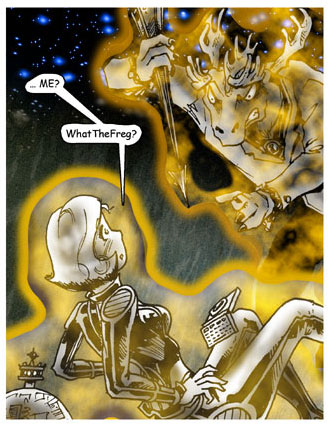 Submitted by Xaviar Xerexes on April 27, 2006 - 13:24
Nothing new in this piece about an upcoming panel on newspaper comics but it's a bit... galling to hear a bunch of established cartoonists quoted as saying nothing new is every going to be any good. I guess I'm specifically reacting to this quote from Cathy Guisewite:
To me a strip should run forever because it's a classic. They have meaning to me, and no new newspaper strip is going to earn that place in my heart.
Leaving aside lots of additional snark I could write about this piece, a few thoughts on the neverending story of the newspaper comic "crisis". Of course newspaper comics are in trouble - the entire newspaper business while still generating profits every year is not growing. Many newspaper companies though are starting to get the fact that they're in the news business - not the newspaper business. Either they are trying to adapt or they're planning on squeezing as much cash as possible out of the papers until they die.
Webcomics are still a messy and chaotic place but it is growing. Maybe we'll never have a Calvin & Hobbes again in terms of sheer audience but that's no different then most mediums - we'll never have a M*A*S*H-size audience for most television shows again either. That doesn't mean we won't have television, or comics, that is as good or better but with so many more choices around the audience will by definition be smaller.