Andrew Farago's blog
Submitted by Andrew Farago on March 10, 2009 - 20:40
It's been a crazy few weeks here, mostly due to things at work. First up, for those of you who are interested, here's a long interview with me at the Comic Book Resources website.

Submitted by Andrew Farago on March 5, 2009 - 00:28
As promised, photos from WonderCon:
This is in between a 14-hour workday and a 10-hour workday in the midst of an eight-day working week for me, so I look a little bit worn out in this shot. If I'd known that Adam was going to be wearing sunglasses, I'd have brought a pair...
And this is going on my wall as soon as I can find a frame that's able to contain it:
Submitted by Andrew Farago on March 1, 2009 - 02:28
Check out Dave Gibbons's recent visit to the Cartoon Art Museum, courtesy of G4.
I ended up on the cutting room floor, but at least Joe Keatinge of Image Comics managed to mention me.
And FYI, there are still tickets available to CAM's March 5 preview screening of Watchmen. Check out our homepage for details.
Next up: My meeting with Adam West. Tune in for the exciting conclusion of WonderCon soon--same Bat-Time, same Bat-Station.
Submitted by Andrew Farago on February 25, 2009 - 04:08
My life's officially, undeniably weird. What was the turning point? I dunno...I think it was more of a cumulative thing.
Submitted by Andrew Farago on February 18, 2009 - 04:33
More silliness in this week's William Bazillion.
In fact, the whole feature is about to collapse under the sheer majesty of all of the insanest things in the world coming together into a big mass of weird. Or something.
In other news, please buy tickets for the Cartoon Art Museum's upcoming events, including a whole mess of Watchmen stuff, WonderCon stuff, and other fun stuff. Lots of stuff.
Submitted by Andrew Farago on February 12, 2009 - 05:49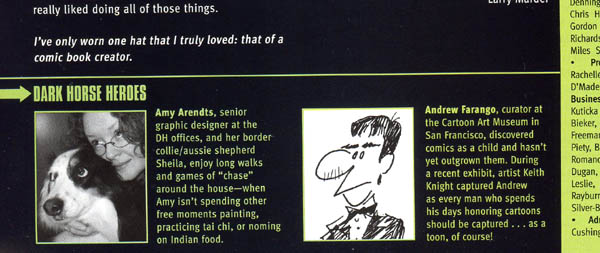 Yep, it's my cousin, Andrew Farango, whose career path and life story are almost identical to mine.
Just like my other cousin, Andrew Fargo, who also seems to get around a lot.
Anyway, if you're interested in getting a hard copy of this, last week's Kull #4 and Buffy The Vampire Slayer #22 have it. Mr. Farango might even sign them for you if you can find him at WonderCon later this month.
Submitted by Andrew Farago on February 11, 2009 - 03:59
The recession hits William Bazillion today as overwork forces me to use a LOT of Photoshop to get this week's installment done in between my other projects.
Submitted by Andrew Farago on February 10, 2009 - 14:07
I was interviewed recently by Jazma Online. Read the full interview here.
The photo for the article was taken at the 2008 National Cartoonists Society Saturday morning business meeting, and I look amazingly attentive despite operating on only about four hours' sleep while recovering from a day of construction work in the Ninth Ward.