Keenspot Gets WICKEDPOWERED
Submitted by Chris Crosby on December 19, 2006 - 04:00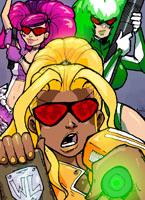 Webcomics publisher Keenspot Entertainment has teamed with handheld laser developer Wicked Lasers to produce an original branded webcomic series called WICKEDPOWERED. As one part of a major sponsorship agreement spanning the entire Keenspot network (and which also includes exclusive sponsorship of the Keenspot header bar and a minimum number of Leaderboard banner adviews per month), Keenspot will produce a new comic installment three times each week.
WICKEDPOWERED, a full color sci-fi comedy adventure by the creative team of Keenspot's SORE THUMBS, follows the adventures of a laser-wielding all-girl SWAT team sent back in time by Wicked Lasers' future counterpart to stop a time-tossed alien threat from destroying humanity.
"WICKEDPOWERED is transparently inspired by '80s cartoons, which were almost always toy advertisements disguised as entertainment," said Chris Crosby, co-writer of WICKEDPOWERED and co-CEO of Keenspot. "In spite of that, those shows managed to win the hearts of a generation with their earnest fun and awesome cheesiness. While Wicked's lasers definitely aren't toys (though they're certainly as fun), we're attempting to do the same sort of thing for an older audience that's into webcomics. It's just fun!"
"I'm super excited about WICKEDPOWERED," says illustrator Owen Gieni. "This comic is a blast to draw. Wicked Lasers has been great to work with, they're letting us just throw it all in there."
The first four installments can now be found at wickedpowered.com, with a new comic published every Monday, Wednesday, and Friday.

ABOUT WICKED LASERS
Wicked Lasers (http://www.wickedlasers.com) is an intensely driven high power laser company building intensely bright lasers. Headquartered in China, they build a quality product that is safe when used properly for many applications. Wicked Lasers has a reputation for supplying the most advanced portable laser technology available, with its website wickedlasers.com ranked at #34,832 by Alexa and sales steadily increasing 300% over the last eight quarters.

ABOUT KEENSPOT ENTERTAINMENT
Keenspot Entertainment (http://www.keenspot.com) is a multimedia entertainment company that publishes the work of thousands of comics creators. Keenspot.com is the company's central website, tying together 50+ exclusive free webcomics comprising more than 30,000 pages of exclusive comics content. ComicGenesis.com, Keenspot's free webhosting service open to all aspiring webcomic creators, hosts an additional 8,690 independent webcomics.