The ComixTalk 2009 Roundtable
|
How will comics creators organize themselves in this new world -- does EVERY creator have to be an entrepreneur assembling a business out of a mix of other companies' services and do-it-yourself work or there be other models emerging? What trends have you seen in 2009?
Garrity: I hope alternate models emerge, because I'm terrible at the entrepreneur thing. "I was never a salesman," Harvey Kurtzman once said, and I have the same problem. But I haven't really seen anything come along beyond the usual combination of elbow grease, salesmanship, and luck. One hopeful trend is the enormous diversity of audiences and interests you now can tap with webcomics...as long as they're kind of geeky. A few years ago, when it seemed like a webcomic had to be about video games or anime to be successful, who would've guessed that the biggest thing on the web would be xkcd, a sitck-figure strip about math? That's deep geekery.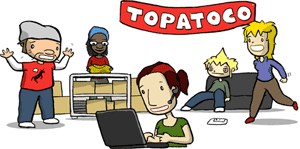 Tyrrell: Some of the most important people in the world of comics-on-the-internet occupy space on the second floor of a converted mill building in Easthampton, MA. The distribution services provided by Topatoco over the past couple years have been critical to the success of literally dozens of creators, but with their move this year to becoming a book publisher, along with their prints-on-demand capabilities, are pushing them towards becoming the one-stop shop of business services for independent artists. I believe they will shortly be in the position of providing the services of a traditional publisher, but being a fee-for-service business instead of a we-own-your-IP business.
Badman: I think we'll see more people collaborating and pooling resources (like Act-I-Vate (though I sure wish there were a better way to filter their posts)). Maybe we'll see more companies taking on webcomics as iphone type serialization options... I'm not much of a trend watcher, when it comes to business models.
Alverson: While there are some publications that incorporate webcomics into their mix, Smith Magazine and Narrative come to mind, the entrepreneur selling merchandise is still the dominant model. However, I'm also seeing a lot of people who don't necessarily think of themselves as webcomics creators, but use the web for comics that haven't found a home elsewhere (older work, things they haven't been able to get into print, works that are still in development). Generally these folks are quite professional, with their own well-designed websites, regular update schedules, etc. Examples of this would include Ethan Young's Tails and Rich Tommaso. The flipside of that is that for a lot of creators the webcomic plays second fiddle to their higher-paid print work or day jobs in the field. That sometimes means that good comics get dropped in the middle when a creator is in demand.
Woodruff: It seems as if banding-together in loose collectives might be one trend on the horizon. You get a creator or two who can also do web stuff, a couple of social promoters, someone to source for cheap merch to print on and a few creators with different kinds of styles who all share the home site and cross promote... it could work for awhile or for a long time with the right people.
Fesworks: I can't look at this question and not immediate think of comics in newspapers. In short, I'll say that their current model will NOT work with the coming technologies and trends because they are so NOT DIY. There are too many people involved for your typical newspaper comic, that it will not be as profitable as a DIY comic or webcomic. But to avoid going into more of that argument, I for sure see a BOOST in more successful, DIY comics and webcomics.
Draper Carlson: I suspect that many creators will want to follow models that worked in the early years without realizing that things have changed. You can no longer be one of the first people to put out a video game comic and get attention just for that. Unfortunately, I suspect many creators will continue to devalue the work of support staff. I'm thinking, in particular, of editing, which gets a bad rap but would benefit a number of projects. A small entrepreneur wants to pinch pennies, smartly, and may not know the best time to purchase services from others. But to make it easy for them winds up reinventing the syndicate or similar organizations. It's a tough question.
Cruz: I think a lot of this hinges on how the brick-and-mortar publishers (Marvel, DC, Image, Dark Horse) adapt to the web. There's going to be a mix. There are just some things that are better done with the support of teams of people. And if webcomic properties are going to one day be on par print comic counterparts in terms of marketing clout and pop culture penetration, I'd imagine you'd need a larger support team than just one writer and one artist. The most telltale trend I've seen in 2009 are the huge pushes DC has been making with Zuda Comics and Marvel's dedication to its digital properties. Neither are perfect, but I think both are in an experimental phase at the moment. Once they get all the kinks worked out… watch out.
What new stuff this year -- in terms of tools, services, websites, etc -- did you think improved how webcomicsdom works from the creators to the readers to anyone else involved in it? And as much as anything new happened this year, I was struck by the seeming lack of big announcements from more veteran webcomic entities like Comicspace and Keenspot.
Tyrrell: I'd like to see some of the long-delayed business services that ComicSpace has been promising start to get offered. Hell, I'd like to see other people that think they can provide these kinds of services jump in -- they won't all be equally good, they won't all attract the same clients, but right now, there's a pretty big need that's only likely to grow. I think it's just a matter of time before we see some partnerships between these services companies and tradition fee-for-service businesses like agents, lawyers, and accountants. It will not be long before you sign with one of these services shops and they hand you a menu of all their offerings and you check off which things you're going to farm out to them.
Woodruff: Twitter and maybe Facebook serve as neutral grounds for people to communicate. Readers can access creators and give feedback very easily. I notice very few trolls on Twitter as opposed to forums and even blogs with comments.
Garrity: One side effect of the increased diversity of webcomics is that it's harder to keep up on all of them, and a website has yet to emerge to fill that need. Fleen does what it can, and Websnark has restarted on a limited basis, but I'd love to see more dedicated webcomics blogging.
Fesworks: Well, we all know that WordPress has certainly been big for webcomics. For the longest time, ComicPress has been the foremost application in comic presentation, however little creators may have customized it. More recently, Webcomic+Inkblot has been picking up steam and has debuted several additional ways to present one's comic as well. I'll go on record to say that Webcomic easily surpassed ComicPress as far as functionality and usability, though ComicPress hasn't stopped improving either. Which one you choose to use may be a matter of taste.
Alverson: One thing that's all over the web at the moment is the microfinancing site Kickstarter, which several creators, including Spike, creator of Templar, Arizona, are using to raise working capital for new projects. This is still very new, and it will be interesting to see where it goes.
I think that as the web matures, people are veering away from mass hosting sites like Keenspot. It¹s not that hard to set up your own site with your own, easy-to-remember domain, a nicer design, and total control of the ads. There is a paradigm shift going on within the Modern Tales family right now; Girlamatic has relaunched and has a lot more energy and a much more visible editor, which makes a noticeable difference. I'm watching to see if this idea gets any traction.