The ComixTalk End of 2007 Roundtable
|
Xerexes: A slightly different, but similarly big story was DC's Zuda project which, instead of putting legacy DC comic book content online, created a contest format for new material to be created specifically for the Zuda website. There are a couple of things about this that interest me. One is trying to parse out what the benefit to creators is for going with Zuda. Traditionally a publisher did things for a creator that a creator couldn't do or that the publisher could do more efficiently than the creator - is DC offering those kinds of things with Zuda? The other is the work-for-hire approach to copyright that DC is taking. This kind of approach seems very common in traditional comic businesses but comics, and webcomics in particular, also has a large number of independent creators who are making comics and keeping their copyright. Is an approach like DC is taking right now with Zuda entirely sustainable or will we see changes next year?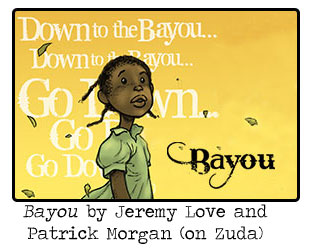 Deppey: I have no idea how many people will or won't be tempted by Zuda's set-up, and so I'll be skipping lightly past the first observation. As for the second one: The insidious thing about the deal DC is offering through Zuda is that it doesn't look like a work-for-hire deal at first glance, but has all the strings of one without the corresponding trade-off for serious talent (i.e., a significant paycheck). Holding onto the copyright is meaningless unless you have the trademark as well, and the mechanism for getting your trademark back under Zuda's system leaves DC Comics with all the cards -- all it takes for them to tell you to piss off is a thousand dollar check every once in a great while. Money? Until you've built up enough material for a book deal, you're being paid peanuts -- and even after the deal, you're getting far less out of it than a deal with a more ethical publisher would give you. I get a distinct pimp-at-the-bus-terminal vibe off of Zuda. "Hey babe -- yeah, you, the teenage girl with the suitcase. First time in the big city? I can get you a place to stay. A job? I can cover that, too. Why don't we go back to my crib and talk about it..."
Spurgeon: Comics in general is so starved for gigs with any sort of investment involved that it's going to be hard for DC to totally screw it up if they stay focused and continue to be able to write checks. They're going to have to ratchet expectations down a ton, but I imagine the quality of the first offerings and the initial hit figures pretty much did that for them. I've not thought of Zuda once in the time between the site's launching and today, and it's true that the best webcomics creators aren't going to see enough reward in the model, but I don't think this ever had to hit it out of the park to continue going.
Tyrrell: DC positioned Zuda with the "Yay! Webcomics!" message from the beginning, but post launch it's clearly nothing to do with webcomics. Most of the entries feel a lot more like print comics than webcomics, and they're mostly from people with established histories working for comics publishers. So it's not going to do anything for webcomics creators, since it's clearly positioning itself for creators with a history of work-for-hire. It's not going to change, and the need for an anti-Zuda (what I call "Aduz") to provide for-fee or for-percentage business service to the webcomics community remains. Whoever brings that business in first will grab up a lot of the making-a-living-at-webcomics creators, and allow for others to take the plunge.
Dijkhuis: Zuda does one thing that most webcomics creators can't do for themselves, which is write checks that don't bounce. Like Tom Spurgeon already said, as long as they're willing and able to do that, Zuda is sustainable. And, as long as people understand and consent to what they get into when they trade in their copyright for cold, nearly-hard cash, their copyright approach is fine by me. A lot of artists could do really well on that trade-off.
Alverson: What DC offers a creator is the imprimatur of a major publisher. Even though Zuda is simply the webcomics arm of DC, there is a certain prestige that attaches to being selected by them, rather than setting up on a site that allows anyone to post a comic. Also, a big company is more visible. It looks like a little community is already forming around the comics on the site, so I think some of these webcomics will find an audience and continue even if they don¹t win the competition. In fact, the people who benefit most may be the creators who don't win the competition. They build an audience and get to keep the rights. I would imagine it will be a nice stepping stone to a deal with another publisher, one where you might have a little more control over the terms. As for the rights, here's what I think: Everyone should have 1. A lawyer and 2. An idea of how much they are willing to give up on any given project in exchange for cold cash. If you have a drawerful of comics, that calculation is going to be much different than if you have only one.
Badman: Frankly, I'm confused by the competition aspect of Zuda, it's like a bad American Idol (which is pretty bad). Just looking at the "cover images of the comics there makes me go somewhere, anywhere else. The work for hire model is not sustainable, especially when you're not dealing with iconic properties. Other publishers don't generally work that way, and I think more comics artists are realizing that.
Shea and Gallatin: I can't see Zuda's approach taking the webcomic world by storm. Sure there are artists out there for whom Zuda's framework will fit like a glove, but in my opinion and experience, webcomic creators have so much invested emotionally in their comics, that Zuda just won't work for them. I think most of them would rather keep doing comics as a hobby than sell the rights to their "baby". I don't know many webcomic artists that have agents and lawyers to watch their backs.
MacDonald: Zuda is very misunderstood. Despite what a lot of people have said, it actually pays a very competitive page rate, which you can't get anywhere else. The thing it offers creators that they don't automatically get going it alone is MONEY UPFRONT. The Zuda deal isn't that much worse than the regular DC creator-ownership deal (which is more like a creator rentalship, in some ways.) It's not a great deal if you want to merchandise and license your IP. However if you want to get paid to draw comics and get a piece of any subsequent pie, it's a reasonable way to go.
That said, the interface is odd, and the whole contest model is just weird. Zuda is refreshingly transparent in many places and then frustratingly oblique in others. I think it is sustainable in that obviously there is a corporate mandate to create content on the web at DC, and they spent a lot of money to develop the interface, so I think it will continue for a while. How successful it will be is dependent on the material. Always the old demon content.
Xerexes: We saw a major development in Josh Roberts and Joey Manley's new partnership (Comicspace) in the sense that outside investment is going into two entrepreneurs who it seems to me really have built their businesses outside of "comics". We saw a lot of announcements of putting comics on smaller devices like phones and iPods. What other business-of-comics stories caught your attention this year and what kinds of developments do you see coming next year?
Tyrrell: The new ComicSpace is not only the biggest business-of-[web]comics story of 2007, it's likely to be the biggest of 2008. I really want to be hiding under Manley & Roberts conference room table when they do their "this is what we want to be doing in 3 years" pitch to their investors.
Deppey: I think I side with Gary on this one. Joey's been talking about getting out of online publishing and into online services for years now, and actual investors could give him the power to bring his big ideas into action. (I don't know Josh, but the fact that Joey's willing to vouch for him goes a log way toward earning him the benefit of the doubt from me.)
It seems to me that the size of the splash the new ComicSpace venture makes will depend upon two things, one fairly easy and one nightmarishly difficult: The easy one is top-level domains. Can I use these services from the vantage point of MyComicName.com, or do I have to be a "tilde" under ComicSpace.com (to use an old Web 0.5 term)? The difficult one: Can I buy e-commerce services from ComicSpace.com without having to pay for a full merchant's account to handle credit-card purchases? If Josh and Joey can square this circle, they might well succeed in building the MySpace of online comics, with the Amazon of self-published comics tacked on for good measure. Failing that, they might well wind up being little more than a glorified hosting company, and that won't be enough to make the impact that they clearly desire.
MacDonald: Well, I would argue that Robert and Manley are in comics, unless you mean just printed comics. Like everyone else, I think this is a hugely significant move. Finally you have two people who have proven vision being given some money to do something new. This is something I will watch very closely in '08.
Other things that caught my eye -- a lot of big corporations getting into developing content for the web, in an advertorial sense, like Jonas Moore, the web property sponsored by Triumph starring Colin Salmon. Not that I think big corporations have any clue what to do with webcomics yet, but it's interesting to see money being thrown at the format. Everyone knows that someday there will be a Peanuts or Calvin and Hobbes for the iPhone/iPod and there will be a lot of money to be made at it. The nets are being cast into the water so loudly all the fish are being scared away.
Alverson: I think the sleeper story is Netcomics, which has been running a dead-simple subscription webcomics site for two years now. They're a branch of the Korean publisher Ecomix, so they have a huge inventory of manhwa, but this year they expanded their offerings to include Japanese and global manga. Their model is to offer the comics cheaply online and then sell the books as they come out, and it must be working, because I suspect at least one other manga publisher is getting ready to do the same thing next year.

Dijkhuis: On the specific aspect of putting comics on smaller devices, my artistic mind just has to rebel against the idea a bit. It would seem to me that the last thing we should be doing with our comics is make them smaller. Though as an experiment I prepared some comics for Clickwheel a while ago, and if you can live with what Jakob Nielsen calls relevance-enhancing them, i.e., chopping them up and cropping and scaling them, it's possible to make it work.
The new partnership looks like it could be very big indeed, mainly because of the complementary strengths that Joey and Josh bring to the table. But only if they get the show on the road in the next few months because the Web 2.0 boom isn't going to last forever. I'm not aware of any other business story that compares with that, at least not where webcomics are concerned. If and when Platinum comics becomes the train wreck that many have predicted, that might become the biggest story of 2008, but I'm not looking forward to that happening.
Spurgeon: I thought the fact that book publishers wanted to cherry pick Francoise Mouly's kids comics book line instead of backing someone with that much knowledge to do what she does was pretty telling. The size of some book deals and to whom they're going was on a lot of cartoonists' tongues this summer.
Shea and Gallatin: I'm always interested in the charitable side of comics. It amazes me how a group of people with very little in common with each other outside of doing a comic seem to come together and help out like the recent The Kids Book Project.
Badman: The thing that most catches my eye is the increasing prominence of comics in the mainstream media. The coverage even gets past the "comics aren't for kids" template. Next year... who knows. Hopefully better comics regardless of how we get them.