Kate Beaton
Submitted by dave_roman on September 29, 2009 - 14:01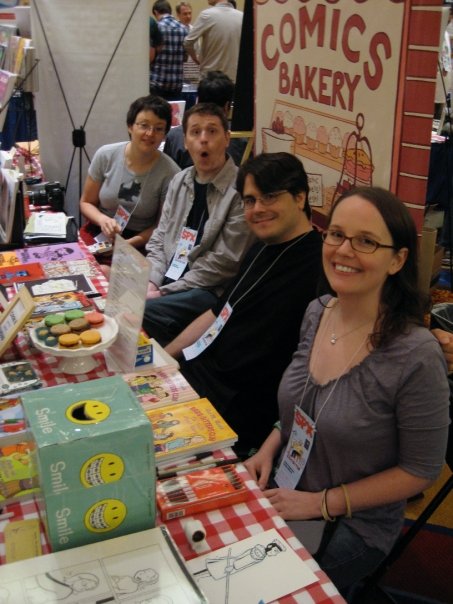 This year confirmed for me that Small Press Expo is officially the BEST all-around comics convention for people who truly love reading and making comics.
Our drive down in our brand new car (named Ponyo) was smooth as could be. We stopped at Pizza Hut along the way so John could cash in a gift card. Breadsticks were consumed by all. It inspired us to sing
Submitted by El Santo on September 28, 2009 - 14:20
SPX took place this weekend in beautiful Bethesda, MD, and webcomics were there … apparently in full force. Here are a couple of snippets I discovered courtesy of The Beat.
First off, some observations from Johanna Draper Carlson:
Submitted by Xaviar Xerexes on September 23, 2009 - 13:37
Hey it's the coolest little comics show that could, the Small Press Expo in Bethesda, MD. It's this Saturday and Sunday and thanks to the very gracious and cool Mrs. X, I am shirking husband and fatherhood to check out the show on Saturday afternoon. There is an insane number of AMAZING comics-making folks at the show and a good set of speakers and panels.
I'm going to check out the "Comic Strips: Online and In Print" panel with Kate Beaton, Erika Moen, R. Stevens, and Julia Wertz and the "Critics' Roundtable" with Rob Clough, Sean T. Collins, Gary Groth, Chris Mautner, Joe McCulloch, Tucker Stone, Douglas Wolk and Bill Kartalopoulos.
Submitted by CalamityJon on September 10, 2009 - 11:56
So, last week, my girl and I went down to the local library and perused their sale bin where she found a well-illustrated gardening book (which I'll be scanning soon-ish and which I expect will be of some interest to
lord_whimsy) and I found a children's primer of Ben Franklin, "Ben Franklin of Old Philadelphia".
Submitted by El Santo on July 30, 2009 - 20:17
Last spring, the wife and I booked a trip with another family on a cross-country flight to Virginia. "Visiting family?" our friends would ask. No, we were actually touring Civil War battle sites.
To which they would inevitably say, "Why in the world would you ever want to learn about history?!?"
Submitted by El Santo on July 13, 2009 - 01:39
Well, time for The Joy of Webcomics to get back to its roots. This entry was originally set up to look at a smattering of interesting comics, and somehow I lost my way. Well, no more! This Joy of Webcomics will be all about sampling digital comics that make our day just a little bit more joyous.
Submitted by Shaenon Garrity on July 12, 2009 - 00:29
The Cartoon Art Museum of San Francisco (www.cartoonart.org) is organizing "Monsters of Webcomics," a showcase of cutting-edge webcomics work. The show's ten spotlight artists have already been selected. However, the museum also wants to include a virtual gallery of as many other webcomics as possible. If you're interested in having your art included in the virtual gallery, email curator Andrew Farago at gallery@cartoonart.org.
Feel free to spread this information around the webcomics community. The museum wants a wide range of comics included in the show.