Inside the Webcomic Studio with Gordon McAlpin
|
Do you have any long term goals or ambition for the future of the comic?
I do have a long term goal for Multiplex: to end it.
There are several larger, themes in the strip, some of which have been introduced already, some haven't, and some I haven't even thought up yet, I'm sure.
All of the major characters — Kurt, Jason, Melissa, Becky and Franklin — have long-term character arcs, and I know (in a general sense) where all of them will end up. When all of those pieces fall into place, I'll cap off the series and end it. I don't really know when that will be; it could be seven years from now, or fifteen, but it's definitely a long, long ways off.
Outside of Multiplex, I'd like to get back to writing and drawing non-fiction comics, like I did with Stripped Books. I think I can leave the combat zones to Joe Sacco, but I really enjoy doing non-fiction comics. The non-fiction elements in Multiplex probably make that obvious.
Well how long can you imagine yourself creating Multiplex for then? Do you have a sense of when it'll be time to wrap it up?
I want to just let the story develop organically; I'll know when it feels right to start wrapping things up. Jason's still basically a kid right now — he turns 22 on November 7 — and he's got a lot to learn and do before I can end his storyline the way I want it to.
But I could go on doing Multiplex forever in some form. As long as Hollywood exists, I've got plenty of material to work with, right? I'd love to do an animated version where things stay locked in time, with Jason and Kurt in the red vests for all eternity.
Any plans for a print collection?
Always, always. I'm working on Volume One with hopes of finding a publisher, but I'll self-publish if I can't find one. I'm very slow about working on the new material for it, so it's not really that far along, I'm sorry to say.
I want to add a little more detail to the character-based stuff and touch on movies I missed the first time around. Since Multiplex is set more or less in real time, back when the strip was only updating weekly, there was a lot I missed or had to sell short, so there's a lot to add in this first book.
It would really help if I could quit the day job and just work on comics full-time, but so far, that's just not an option.
How do you go about promoting your work? What seems to be most effective at pulling in new readers?
By far the most effective way I've found to promote Multiplex is Project Wonderful. Set up a campaign for an 117x30 ad with a useful tag to weed out sites that wouldn't be relevant, keep the pay rate low and spend as much as you can afford. I recycle almost every cent of ad revenue I get from Project Wonderful back into advertising through Project Wonderful.
If you monitor PW in tandem with Google Analytics, you can get a good sense of which sites are really effective for YOUR strip to advertise on: high new reader percentages and high average pageviews are arguably even more important than numbers of visitors. The best-performing sites at that ad size are good candidates to target with specific bids in their larger ad boxes, if they have any.
On top of Project Wonderful, I've advertised at a few non-webcomic-related sites. They're never as cost-effective as PW, and sometimes they're an outright waste of money. But, when successful, advertising outside of Project Wonderful brings in sky-high new reader percentages, which balances things out somewhat. (I've found that on PW, a good new reader percentage is around 30%; outside PW, it's around 90%.)
I would think that a webcomic with a strong non-comics hook like Multiplex does with its focus on movies would have lots of opportunities to advertise in movie-related venues. Have you been able to hook new readers who otherwise don't read comics because of the movie angle?
I don't really know! I get the impression that some of the movie theater employees (and ex-employees) who read Multiplex don't read many — if any — other comics, but I'm not really sure the movie angle is a big draw on its own.
If comments I've seen at various non-webcomics-centric sites have been any indication, Multiplex is a tough sell to people who don't read any comics, because it's not a gag strip. Hell, it's a tough sell to some avid comics readers, because the humor isn't gag-based, or whatever.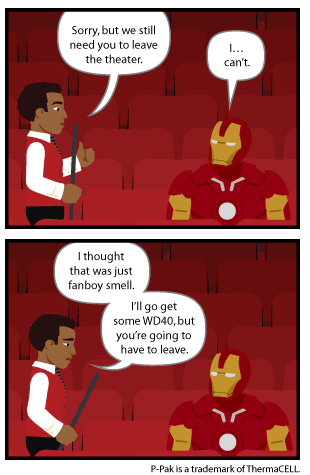 Any collectives you're working with? If so can you tell us about what kinds of things does the collective do and how does it benefit everyone in it?
Not at the moment, no. I love all the Boxcar Comics guys, and my involvement with Boxcar brought in hundreds of new, regular readers and helped contribute to Multiplex's "presence" in the webcomics scene (if you can call it that) for a long time, but I just felt that it was kind of stagnant for a long time and decided to go my own way.
Of course, I still co-host the Triple Feature with Tom and Joe, who were Boxcar mates of mine. I suppose you can call that a mini-collective of movie webcomics, but it's really just the podcast.
What conventions are your favorites to exhibit at? What advice do you have for others just starting to show their work at conventions?
I've only ever gone to Wizard World Chicago, and since I've never had much of anything to sell, I've mostly just popped in and glommed a few feet off of Tom for a day or so.
As far as advice: stand up when you're not drawing sketches, and hand out free shit, if at all possible — a postcard, a mini-comic, whatever. Most people will walk by and just kind of wave their hand, but it's a way to engage people who would otherwise just walk by and not even look at you, and they might check out your strip when they get home.
Do you have a favorite convention story?
I was out drinking with the Boxcar guys in 2006, I think, and Mitch Clem was getting a little tipsy. They had all seen how I drew by hand for the first time earlier that day, when we were doing some jam comics, and Mitch said something like, "I like Multiplex but if you can draw like that, why are you messing around with that computer shit?!"
He totally denies this ever happened, but I thought it was hilarious. I can see how traditional cartoonists don't really "get" the vector art thing, but I enjoy working in the style every bit as much as I do slinging ink. It's just that Multiplex got popular, and that's the style I was using for it.
Do your fans bring you cool things at shows?
It hasn't happened yet, alas.
Dear fans: I like alcohol.