Comixpedia's People Of Webcomics List For 2006
It's the third annual Comixpedia People Of Webcomics List. This was the hardest one yet to compile. There's a lot of webcomics and a lot of people doing interesting things in and around webcomics. This list, as in past years, is an odd effort to compare apples and oranges: artistic achievement, audience popularity, technical achievement, business savvy, news-making impact all go into the mix. In re-reading the list as compiled this year, I might be tempted to describe it as a combination of those people who are casting a large shadow on webcomics and those we think should be casting a large shadow on webcomics. Undoubtedly you (yes, I mean you!) will disagree with some or even all of the list -- that's what comments are for.
(If you want a refresher on past POW Lists here's the link to 2005 and to 2004.)
For our third annual List of People Of Webcomics (or as I've come to think of it -- The POW! List) let's stipulate right up front that most of you are going to disagree with some or most of the list. A lot happened this year. And a lot more people got their fingers into webcomics in some fashion or another. The lines of "webcomics" if they ever were clear are very blurry now.
And yet what we cover at Comixpedia and what most people think of first when they think of webcomics still has a center of gravity distinct from comic books and newspaper comic strips. And the potential of webcomics remains unfettered. Webcomics are well-positioned as a concept, as an attitude, as a means of distribution, as a medium and as an ethos to overcome any limitation previous forms of comics have imposed on themselves or been trapped in by the expectations of the general public.
This year's list is quite different than previous year's installments although there are still some familiar faces, some of whom did really interesting things in 2006 -- as interesting as they have ever done previously. And we still say no one should ever make too much of the individual rankings on the list, but for the record, the number ones for the 2004 list (Scott Kurtz) and the 2005 list (Mike Krahulik and Jerry Holkins) do return to the list again this year.
The list is an attempt to highlight those persons who through art, innovation, business, or just plain presence have cast a big shadow on the webcomics landscape this year. We tried as much as possible to focus on 2006 which helps to explain why some otherwise very influential people are not on this year's list.
No matter why they're on the list, we think all of them, in their own ways, were just plain cool to watch this year. So without further fanfare, check out The POW List for 2006.
25. Thomas Siddell
Tom Siddell started his webcomic Gunnerkrigg Court in August 2005. By the time the 2006 Web Cartoonists' Choice Awards were handed out for 2006, Siddell's webcomic was chosen by his peers for the Outstanding Newcomer award.
Siddell lives in Birmingham, UK. Like another artist from England, Siddell's Gunnerkrigg Court features well-done, yet interesting art combined with a whimsical fantastic story that contains hints of darker tones to come.
Find out lots more in Comixpedia's interview this month with Tom Siddell.
This is Thomas Siddell's first time on the POW List.
24. T Campbell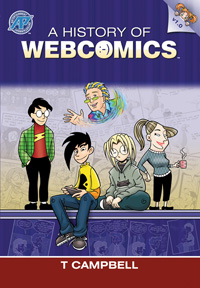 T Campbell had a slightly lower profile year in 2006 then in years past despite the publication in May of his A History of Webcomics book. Still the History book, based in part on a series of articles Campbell wrote for Comixpedia was the first effort to capture in print the details of the first decade of webcomics. Perhaps it's inevitable that any such "first draft of history effort" particularly one written as said history was still unfolding would cause at least some controversy for who or what was included and left out. The actual debates that unfolded online seemed fairly tame in light of the potential the subject holds. And clearly there's room for additional writing in this area, both to refine what's already been written, but also to uncover islands and continents of webcomics still overlooked.
Even though prior to 2006, Campbell had wrapped up or stopped several previous webcomics, such as Fans and Rip & Teri, Campbell still had his hands full writing for comics this year. Campbell's webcomic Penny & Aggie, with artist Gisele Legace, returned to Keenspot and continues to update. The pair also put out a collection of the comic in print: The Best of Enemies: A Penny & Aggie Collection.
Looking ahead to 2007, Campbell will soon see the debut of the long-planned monthly series Divalicious! which is based on Pop Star, a comic Campbell did with artist Amy Mebberson for Tokyopop's Rising Stars of Manga, Volume 5. The comic will be published by Tokyopop and the series is already available for pre-order.
Campbell is also a regular commentator on webcomics and comics generally, maintaining a regular podcast called Meanwhile, while also blogging. Most recently he's taken on a position as "webcomics editor" with the comic news site Broken Frontier.
This is T Campbell's second time on the POW List (#8 on the 2005 POW List).
23. Tim Demeter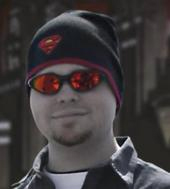 Tim Demeter has quickly become one of the hardest working folks in webcomics. His action, anti-hero webcomic Reckless Life appears on Graphic Smash and on the comics for iPod site, Clickwheel. This year he took over the editing reins of the Graphic Smash site where he has helped steer the site in its transition from subscription to free webcomics. He also took over as Associate Editor at Clickwheel where he has a hand in determining the comics produced for the Clickwheel service.
This is Tim Demeter's first time on the POW List.
22. Act-I-Vate
The collective Act-I-Vate made a significant spash in 2006. The collective features work from indy comic "stars" such as Dean Haspiel, Nick Bertozzi, Jason Little and Jennifer Tong. Although the idea of a "virtual studio" was not as groundbreaking as Act-I-Vate's press releases might have made it sound ("Act-i-vate is an experimental cyber studio generating new comix content owned by the respective creators," explained Dean Haspiel. " Act-i-vate is a hub glued together by the love and art of eight authors.") it was significant that major talents from the world of print comics banded together to publish comics online in what is essentially another webcomic collective.
And despite the less-then comic friendly navigation system of a LiveJournal site, the members of Act-I-Vate have consistently published webcomics on the site throughout the year. Another break in the (webcomics) wall.
This is Act-I-Vate's first time on the POW List.
21. Scott Rosenberg
Scott Rosenberg is the chairman of Platinum Studios which made a splash in webcomics this year with the purchase of the webcomics host Drunk Duck and it's subsequent efforts to combine web and print publishing for title such as Cowboys and Aliens and Hero By Night.
This is Scott Rosenberg's first time on the POW List.