Review - Gibson Twist's Pictures of You
Submitted by madscott on March 20, 2007 - 09:06
Ok this is a case where I'm doing the right thing and I'm going to talk about something I just stumbled on while browsing the smackjeeves.com forum.
Gibson Twist is the creator of a few webcomics. Pictures of You, Cheap Shots, and The Whiskey Devils. I'm going to start right out with one of his comics.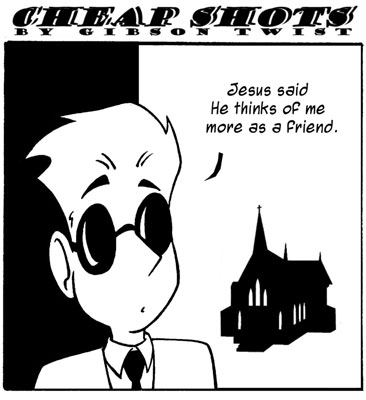 I most certainly laughed my ass off thank you very much.
I started writing this to praise the webcomic Pictures of You, which attracted my attention with images of likely my favorite Cure song. Pictures of You is very well written. The self narration moves the story quickly enough to not get dull. There is plenty of soul searching and the main character Peter. You will please forgive me as I have only just started reading it but the short of it is that Pictures of You is like a reflective memory of Peters life in college. Gibson Twist doesn't take short cuts on the art either. Honestly it's one of the better Black and White comics I have read. More people need to be talking about Gibson's work.
I'll cut this off here. Check out Gibson Twist's work. you will honestly love it.
Scott