Comix in the Classroom
Submitted by Pear-pear on October 16, 2007 - 00:02
In my British Lit classes, much to my high school juniors' dismay, we've been reading Macbeth. To gague their understanding, I've tried several methods of quizzing: short answer, multiple choice, reader-response, double-column notebook...and yes, having them draw comic strips.
Below are a couple great examples. I'd love to do a study of (as Neil Cohn might put it) the "dialects" of visual language present in the comic strips my students submitted. For example, in the first one, the author has adopted a kind of flow-chart notation to show multiple entities producing the same speech, and has also adopted the use of asterisks to differentiate SFX from speech. Several students drew speech bubbles with the tails reaching all the way into the mouths of the speakers, reminding me of 19th century cartoons. Others' speech bubbles were reminiscent of the banderoles used in medieval/renaissance narrative paintings.
The second cartoon is by a student who has evidently discovered my webcomic. I'm still laughing at her visual quotation...and it proves that a box of Waffos in the corner improves any story.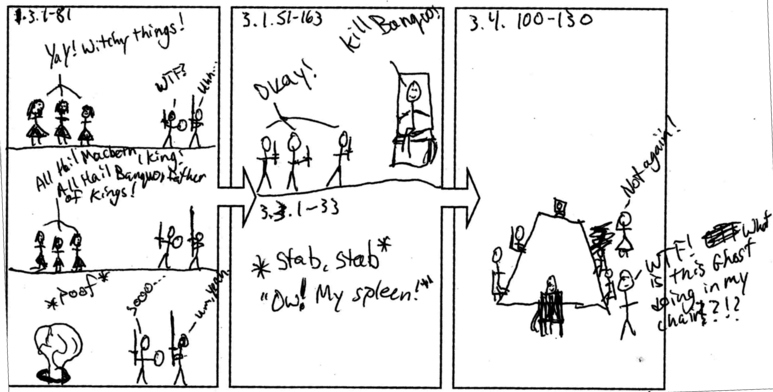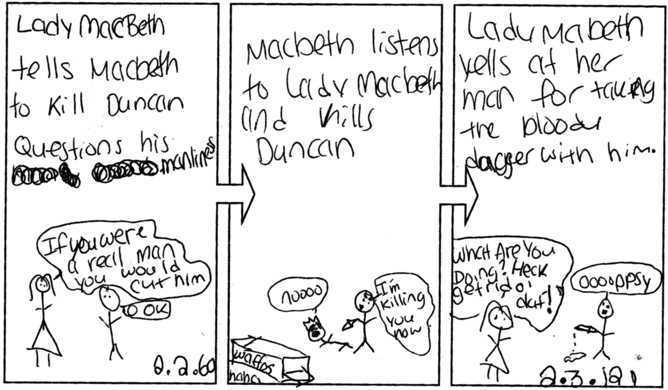 Finally, I like the implicit comment in this second strip: Macbeth's lines, in a way, really are redundant to the action.
Best,
Peter