Subtle Distinctions
Submitted by Pear-pear on October 25, 2007 - 22:59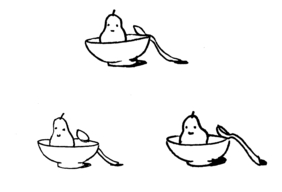 One of the challenges that keeps me drawing Pear Pear is the facial expressions. I intentionally don't thumbnail or sketch the cartoons out in pencil before inking. This is because if I do, the sketch often comes out better than the final product, which is the most frustrating thing in the world.
However, the result sometimes is that I'll draw Pear Pear or his friend the mug several times before giving up and going with something else. You can see this in #32. In the rejected versions to the left, I was trying for a kind of almost maniacal serenity: Pear Pear is so pleased to have evicted the apple from his bowl that he doesn't know what to do with himself. I just couldn't nail it. The one on top comes closest, but he's a little too abstracted. There's too much remembering-a-joke in the one on the right; too much isn't-my-little-nephew-growing-up-properly in the one on the left. In the final cartoon I threw my hands up and went for a relaxing-in-the-hot-tub kind of pleased.
Other times, some inexplicably complex emotional information just sort of comes out. I feel like this is the case with the water glass in #26, or the mug in #19. It's those moments where I feel like the characters are truly developing and rounding themselves out. They get a little more life of their own every time they own a moment I throw them into.