Popular Web Comics & Manga The Devilfish Project, Family Bones, Innocent, & Devil Water
Submitted by tvoice on March 10, 2008 - 12:39
Ever increasing fears of internet pirates have caused many companies to look for ways to tighten security, King Tractor Press has not only unlocked their doors but left them open. In what seems like a totally insane move, King Tractor Press is making two of their most popular comic book titles available free online. Working with Wowio.com, the small independent comic book publisher has released Family Bones and Devil Water for free.
King Tractor Press is making their comic book / manga back catalog available online for free. Working with Wowio.com, the indie publisher is embracing the internet instead of fighting the illegal downloading that is already happening.
"We're too small to fight every internet pirate," said Claudia Nolasco, King Tractor Press representative. "So why not join them? If fans are going to download our books anyway, why not let them download them straight from the source? At least then we retain control over the work. With Wowio as a e-manga partner we're able to leverage the best possible solution to the problem that many publishers face today. Wowio.com has helped us join with advertising partners who pay a small fee and allow us to make the manga available for free. This is good for us, good for advertisers and especially good for fans of comic books and manga. I think it's a win-win-win."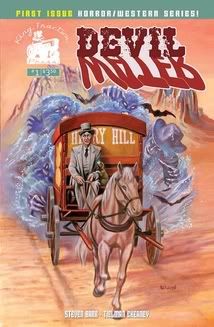 The free titles can be downloaded at http://www.wowio.com/users/searchresults.asp?nPublisherId=132
The first two titles available online are King Tractor Press' highest in overall sales. "Family Bones" is the true crime comic book that's been a hit with critics and readers alike. It's the story of Ray and Faye Copeland as told through the eyes of their unwitting nephew. The city boy must learn to adapt to the rigors of farm life and survive the murderous plot going on around him. It's written by Shawn Granger, an actual great nephew of the Copelands. The first five issues are available now; the sixth issue should be available in February.
Reviews of "Family Bones" have been consistently positive over the year. "...delivers something fresh in a superhero stuck field," said Bart Croonenborghs of Broken Frontier. Dave Baxter said, "I recommend Family Bones for any reader looking for a long-term payoff, for a story that will inexplicably call them back every month and demand to be placed on the top of their weekly reading pile." Indy-Pendant's Brant Fowler said, "...both intrigues and sends chills up my spine."
Shawn was quick to jump on board to the new idea of offering his comic books online for free. "I think it's a great idea," he said. "I'm surprised that you don't see more of the big companies doing this. With 'Family Bones' you've got such a niche market already, and then how many true crime fans go into comic stores? Actually from the sales, a lot do...but not as many as surf the net. And that's the point isn't it? I don't write in my closet for only myself. I'm writing to entertain as many people as I can while stuffing them into my closet. The more the merrier."
The second series being offered through this new free online program is Steven Barr's "Devil Water". The horrific and comedic series about Henry Hill's encounters with outlaws, demons, angels, and religious fanatics in the Old West, a gang of bandits murder an old prospector who has discovered the Mother Lode. When they blast their way inside, they discover more gold than they could spend in a hundred lifetimes...and a pool of magical water that makes the gold irrelevant.
When asked Mr. Barr said "I'm very happy that more people will be reading the comic. I'm really proud of the work we--" He was cut off as he was swept up in the picket line for the Writer's Guild strike. "Devil Water" received accolades from several online comic book review websites and magazines. Comic Avalanche said of Devil Water that it's "...well done, the dialogue is fitting, and the art is superb." HeroSpy.com says "incredibly cool" and Silver Bullet Comic Books says "captivating and intriguing."
This new direction will not affect the continued support for printed books. King Tractor Press plans to continue to print and distribute its catalog through Diamond, Ingram and through many book outlets. "We're not going to stop printing comic books, graphic novels, or manga," Claudia pointed out. "We've got 'Innocent Volume 1' going out to stores this month and first volume of collected issues of "Family Bones" will be soliciting in the spring. King Tractor Press is definitely not going to pull back on printing, but we're convinced that making the online versions available for free won't hurt sales. At least we hope not."
"Keep an eye out for two new sci-fi series appearing as free e-comics next month," Claudia reported. "We'll be releasing the first issue of 'Gene Gardens' and 'Mr. Phelps Space Detective' in February 2008. Plus the manga 'Innocent' is being packaged for download. It's all very exciting."
About King Tractor Press"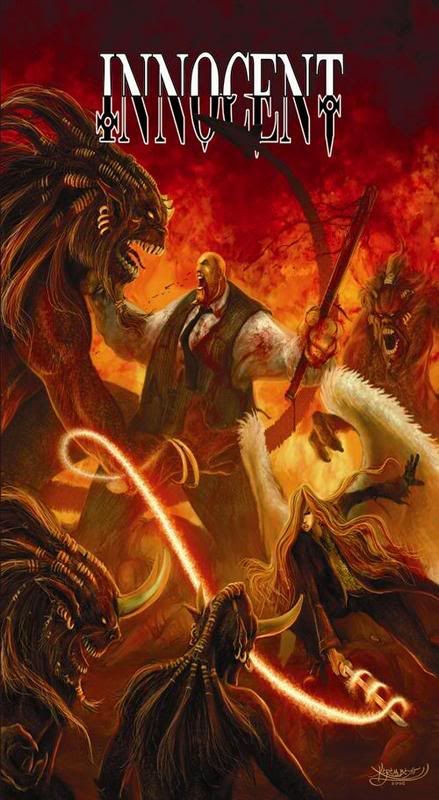 Since 2004 King Tractor Press has published many popular independent manga, comic books, and graphic novels including "Innocent" ISBN-13: 978-0978748623 - NOV073695, "Family Bones" ISBN-13: 978-0978748609, "Devil Water", and "Alecto : Songbook". "Gene Gardens" and "Mr. Phelps Space Detective" will join the line-up in early 2008. The website is at http://www.kingtractorpress.com.
Contact King Tractor Press at info @ kingtractorpress.com