Keeping busy
Submitted by dave_roman on March 4, 2008 - 13:45
Believe it or not, I do leave the house every now and then. But only if it has to do with comics!
Here's a list of stuff I'll be at in the next few weeks: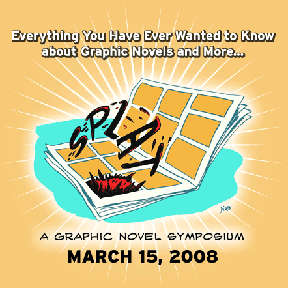 MARCH 15th
SPLAT! A Graphic Novel Symposium
at the New York Center of Independent Publishing (NYCIP)
I'll be participating on this panel:
Comics: For Kids, Too
2:15PM - 3:30PM
When the shift in comics readership came, it caught people by surprise. Even though articles about "graphic novels for adults" are often titled, "Comics: not just for kids anymore!" - the interesting truth is that comics are now read more by adults than by children. This panel brings kid-friendly authors and editors together to talk about the special art of making comics that can capture kids' imaginations and keep them reading comics for life.
Featuring:
Misako Rocks!, Writer and illustrator, Biker Girl, Rock n' Roll Love.
Dave Roman, Nickelodeon Kids editor and comics creator.
David Saylor, Vice President, Associate Publisher and Creative Director for Hardcover Books, Scholastic Inc, and Founding Editorial Director of the GRAPHIX imprint at Scholastic.
Frank Cammuso, Eisner-nominated Creator, Max Hamm, Fairy Tale Detective.
Moderated by Janna Morishima, Director of Diamond Kids Group, Diamond Book Distributors.
MARCH 25th
The Comic Book Club
8:00pm at the Peoples Improv Theater. Tickets are just $5!
This is a live talk show performed weekly at the popular improv theater.
I'll be a guest along with fellow Nick Magazine related folks Evan Dorkin (Milk & Cheese) and Chris Duffy (Bizarro Comics).
MARCH 29th
Kids Comic Con
Bronx Community College
Free for children 17 and under. $5 for all others
I'll have a table with the Comics Bakery.
APRIL 12th
Jim Hanley's Universe
Signing from 2-4PM with Raina Telgemeier (Baby-Sitters Club) and Josh Elder (Mail Order Ninja)
APRIL 18th-April 20th
New York Comic Con
The biggest convention on the east coast is supposedly even bigger this year.
I'll be hosting a panel about a TV show called, Avatar: the Last Airbender on friday afternoon.
(time TBD)
My comics creating co-horts, the Comics Bakery will have a full-sized booth on the main floor and we'll be joined by Kean Soo and Johane Matte of Flight Comics!
APRIL 26th & 27th
Stumptown Comics Fest
Lloyd Center Doubletree hotel in Portland Oregon.
Raina and I are special guests!
MAY 3rd
Free Comic Book Day
Supposedly doing something at a library in NJ. More details to come!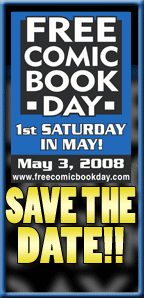 MAY 4th
Sleeping in!
MAY 19th
Going to see the Swell Season!