For real?
Submitted by dave_roman on February 7, 2008 - 10:29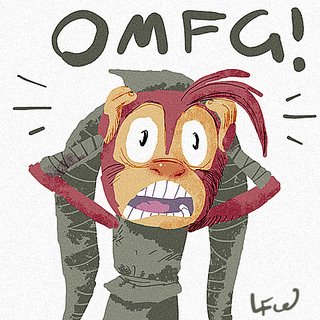 After years of questioning its fate, part 1 of ALIEN CIRCUS is finally going to be released as a real book!
This is the graphic novel series I wrote a few years ago for Platinum Studios that was eventually serialized as a webcomic.
Alien Circus is an old-fashioned action/comedy/space adventure about an orphan who runs away to join the circus and ends up part of an intergalactic rebellion to overthrow the ruling monarchy (from which he descends!). It's beautifully illustrated by the brilliant cartoonist (and Australian folk-hero) L. Frank Weber who many people say gives a "Euro-comics flavor" to it.
There is a full page ad in the February issue of Previews on page 334 (thanks to Brett Warnock for the heads up!) in which I learned of its latest title incarnation: "The Adventures of Tymm: Alien Circus". According to the ad, this book might appeal to you if you like: Jurassic Park, "Boys in the Hood", & Werewolves By Night!
I assume they are comparing it to John Singlton's BoyZ N the Hood.
I have no idea why! There aren't any urban lessons, or dinosaurs, or wolfmen in Alien Circus…so they must be comparing things on a deeper thematical level!
;)
Marketing tags aside, I do hope that comic shops will take a chance and order this book.
It's like the alien son I gave up for adoption, who years later I found changed his name and wants to be a part of my life again (just like in the story)! I think Alien Circus/Adventures of Tymm has aged well and is a welcome addition to the growing market of all-ages adventure graphic novels.
The technical info:
FEB08 3968 ADVENTURES OF TYMM ALIEN CIRCUS #1 (OF 3) FULL COLOR 64-pages. $5.95
(Page 333 in Previews)
The final cover doesn't seem to be posted anywhere online so here's an earlier version: