alternative kids comics for the mainstream
Submitted by dave_roman on February 6, 2008 - 15:42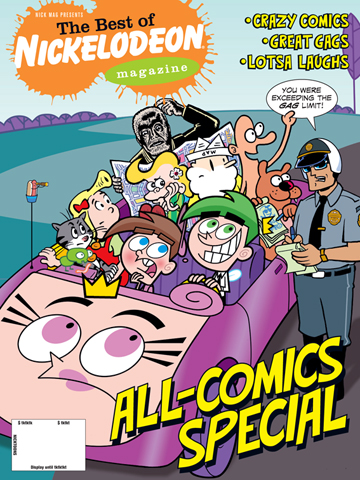 Lots of people are talking about how there aren't enough comics for younger kids. And my comics loving friends are always saying it would be cool if Nick Mag had more pages of original comics. Of course, I agree!
So hopefully lots of you will check out the third volume of The Best of Nickelodeon Magazine ALL-COMICS SPECIAL which is on newsstands right now!
Continuing the tradition of Nick Mag's previous ALL-COMICS SPECIALS, this latest collection pulls from over 14 years worth of material that will entertain comic fans of all ages.
In it, you'll discover rarely seen work by groundbreaking comics creators such as Dave Cooper, David Mazzucchelli, Bobby London, Kim Deitch, Michael Kupperman, Craig Thompson, Svetlana Chmakova, Mike Mignola, Klaus Janson, Hellen Jo, Jay Stephens, and many more.
So be sure to pick up a copy for yourself and to share with anyone who loves comics that are fun!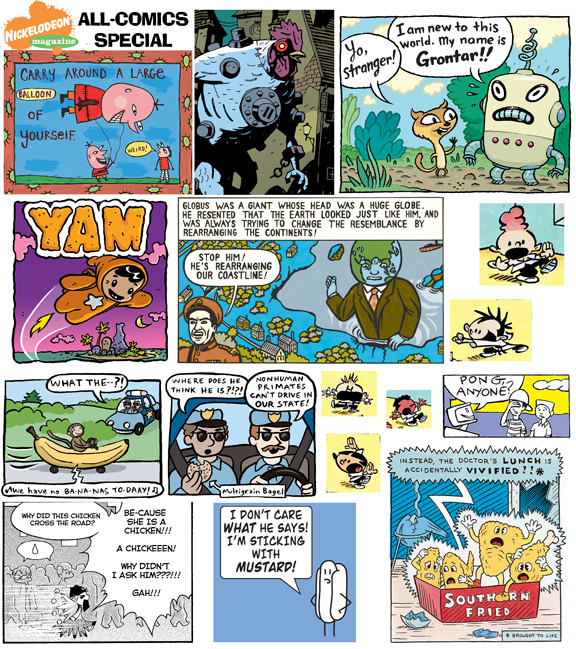 This special issue spotlights cartoonists James Kochalka (American Elf) and Mark Martin (Runaway) who have created two of Nick Mag's most popular comics: Teen Weeny and Impy & Wormer. They not only reveal their characters' secret origins but also collaborate to draw the first ever team up!
To show how the same idea can lead to very different comics, we asked six cartoon creators to make a comic using the famous joke "Why did the chicken cross the road? To get to the other side." Are we feather-brained or what?
The ALL-COMICS SPECIAL also includes Ellen Forney's brilliant tutorial "Draw Your Own Eye-popping, Rip-roaring, Spine-tingling Comics!" which is a great resource and a great read!
Here's a complete list of all of the contributors…
Cover by Mark Martin
Comics and gag cartoons by:
Stephen DeStefano
Dave Cooper
Craig Thompson
Ellen Forney
William Van Horn
Emily Flake
Graham Annable
Craig Boldman
Henry Scarpelli
Mike Mignola
Klaus Janson
Svetlana Chmakova
Karen Sneider
Bob Vojtko
Ian Baker
Johnny Ryan
Bill Alger
Marc Bilgrey
Steven Weissman
Evan Dorkin & Sarah Dyer
Michael Kupperman
Charise Harper
Corey Barba
Dan Moynihan
Terry Laban
Jef Czekaj
Bobby London
Scott Cunningham
Sam Henderson
Gary Fields
Mick Stevens
Kim Deitch
Simon Deitch
Jay Stevens
Scott Roberts
Dan Abdo
Robert Leighton
Ariel Bordeaux
David Mazzucchelli
Butch Hartman
Jeff Albrecht
Wes Dzioba
R.Sikoryak
Tim Hamilton
Hellen Jo
Jen Sorensen
Stu Chaifetz
Lee Loughridge
Comicraft
Dave Stewart