anime for the winter
Submitted by dave_roman on December 13, 2007 - 00:42
Here's a clip from the panel I hosted at the NY Anime Fest last weekend
(might be kind of random if you aren't a huge Potter or Avatar fan):
Thanks to Alison Wilgus and Tina Lam for co-hosting!
Here's a photo from the live Trivia Bending battle at the same panel: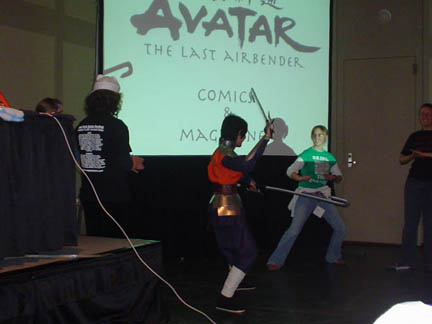 And some Avatar cosplayers about to kick my butt for not giving more spoilers: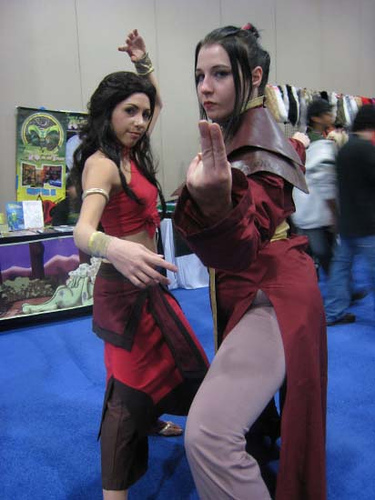 Overall, the NY Anime Fest was an interesting experiment/first year show.
Considering it was organized by the same folks behind the NYCC and Book Expo, people expected a lot. Perhaps too much? It certain seemed so on Friday, which was scarily slow—like an awesome party that someone forgot to send invites for. I got nervous that I had over-prepared for my Avatar panel, nut my fear was misguided because at least 100 people ended up in the panel room, so maybe panels were the main attraction. There was a pretty impressive line up all weekend.
Saturday was much better overall and even seemed genuinely crowded at times. Still not up to the level of Otakon or Anime Boston (the 2 biggest anime shows I've been to), but certainly much more of an event than Anime Next (which is held just outside of NYC). The big manga publishers and anime companies certainly seemed to be out in force. The Tokyopop booth was especially impressive with its huge displays, library area, garden, and free tea! I have to say it was probably the best balance of cool and welcoming I've ever seen at a show. Akin to the Slave Labor booth at San Diego, only with even more multi-media and decoration.
And yet most of the people I spoke to in Artists Alley seemed to not be impressed by the poor sales and lack of paying customers. Lots of theories were thrown around about it being too close to Christmas or the fact that it follows on the heels of several other cons where fans might have already spent all their money. It can't be cheap to find a hotel in NYC in December. And maybe the younger kids' parents won't let them near a dangerous city only to potentially ride a subway and walk along the West Side highway in various cosplay! This is where the convention center/hotel/indoor mall combo of Anime Boston really makes for an idea locale.
Retailers I spoke with seemed pretty bummed out too, so I don't think poor sales were unique to the struggling artists. This led to many conversations and questions about whether online downloading was affecting the DVD marketplace. Looking for deals myself, I couldn't help but wish that more anime companies would package complete series as box sets (at reasonable prices) and stop focusing on overpriced individual disks. But I digress.
I can't complain too much because my table did better than breaking even (mostly thanks to T-shirt and button sales). But if the NY Anime Fest raises their table prices next year you can guarantee most artists will just opt not to take another risk. Fingers crossed!
All said, I really hope that the NY Anime Fest can grow into a successful show. Partially just because of NY pride! You can't beat our mix of local publishers, creators, bookstores, etc., that helped make the NY Comic-Con such a big deal (although that's not exactly our most profitable show either). Overall the people who organized it really did a good job with the events and panels. And if NY Anime Fest can focus even more on the art side and capture some of the magic of the MoCCA Art Fest, that would be fantastic! But how do they attract more people to show up and spend money? Seems tricky!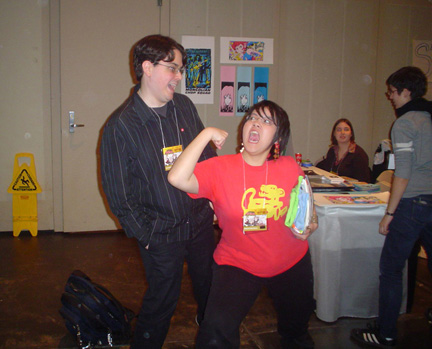 Here's me with Tina Lam: former Nick intern, awesome illustrator, and one of my co-hosts for the Avatar panel.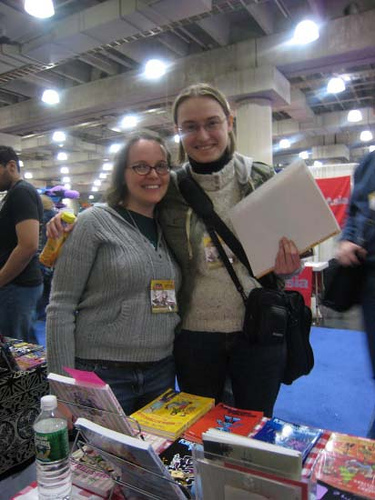 Raina with Svetlana Chmakova, who's Dramacon 3 was just released before the show and had a big tea party celebration at the Tokyopop booth. I just read the book last night and loved it!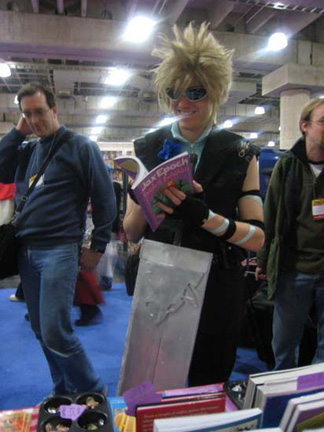 I'm always happy to see characters from Final Fantasy checking out my graphic novels.
There was a good share of cosplay at the show, which always makes for entertaining afternoons, even when things are slow! I didn't get any pictures but the most popular choice seems to be going as L from Death Note. I can't blame them since it's a pretty easy look to pull off and just an interesting character. I've been digging the Death Note manga and just started reading the 4th volume. Hooked so far!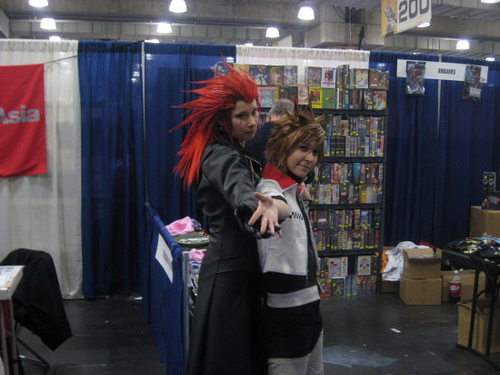 If I could get my hair that spiky I totally would! Kingdom Hearts cosplay has been a fan favorite for the past few years.
The climax of my weekend was the Del Rey/Marvel panel on Sunday, where they announced the X-Men and Wolverine manga series and who would be working on them…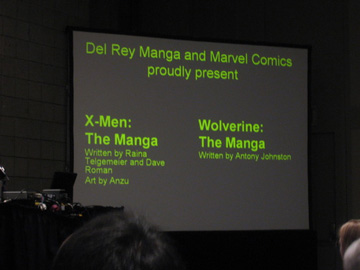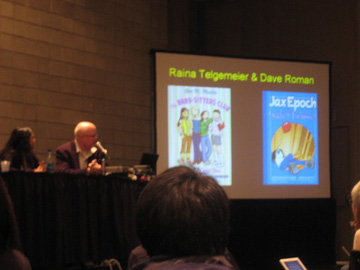 On the panel were Del Rey's Tricia Narwani and Dallas Middaugh; Marvel's C.B. Cebulski and Ruwan Jayatilleke. They called Raina and I up for the final part!

Some of the early concept art by Anzu, the artist we've been teamed up with!
These designs were done before we even signed on to the project so are mostly just preliminary designs. I hadn't even seen this Wolverine one until I was at the panel! Sadly he won't be in the shojo books Raina and I are writing since he's getting his own Shonen series!
That's pretty much the weekend! After the con we got to have dinner with a bunch of close friends before heading our separate ways. Always a good way to end a convention…especially the last one of the year! Whoo! It's been a long convention season! I'm looking forward to some rest. Oh, wait I need to get back to work making comics!!
**NOTE: Some of these photos were swiped from other sites!! Thanks to AvatarSpirit.Net and jessnumbuh20!