Multiplex ebook #1: High Definition Edition
Submitted by Gordon McAlpin on April 7, 2008 - 11:57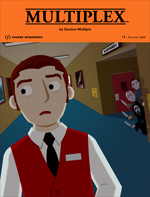 The Multiplex eBook #1: High Definition Edition is now available from the Multiplex site.
What's the difference between this and the free WOWIO edition released two months back, you ask? Well, Billy, there are three differences.
One, it's bigger. To keep the file size down, the WOWIO edition converted all of the artwork to bitmap images, like you see here on the interweb -- but there's a lot of detail you're missing that way. It's unfortunate because some details are hard or even impossible to catch on the internet or even in the WOWIO ebook. But it's in some ways good, because it hides my mistakes. I often just kind of scribble something if I know it's only going to be 1/16 of an inch tall.
This new edition keeps the artwork as vectors, as I drew it in Adobe Illustrator, so you can zoom in up to 6400% in your PDF viewer. So, for the three of you who want to read Multiplex on your 60" flat screen or whatever, I guess now you can. Click here or on the thumbnail at left to see what a "mere" 1200% looks like. Compare that to the WOWIO edition here. The WOWIO edition looks fantastic at full size on my 21" monitor -- certainly better than at the website. But even that was still a compromise, because I wanted people to be able to zoom in and really look at the art closely if they wanted to. This HD Edition looks exactly the way I drew it -- better than any print edition could possibly look, really. (The posters and film stills are still bitmapped and low-res; half because they're not mine, and half in order to keep the file size reasonable.)
Secondly, it is not free. The HD edition costs $2.50. WOWIO currently holds exclusive rights to do any free Multiplex ebooks... but they also don't allow overseas readers to sign up. Which brings me to the third difference...
...the main reason I even considered doing a different edition, really: the HD edition is available outside of the US, because you're buying it directly from me via my brother's programming magic.
I've also fixed a couple of minor errors (typos and such) that I found after the WOWIO version went up, but the two ebooks are otherwise identical. For US readers who already have the WOWIO edition and are content with the size of the art, unless you just want to toss me $2.50 (which I wouldn't argue with), there's no reason to get this one.
Future issues of the Multiplex ebook series will premiere with the free WOWIO edition and be followed by the HD release a month later. This helps me out with the proofreading -- and besides, US readers getting both editions pays me twice and costs you the same. :)