Smile Time!
Submitted by dave_roman on April 17, 2008 - 14:13
Did I mention there will be puppets at the panel I'm hosting on Friday?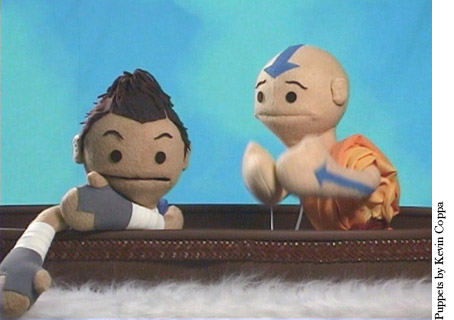 NICK MAG PRESENTS…AVATAR: The Last Airbender, COMICS & FANDOM SPOTLIGHT
Friday at 6:00 PM - 7:00 PM in ROOM 1E08
-Nickelodeon Magazine gives a behind-the-scenes look at comics produced for Avatar: The Last Airbender and spotlight all the creativity surrounding the fandom for the popular show. There will lots of audience participation, trivia-bending, and prizes for the best cosplayers! We'll also be showing an amazing collection of AMV's, a fully animated Avatar/Star War crossover and live puppets by Kevin Coppa!
Featuring: Johane Matte aka Rufftoon (storyboard artist), Dave Roman (comics editor), and Alison Wilgus (comics writer).
And I just found out there will be web streams of some of the Avatar events going on over the weekend:
http://www.ustream.tv/channel/nycc-avatar-panels