Gotta any plans for next week?
Submitted by dave_roman on July 17, 2008 - 15:38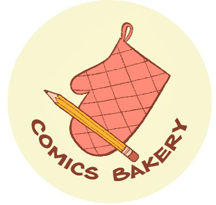 I will be all over the San Diego Comic Con! Here's where to look:
Base of Operations: The Comics Bakery
P2, in the Small Press section. That lines up with aisle 1900, at the very edge of Small Press, so we should be pretty easy to find! Look for the Comics Bakery banner! Also tabling there are fan-favorites like Raina Telgemeier, John Green and Marion Vitus.
We'll have a sampling of comics, zines, T-shirts, buttons, original art, handshakes, and hi-fives.
Summer home: SLG Publishing
If you don't already have a copy of Agnes Quill, this is the place to get it! And I'll draw you something in your book if you come by SLG Thurs. 12-2PM, Fri. and Sat. 2-3PM
Sun. 12:30-2PM.
Moving Castle: FLIGHT comics
The booth number is: 1228 and it will be HUGE! Volume 5 (which has a story by me!) debuts there and should fly like hotcakes with jetpacks.
I'll be stopping by for regular visits to sign and sketch my cares away.
Farewell party:
FRIDAY NIGHT 7:30-9:15 Nickelodeon Avatar: Sozin's Comet
Come out and celebrate the series finale of Avatar the Last Airbender by watching the screening with the show's creators and fans. I'm so there!
Room 6CDEF
Community service: SUNDAY at 10:30-11:30 Kids Draw!
Join a great lineup of kids' cartoonists as they draw their hearts out - right in front of you! Cartoonists including Nick Abadzis (Laika), Debbie Huey (Bumperboy) Johanne Matte (Flight Explorer), Scott Morse (Visitations), Andy Runton (Owly), Kean Soo (Jellaby), and Dave Roman (Nickelodeon) will create art as you watch - with your help! Room 30CDE
Looking at the comic con programming there's a billion panels I wouldn't mind checking out like Chowder and The Marvelous Misadventures of Flapjack (Sunday 1:00-2:30) and the spotlight on Floyd Norman (Thurs 5-6) But I will HOPEFULLY be too busy at the booths! These shows go by too quick!