Pear-Pear Pics from the Mid-Jersey Comicon
Submitted by Pear-pear on August 31, 2008 - 16:08
About three weeks ago, the Pear-Pear Team made its first public appearance at the Mid-Jersey Comicon. Here, at long last, is some reflection on that momentous occasion. And a few pictures.
The con was a good size for us--not too big, not too small--and while we were not the only independent creators there, we were the only webcomic there. Well, there was another outfit dealing with anthropomorphized foodstuffs that has some content on the web. They were a couple booths down and you can see my bald spot in the background of their picture on their blog.
The browsers at the con were chiefly there to buy back-issues of Thor, or so it seemed, but a few folks did stop and say hello. We lured them with free pretzels. Below is our booth: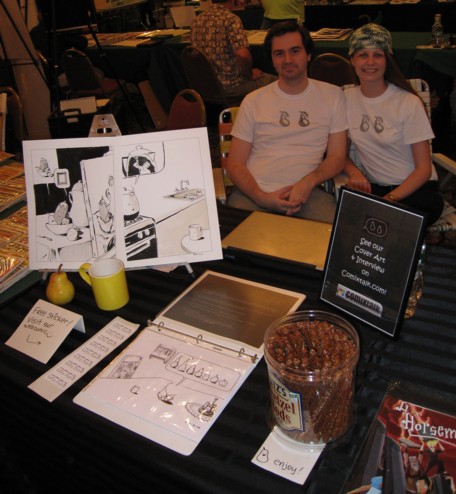 You can almost read our sign that directs people to Comixtalk. Yay! And the free pretzels. I made some exclusive artwork for the occasion, and it may or may not some day end up on the site. We are sporting home-made Pear-Pear t-shirts, and Erin is wearing a pear hat she knitted. The photo is a bit dark but you can just make out its jaunty stem-and-leaf pompom.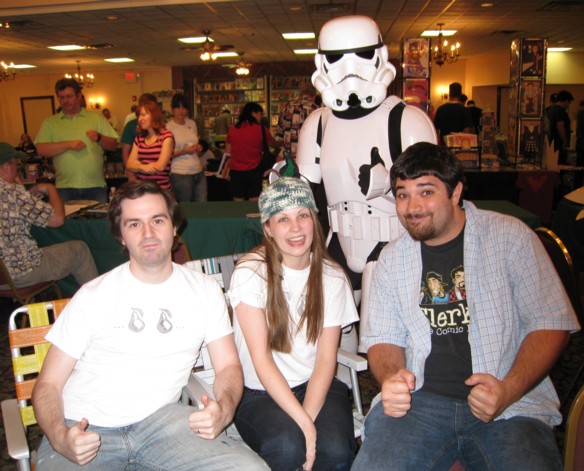 Here we are hanging with Mr. Trooper. Sal is just about ready to give the thumbs up; I am just about ready to smile. And finally, a close-up of some of our promotional materials:
Erin printed up some stickers that ended up in hilarious places, and may even have directed some traffic to the site.