The Gigcast 162 - Hijinks Ensue
Submitted by NightgigTim on October 3, 2008 - 22:32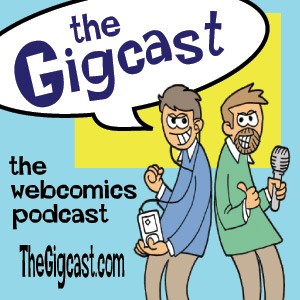 JT talks with Joel Watson about his experiment and being out of work. JT and Joel talk Webcomics,  Christian Ellis Shallow Thoughts and the TBBA Spotlight from Brian Anderson.
Special co-Host and Guest!
Joel Watson of Hijinks Ensue
NEWS via e-mail

Mark Mekkes announces that his original webcomic creation will return on October 4th
So, on Saturday 10/4/2008, Zortic will return as a webcomic. While the comic will be recognizable, the universe will be different. "Don't count on knowing what's happened before," said Mekkes, "This is a new universe and it will be going back to the beginning to really show who these characters are and where they came from. And the parody is going to be replaced by a much richer universe and stronger situations that's really going to enhance the character development. But don't worry; while it's a perfect entry point for new readers, there will still be plenty of 'Easter Eggs' and other hidden surprises for fans of the original archives to enjoy."
SPLIT LIP CELEBRATES TWO-YEAR ANNIVERSARY WITH 4 NEW STORIES, COMICS CONTEST
Providence, RI, Oct. 1, 2008 — Split Lip, "the predominant original horror comic work on the Internet", according to The Horror Blog, is celebrating its two-year anniversary in October with 4 all-new stories and a contest whose winners will receive free comics.
ELF `n TROLL Ending
"It is with some sadness that I have to announce, my webcomic ELF `n TROLL will be coming to an end, with the final page scheduled to be posted on October 23.  I won't rule out a return to ELF `n TROLL at some point in time but, for now, this is where I'm at.
My apologies have to go out to the loyal few who have been nothing short of supportive and encouraging. I had originally intended to pull the plug on this after chapter seven but, I felt an obligation to those faithful few. These last three chapters were specifically for you.

Super Barracuda!
http://nerdcomics.com/superbarracuda/
Hi, I wanted to suggest a link to you for a webcomic community that myself and some friends started a couple of weeks ago- Super Barracuda! - A Webcomic Group about News and Opinions on the US Election '08.
Spurred on by our annoyance of the current status of the US National Election, we started drawing comics about the ridiculous news we kept hearing.  We'd love for this to become a big communal effort, and with your help I think we can start to get the word out.  We already have four talented artists contributed comics and have several more who have yet to submit their work.
TBBA Spotlight
From the browser of Brian Anderson from Dog Eat Doug

Now one from the odd pool: http://www.lilana.com/whale/index.php
But I do have a really cool link:http://blog.mingssecret.com/fantasy-story-1-crossroads/
Reading this right now: http://www.darkhorse.com/Features/eComics/885/Banya-Vol-1?part_num=1&page=1
Have to include this fun little gem too: http://steamcrow.com/
Another really fun comic. The art style has come a long way: http://nameremoved.com/
The Gigcast
A Nightgig Studios Production - http://www.nightgig.com
www.thegigcast.com
Have News or a Comment?  Want to tell JT and Scott they are full of it?
E-mail: gigcast@nightgig.com


One of the Farpoint Media family of shows - www.farpointmedia.net,
Released under a Creative Commons Attribution NonCommercial No-Derivs 2.5 license