SPX 2008
Submitted by dave_roman on October 6, 2008 - 22:39
Back home from SPX and had to take the day off to recover. I spent the last few hours of the show having my worst allergy attack in years and trying not to sneeze on everyone. I apologize to anyone I may have blown off, or on! I'm starting to think there's something in the Maryland trees or environment that really sets me off because as my friend Matt pointed out, this wasn't exactly the first time I got sick at SPX. Which is really frustrating because it really is one my favorite cons, and sickness aside, it felt like a really good year for the show. I didn't get to pick up as many books as I would've liked, but I did meet lots of cool people like Richard Thompson, the creator of Cul De Sac, one of my favorite new comic strips, as well as people who were exhibiting at SPX for the first time.
Some other highlights:
-Wandering around Washington DC at night with Raina, Marion, and Gina Gagliano, looking for the Lincoln Memorial and finding the Jefferson and FDR ones instead. Very inspiring!
-Seeing Rusty Rowley and Jose Mochove, the creators of Full Sanction, who've been at every single SPX since like 1996?! As well as other longtime regulars like Pam Bliss and Jennifer Hachigian, and past and present con organizers Karon Flage, Steve Conley, and Greg McElhatton. It's people like them that really keep the thing running.
-Raina doing a classy job presenting Best Mini-Comic at the Ignatz Awards.
-Talking politics with Frank Cammuso, who is one of the best people to find yourself chatting with at a party.
-Checking in on the status of Alec Longstreth's new beard.
-Watching Saturday Night Live in our hotel room, and Marion and I spending Sunday quoting the final sketch (song parodies of Katy Perry's "I Kissed a Girl").
-Hugging Ed Siemienkowicz.
-Getting a mini comic from Liberty Roach, an awesome fan who we've seen at several shows in the past 2 years.
-The enthusiasm for Raina's new mini comic, as well as the surprising amount of kids who were at SPX this year and all the people who seemed eager for good kids' comics.
-Heidi MacDonald introducing she and myself (on the Kids and YA Comics panel) as longtime players in the comics for kids racket, with anecdotes to the "old days" when she was my editor on the Cartoon Network comics line at DC, and reflecting on how much has changed since then.
-The times where my head didn't feel a bowling ball and my eyes were able to see things without tearing up.
-Dinner on the ride home. Jillian Tamaki's reaction to the overdone French Quarter decor at Mimi's Cafe--a place we almost stopped at last year, but was still under construction then.
-Raina's drawing of Penelope Pitstop from Wacky Races: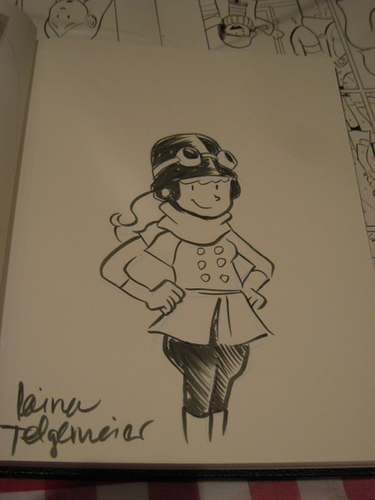 -Raina's sketch of Tin Tin and Snowy: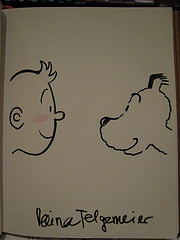 (Some more photos!)