End-of-the-year money burning a hole in your pockets?
Submitted by Andrew Farago on December 21, 2008 - 23:57
I know that a lot of folks are hurting financially right now, but for those of you who have some degree of job security or didn't have too much money tied up in stocks this year, I thought I'd toss out a few suggestions.
First up, my workplace, the Cartoon Art Museum, is an educational non-profit museum, and we're in the midst of our annual fund drive right now. Fundraising is always tough, and it's especially precarious right now, as California (and Californians) are a bit shaky and not giving as much as in years past. If you're able to send anything our way, even if it's just five dollars, please click on one of the following links:
The Cartoon Art Museum's Facebook donations page
The Cartoon Art Museum's other Facebook donations page
The Cartoon Art Museum's donations/PayPal link
All donations are 100% tax-deductible. If you'd rather write a check, please make them payable to "Cartoon Art Museum" and send them to us at Cartoon Art Museum, 655 Mission Street, San Francisco, CA 94105, with "Annual Fund" written in the "memo" section.
Contributions to non-profit organizations make great last-minute Christmas gifts, too. If you can't figure out what to get your sister-in-law this year, instead of getting her that sweater that you know she won't like, please think about donating $20 to a worthwhile charity in her name. It's a cliche, but it really is the gift that keeps on giving.
And if you've got a little money left over to treat yourself, you should buy some commissioned artwork from Jesse Hamm:
You can visit Jesse's website to see more artwork, and find links to his blog (loaded with great sketches), too.
Slightly more expensive, but definitely worth the price, are Roger Langridge's commissioned drawings, like this amazing Doctor Who piece I commissioned earlier this year:
Roger's rates are very reasonable, and you can contact him at hotelfred@mac.com for his rates (and visit http://www.hotelfred.com for the complete rundown of Roger's comics).
And I'd be remiss if I didn't point out that Shaenon K. Garrity also has some great books for sale, and does commissions as well. Click here to start catching up on her excellent comic strip Skin Horse, and feast your eyes on the reasonably-priced commissioned art below to psych yourself up into ordering something for yourself.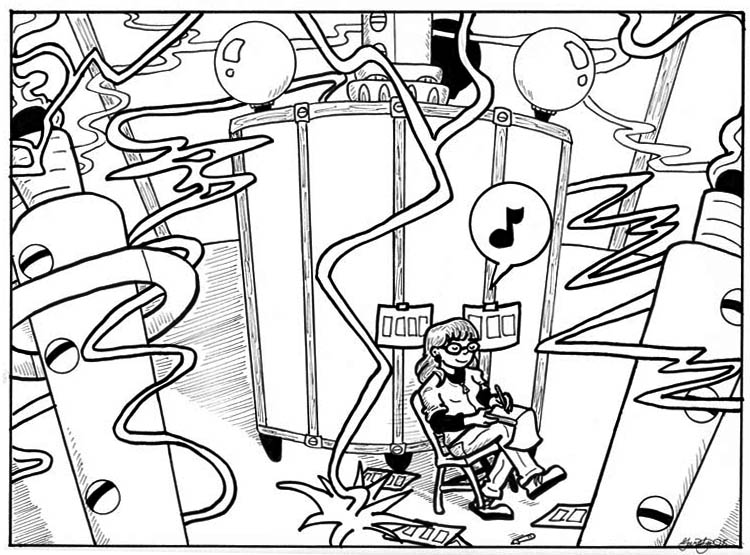 Happy Holidays!