Visual Overload Ahoy
Submitted by goRaina on June 2, 2009 - 11:26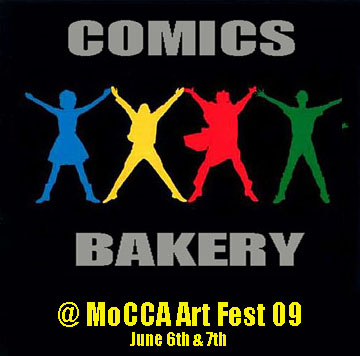 This weekend! Are you ready? Saturday June 6 and Sunday June 7, it's the MoCCA Art Festival -- my VERY favorite comics show of the year!!
The convention moves to a new venue this year, the 69th Regiment Armory at Lexington Avenue and 25th Street in New York City (about a block away from my old SVA dorm!). It's $10 a day or $15 for a weekend pass. The event runs from 11-6 on both Saturday and Sunday.
The Comics Bakery will be set up at table number 513. It's right in the middle of the action!
Now, for what I'll have with me at the show:

OUTREACH minicomics! I made a fresh batch of these guys for MoCCA; having only sold these at SPX in 2008, this will be the New York debut for this little book. $2 each.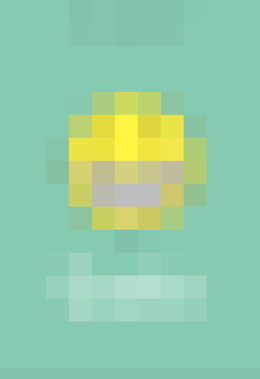 Postcards with the cover for SMILE!! Here's a very pixelated sneak peak; you'll have to come find me to see the real thing. Free!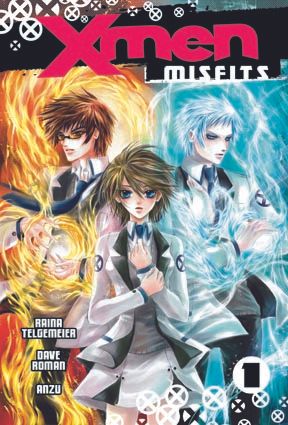 X-Men Misfits...keychains! The book itself won't actually be released until July, but come get a keychain to whet your appetite. Free!
--BSC Graphic Novels! Volumes 1 - 4. $9 each, or $30 for the whole set.
--Take-Out Minis! Yeah, I still have them! $1 each, or $5 for all 6.
--SMILE Minis! Soon to be a collector's item. The first 8 pages of the story...which have been drastically re-written and re-drawn for the graphic novel version. $1 each.
--Original Art! If there's a BSC page from any of the volumes you're specifically interested in, please let me know here in the comments, or via email. Otherwise, I'll have an assortment of pages available, varied prices.
In addition to the insanity listed above, we also have a panel on Saturday from noon - 12:50 pm!
Comics Bakery Roundtable: A discussion on the "benefits" of collaboration with two sets of comic-making couples, who combine to form a giant robot.
And don't forget--all ladies in town for the show are invited to the (free!) pre-party, Drink and Draw Like A Lady, at Madame X on Friday night from 7 - 10: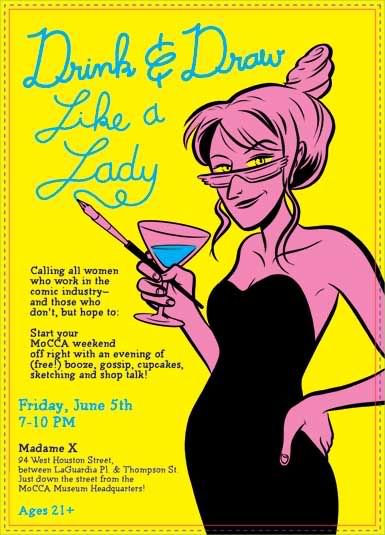 I set up a Facebook Page for the event, if you'd like to add your name to the guest list or invite more people. There will be professionally-baked cupcakes! Half of which will be vegan! Come share a free drink with your comics-making sisters and start the weekend off in fancy fashion.
Hope to see you at some, or all, of the festivities!