BangPop! is almost here!
Submitted by goRaina on September 16, 2009 - 16:59
This weekend, Dave and I will be at the BangPop! Comic Book & Pop Culture Convention, in Bangor, Maine!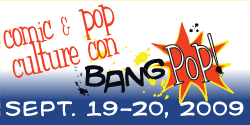 September 19 & 20, 2009
Bangor Civic Center
Bangor, Maine
Admission:
Weekend Pass $15
Day Pass $10
Full-time teachers & librarians are free with current work ID!
Kids 12 & under are free with paying adult!
We will have copies of X-Men: Misfits, and I'll have BSC graphic novels, mini comics, artwork, t-shirts, and SMILE postcards. We'll be on a few panels throughout the weekend:
Saturday, September 19
11:00 AM - 12:00 PM
Dave and I will be presenting a panel and slideshow for librarians and educators, as part of the show's educators track.
3:30 PM - 4:30 PM
Dave will be speaking on a webcomics panel!
Sunday, September 20
12:00 PM - 1:00 PM
Dave and I will be presenting a panel for kids! We'll talk about different drawing styles, show some slides, and do some drawing. All ages welcome.
I've never been to Maine before, so I'm really looking forward to this (especially the Iron Giant geek in me). I hope you'll stop by, if you're in the area!