SPX 09 Con report
Submitted by dave_roman on September 29, 2009 - 14:01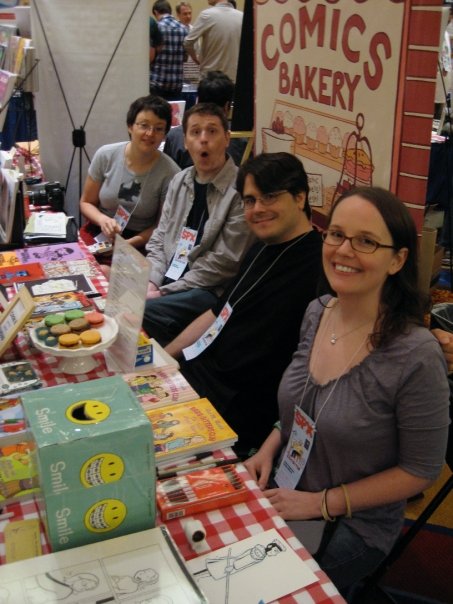 This year confirmed for me that Small Press Expo is officially the BEST all-around comics convention for people who truly love reading and making comics.
Our drive down in our brand new car (named Ponyo) was smooth as could be. We stopped at Pizza Hut along the way so John could cash in a gift card. Breadsticks were consumed by all. It inspired us to sing
the song about combination Taco Bells and Pizza Hut for the rest of the weekend.
Even anti-social people who opt to hide up in their hotel room (like myself) have to admit having everything in one place, really makes for a warm and inviting experience (even when the air-conditioning is cranked up!) And after three years, the hotel itself and even the neighborhood has really grown on me.
Attendance seemed to be the best I'd ever seen at any SPX. Which was surprising because the show had no major celebrities (ala Frank Miller or Jeff Smith) as guests (no offense to Gahan Wilson, Carol Tyler and R. Sikoryak --all of whom I love!)
The Comics Bakery and especially Life Meter 3 did VERY well. I talked to a lot of newer cartoonists who cleaned up…and web superstars like Kate Beaton seemed to always have a line around their table. Based on passing anecdotes, the people who seemed to have the more modest sales were the bigger publishers.
On Sunday, it was very, very cold. But I'll take that over the lack of circulation and hotness of MoCCA any day. Especially when you can just go up to your room and get an extra layer to put on. Also SPX is the only comics show in town that gives free coffee and tea to all guests! Not to mention lots of drink tickets handed out by the convention organizers and elaborate spreads of free food at several points throughout the weekend. It's fun seeing how cartoonists and college kids react to the chocolate fountain and free finger foods with uncontrollably glee. Even the Ignatz award show is a low-key, but often hilarious time to celebrate some of the great works of on the indy side of comics.
And best of all the amount of talent squeezed into a single room is still staggering. And there's always delightful surprises every few tables. Lots of creativity and craftiness abound. I was happy to discover the works of Pranas Naujokaitis, whose "Beard" and "Boxcar Joe" minis were two of the most unique and clever homemade comics I've bought in a while. Also got some cool minis by Dustin Harbin, Kevin Bolk, Curt Franklin and Chris Haley. Colleen AF Venable and everyone at the Lumberjack comic table seemed to be having non-stop fun and hijinks all weekend long, handing out tiny axes and fake beards for all who purchased their anthology. The Comics Bakery had fresh cookies baked by the amazing Gina Gagliano, and our comics and snacks combo seemed to inspire lots of others to bust out their cooking skills, including a hooded Cinna-bomber passing out free cinnamon rolls! All of this just added to the good will and good times that are unique to the SPX experience. My thanks to all the organzers and volunteers. I'm already looking forward to next year!
The photo above is by Matt Loux.
For more, check out the SPX photos by Marion Vitus