Bang! 2000 Miles and Running!
Submitted by Xaviar Xerexes on November 12, 2009 - 10:50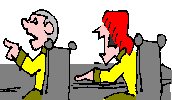 A round of applause for Paul Gadzikowski, creator of Arthur, King of Time and Space, which reached the 2000th update milestone. And moreover, Paul has updated the comic every single day. Start updating those ultra-marathoner webcomic lists now! (h/t to Fleen).