Comixpedia's People Of Webcomics List For 2006
5. Shaenon Garrity
It'll be a sad, but happy day when Shaenon Garrity wraps up her first webcomic Narbonic. Narbonic is a wonderfully hilarious tale of mad science, friendship and love that is both completely engrossing and yet easily accessible. It is a perfect strip for the unique attributes of serialization on the web, with almost any daily installment constituting its own enjoyable blast of humor and yet all of it cumulatively building a world in service to an overall story. Narbonic may not have the largest audience out there (although that is probably due in part to the years it spent behind the subscription wall at Modern Tales), but its readership has continued to ramp up, even as Garrity made it clear she was winding it down.
Garrity already has two other ongoing webcomics that she writes: Smithson (with the artist Brian Moore) and L''il Mell (with the artist Neil Babra). She's also written stories for Marvel and continues to do freelance editing work for Viz.
This year, Garrity also took on the role of editing the Modern Tales website this year (taking over from Eric Burns) and has shepherded its transition from a subscription approach to one that features a significant number of webcomics completely free to readers.
This is Shaenon Garrity's second time on the POW List (#11 on the 2005 POW List).
4. Richard Stevens
In 2006, Richard Stevens continued to create his daily webcomic Diesel Sweeties while also by all accounts continuing to make a living from making comics. Moreover, Stevens, who is part of the webcomics collective Dumbrella, has taken over distribution for many of his t-shirt-slinging, merchandise-making webcomic compadres. In fact, all of the Dumbrella creators seem to be successfully selling merchandise such as t-shirts and buttons and that has helped fueled their ability to continue working on their webcomic projects. This model of webcomic, t-shirts and print collections of the webcomic is probably the most widely copied business model among webcomic creators today and although we only have anecdotal evidence at hand, it's the one model that has led to a growing number of webcomic creators to "quit the day job" and spend more time on comics.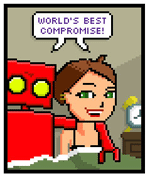 Stevens is now making the move to the newspaper pages through a syndication deal with United Feature Syndicate. Stevens was recruited to the syndicate by Ted Rall. The newspaper version of Diesel Sweeties starts January 8, 2007, and will debut in papers such as the Houston Chronicle, Rocky Mountain News, Seattle Times, Calgary Herald and Detroit News. Diesel Sweeties is not an edgy or extreme comic in the context of the web. On the newspaper page it will be edgy though, perhaps in its own way as edgy as The Boondocks was treated on its arrival. Even the newspaper-specific versions of Diesel Sweeties are not your father's Oldsmobile.
Maybe more important then the simple fact that America will see a lot more pixel-based art on their newsprint next year is that Stevens struck a new-fangled deal with United Feature, one that previous webcomic creators could not obtain. United Feature apparently took notice of the fact that Stevens had already built an audience for Diesel Sweeties and (i) gave him credit for that in their bargaining and (ii) didn't require him to give that webcomic aspect of Diesel Sweeties up as a prerequisite to a syndication deal. As a result they will be Diesel Sweeties, newspaper blend on newsprint and online at comics.com while Diesel Sweeties, webcomics blend will still continue at dieselsweeties.com. Maybe there's hope for the funny pages after all...
This is Richard Stevens second time on the POW List (#8 on the 2004 POW List).
3. Nicholas Gurewitch
The Perry Bible Fellowship won the 2006 WCCA award for Outstanding Comic (it also won the WCCAs for Comedic Comic and Short Form Comic) and the Ignatz award for Outstandling Online Comic. It's also gotten widespread critical praise (for an example see this TCJ review) and now appears in print in all kinds of places.
This is Nick Gurewitch's second time on the POW List (#6 on the 2005 POW List).
2. Scott Kurtz
This year Scott Kurtz took home the Eisner for Best Digital Comic. PvP was not the first comic to win this award, the category was introduced in 2005 and the first winner was Mom's Cancer by Brian Fies. But there was something tremendously satisfying to see PvP win this award, perhaps because Kurtz has always maintained daily updates at pvponline.com and so regardless of where PvP goes, it remains unashamedly a webcomic. (In contrast, Fies removed Mom's Cancer from the web upon publication of the comic in print format.) And moreover, as it looks more and more likely that webcomics will no longer be treated as the bastard step-child of comics, but rather embraced, then there's hope that the biggest and the best of webcomics will receive a fair shake from the larger "comics community" when it comes to such recognition.
Kurtz also saw PvP's audience online grow and he also kept up the monthly PvP comic book published by Image. More recently, Kurtz partnered with fellow webcomic creator Kristopher Straub to begin work on an animated version of the webcomic, PvP The Series, scheduled to debut next year.
This is Scott Kurtz's third time on the POW List (#1 on the 2004 POW List, #20 on the 2005 POW List)

1. Jerry Holkins and Mike Krahulik
For the second year in a row, it would be hard to name anyone else as the biggest name going in webcomics. Jerry Holkins and Mike Krahulik, the writer and artist respectively behind the massively popular webcomic Penny Arcade have only increased the size of the very large dent they've already put in the larger shiny, jangly object we know as popular culture. And while it's clear that their success is most evident in terms of their subject matter, video games, the webcomic is still the horse they rode in on. Not surprisingly then, besides topping our webcomic list this year, the Penny Arcade duo also led off MTV's List of Influential Gamers posted earlier this year.
This year has simply been bigger: bigger audience for the webcomic (even the Penny Arcade forums are huge); bigger attendance at PAX, the gaming convention Holkins and Krahulik started for their fans; and more money raised for children's hospitals by Child's Play, the charity Holkins and Krahulik started for their fans and videogame players generally. It helps to put the Penny Arcade phenomenon in perspective to know that almost 20,000 people attended PAX this past August 25-27th and that Child's Play will likely raise in excess of $500,000 this year.
This year has seen the introduction of books collecting Penny Arcade comics into the mix: Penny Arcade, Vol. 1: Attack of the Bacon Robots came out in January 2006, Penny Arcade Vol. 2: Epic Legends Of The Magic Sword Kings came out in August 2006, and Penny Arcade Vol. 3: The Warsun Prophecies is set to debut in January 2007. (Penny Arcade: Vol. 4: Birds Are Weird is in the works but a release date has not yet been set.)
Holkins and Krahulik are also adding video game developer to their resume by working with Hothead Games on a video game to be called Penny Arcade Adventures: On the Rain-Slick Precipice of Darkness. The plan is to release episodes of the game although the date for the first release does not yet appear to be set. On the announcement of this project, Holkins wrote:
As a self-funded, completely independent project which is then digitally delivered to the three major PC platforms, what we're doing with Hothead Games is exclusively for readers - so we don't expect most people to get it. We are not making a mass market product to "show the industry how it's done." Hothead isn't licensing Penny Arcade, we are making it together - Gabe and I are responsible for the look, story, and dialogue (i.e., the Penny Arcade) while their sturdy men and women enter the Code Mines in search of pure software.

The arc of Holkins' and Krahulik's career in webcomics has been astounding to watch. At its basic core, it's a story of two independent, unconnected guys who have turned a comic about something they love, video games, into a huge success that has allowed them to continue to pursue their passions even as they got married and started families. They didn't compromise themselves, nor cynically "sell out" to get ahead. Sure, the reality is that they probably wouldn't have been able to do this without the intervention of businessman Robert Khoo who now serves as the defacto CEO of Penny Arcade, Inc., but Khoo wouldn't have bothered with Holkins' and Krahulik if he didn't see that they had already "made it" -- if only someone could straighten out the way they ran their "business".
This is Jerry Holkins' and Mike Krahulik's third time on the POW List (#5 on the 2004 POW List, #1 on the 2005 POW List)