Tyson Smith is a triple threat: illustrator by day, webcomic artist by night and filmmaker by the midnight hour. We may have gotten that wrong but this guy does make it seem like there are more than 24 hours in a day. Not only is he multi-media, but most recently in October he added the title of "dad" to his resume.
Tyson had previously collaborated with his brother Ian on two comic books: Oddjob and Emily and the Intergalactic Lemonade Stan (Ian handling writing while Tyson tackled the art) but for just about a year, Tyson has been delighting webcomics fans with the quirky odd couple of Pirate and Alien. This is his first webcomic project and his first time handling both the art and writing chores. We talk to him about the comic and how he finds time to do all of this…
What's your background? I know that you're a married illustrator from Portland, Oregon, and you've directed movies. What DON'T we know about you, that you can tell us? When were you first bit by the creative bug?
You seem to know quite a bit about me, is that why some guy has been parked out front my house the past few weeks?
What you don't know about me, well I have a degree in graphic design from Portland State University, and have been working as an illustrator the last 7 years. I will do graphic design work here and there, but it's mostly illustration work for me. I designed a logo for Tom Green (back when people cared about him) for his Bob Green Films company.
I like to be constantly working on projects, either illustrating a new graphic novel or putting in new wood floors in my house. Last summer I played in a mens fast pitch baseball league, it had been 6 years since I last played, and 10 years since I blew my knee out playing baseball. I had a blast, can't wait to do it again next summer.
As far as the creative bug, I always enjoyed art class but never thought much about it. In middle school I would get bored very easily so I started doodling in the margins of my notebooks. I ended up filling pages with all sorts of designs, and characters. My brother (who's 4 years older, and an English major) started coming up with stories for the characters. From there we went into mini-comics. That led us to full-sized comics, and into films. We do it because we love it, not for the money.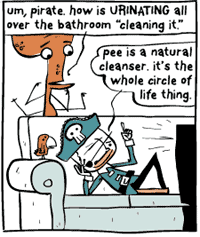 Why a pirate and an alien? How did you get the idea?
Oh man, I can't remember where Pirate and Alien came from. While we were doing Oddjob, we were thinking of new concepts to do. This was one of them. It's an idea that we have always loved, but we could never quite convince anyone else that it would work. It's had many different set-ups. I think originally it was going to be like a "3 stooges" where they had a new job each episode. We garnered the interest of someone at Disney once, but that didn't last long.
Who are your artistic influences?
First and foremost it would be Bob Burden from Flaming Carrot Comics. He was the reason I started buying comics. I was a big fan of Ben Edlund of The Tick and a comic most of your readers wouldn't recognize Roachmill by Tom Hedden and Rich McWeeney. After comics I got into some illustrators like J. Otto Seibold, Shag, and Jim Flora.
Who are your storytelling/humor influences? (You say you usually draw from your brother's writing. Does writing for yourself come naturally, or is it much more difficult?)
Interestingly enough all the art influences I just mentioned, are also storytelling and humor references. PnA is the first project I have written by myself, but that does not mean that I don't give input to what Ian (my brother) writes. Writing has come easier than I thought it would. I'm considering doing more, when I have the time.
Why did you choose to re-incarnate Pirate and Alien from Oddjob as a webcomic? What's the best part of doing this on the Internet and the most frustrating?
As I mentioned earlier, we couldn't find anybody to put money up to produce a Pirate and Alien project. So it has sat in our pitch pile for years. We kept saying, someday we should just do it ourselves. So a couple years ago, I started doodling again (After years of being paid to draw, you find yourself less interested in doodling for fun). And I instinctively went back to PnA and it just sorta clicked in my head to do it as a webcomic. Ian was writing our most recent feature film, so I didn't want to bog him down with more writing duty. So I took a stab at it, and I enjoyed it.The best part of the web is that I'm able to get it out in front of reader's eye for very little money, and get some instant feedback. I can't think of a worst part, it's been everything I could have hoped for.

So if you made a movie from Pirate and Alien, even an animated one, who would be doing the voicework for Pirate? Alien? Seth?
That's interesting, I just saw how Scott Kurtz is advertising PvP in animated form for next year, and from what I've read, he's gotten some poor response to the voice talent. Everyone has a different voice in their head. Lets see, I think for Alien the voice I hear in my head would be someone like WIll Ferrell, or maybe Andy Richter. And for pirate, I'm torn between Steve Buscemi and Tom Waits. Seth can be pretty much anybody, David Cross, perhaps?
Do you have a favorite strip? I guess this strip would be my favorite. Are we ever going to see any females in the strip? Of the characters that are in the strip, who is your favorite?
Funny you should mention that. I haven't consciously kept women out (and who's to say that Alien isn't female, eh?). Early on in my comic days, I couldn't draw women that well, so we didn't have a lot of them in our comics. These days I draw a lot of women for my freelance illustration. Yes, there will be some joining the strip, quite soon actually. I'm going to be introducing a large group of new characters in the next month or two.
What's more satisfying to you: directing, cartooning or illustrating?
Well that's a tough question. I like doing them all. But if I could only do one, it would be directing. I really enjoy the whole process from planning a film in Pre-Production with a small crew. And then with Production you work as a big team, you have a lot more people to work with actors and crew members. It's hectic but exhilarating, all encompassing. And in Post-Production it goes back to just me and my brother putting together the pieces, it becomes a puzzle we create with the footage we shot.
For my illustration and cartooning, it's pretty solitary. Me in front of the computer with my trusty Wacom Tablet.
What are your plans for Pirate and Alien? Print collection of the strips, or perhaps cartoon on Adult Swim, or…?
Well I am planning on doing this as long as possible. The only reason I can foresee that I stop is that one of my other projects takes off, and I won't be able to invest the time for 3 strips a week. But if that's the case, that means my fans will have another outlet of work to enjoy.There will definitely be a collection at some point, it still seems to early. And as far as cartoons go, I'm not holding my breath. We have contacts with Cartoon Network but they have passed on PnA before. So unless a PnA fan gets promoted to acquisitions, I don't see it happening. I already have one project in production at Warner Bros. and that hasn't got very far in 1.5 years. Animation is a tough way to go, but stranger things have happened.