I don't quite remember how I first discovered Debbie Ridpath Ohi's webcomic Will Write For Chocolate but as a procrastinating writer of several novels-to-be, I instantly "got" this funny comic about writers and their lives. And then I learned that Ridpath Ohi not only creates comics but writes all the time.
Ridpath Ohi is a freelance writer and illustrator living in Toronto with her husband, Jeff. In addition to creating several webcomics, she blogs online at Inkygirl: Daily Diversions For Writers and has written a nonfiction book (The Writer's Online Marketplace, published by Writer's Digest Books), magazine articles (print and online), poetry, and short stories. She's also a part of the band Urban Tapestry. As you'll see from the interview, she is prodigiously productive!
Your webcomic about writing Will Write For Chocolate is on hiatus until November. When it's coming back and for those who haven't found it yet can you give us a little overview of what it's about?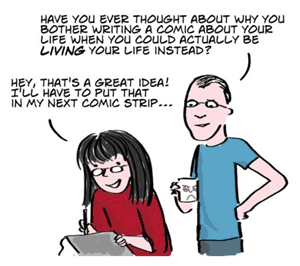 The comic should be back by the time this interview is posted.
Will Write For Chocolate is a weekly strip about a house full of freelance writers. The main character's name is Eliza Street, who quit her day job to be a freelance writer. The other tenants in the house currently include a poet, a kids' book writer, a sf/fantasy writer, and a romance writer, but tenants and visitors change over time; I want to bring in other types of writing!
Most strips focus on the craft or business of writing, or just the writing life in general. Or chocolate, of course.
A lot of the material is based on my own experiences or on those of other writers. So often I have writers post comments like, "That's happened to me! I swear!"
You also have an autobiographical comic called My Life In A Nutshell that also recently restarted. How do you decide what is appropriate for your autobiographical comic and what gets subsumed into the creative process for Will Write For Chocolate?
If the topic is something that writers in general can identify with, I tend to put it in Will Write For Chocolate. If it's more personal, I put it in My Life In A Nutshell. I also tend to experiment more with My Life In A Nutshell, trying out different styles and formats. I suppose it's sort of my cartoon laboratory. Sometimes it's self-therapy. You have been warned. 🙂
And you even had a "fan" comic based around the Lord of the Rings movie franchise called Waiting For Frodo — was that your first webcomic?
Yes, that was my first regular webcomic. When I first heard about the Lord of the Rings movies coming out, I was inspired by a friend to finally read the books. I decided to post my chapter-by-chapter reports online, and got so much feedback and interest from the LOTR/Tolkien fan community that I decided to launch my first comic strip.
I was surprised by how many people read Waiting For Frodo. I was tickled to get fans in Japan sending me photos of themselves wearing Waiting For Frodo sweatshirts while they were waiting in line, and my strip even had some fans at Weta Digital, the company that did the special effects for the LOTR movies. I ended up putting one of them into the strip, and we still keep in touch. I also ended up writing a song based on the comic, which my filk group recorded on one of our CDs.
Anyway, the comic was way fun to do, and highly satisfying to my fangirl soul. Some readers begged me to keep it going even after the last Lord of the Rings movie came out, or to bring it back for temporary stints. I always vowed to end the comic when the last movie came out and have stuck to that vow, though I do occasionally bring the characters into my other strips from time to time.
What made you decide to try making comics? Did you have an interest early on in the comic form or was it something you hit upon as you began to put your writing online?
I used to collect Archie comics back when I was a little kid. Then my first boyfriend got me hooked on comics in university (my favourites included Dr. Strange, Miracle Man, Swamp Thing, The Dark Knight, Elektra, Power Pack). I had to quit because I was spending too much money on comics; I was only a student, after all. Later on, a musician/librarian friend of mine (Rand Bellavia of the nerd rock band Ookla The Mok) got me hooked on the graphic novel form and started lending me a ton of stuff.
The first comic strip I ever drew was called "Boppy" and was about a weird baby, when I was 10-ish. I drew it for a home-made magazine I published every week for my family; I hung it in the bathroom because I knew that was the one place where everyone would see it. I was the editor, and my younger sister and brother were my editorial staff.
I was about 12 years old when I got my first paid comic assignment: a strip I did for a Sunday School newsletter that went out to churches across Canada. I think I won some kind of cartoon contest to get that job. When I didn't have time for it anymore, my sister took over; she's a full-time pro illustrator now.
My first published comics in the U.S. were for a national high school newspaper called Sunshine News. High school students sent in comics, and they picked several every week for publication. My comics got published the most often one year and I won an electric typewriter, woohoo! That was a big deal because I was using a manual typewriter up to then.
Now, of course, so many comics are available online, and on a huge range of topics. Paleobiology! The publishing industry! Ninja-bots! Technology makes it much easier for anyone to publish their own comics online. Some may argue that this means more dreck online and these people may be right, but I think it keeps the industry from getting too complacent. Plus it helps shift the balance toward good writing and new ideas. One of my favourite webcomics is xkcd, where the artist uses stick figures.
I saw you did NaNoWriMo at least once in your life — have you ever heard of and if so tried to do a 24 hour comic? It's a challenge to make a comic in a 24 hour period that was set out by Scott McCloud a number of years ago. It's the closest thing I think comics has to NaNoWriMo.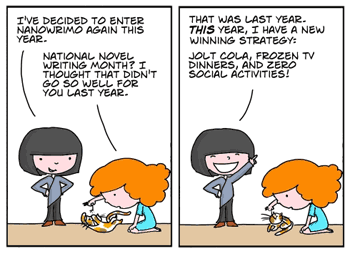 I've heard of it and have been HIGHLY tempted. The main thing that stops me is my past history with tendinitis. I had a bad bout of it some years ago; for a while I had to use voice-activated software to do my writing. I'm ok now, but I suspect that drawing non-stop for 24 hours might be pushing my luck.
I read the interview with you by Women on Writing from earlier this year. You like to keep busy! What writing projects are you spending the most time on as we head into 2008? What are your big goals for next year?
My manuscript (a novel for young people) is out there circulating via my agent right now, and I keep my fingers crossed. In addition to my regular writing projects, I'm working on a new novel as well as a graphic novel. I've never tried doing a graphic novel before, so have been madly researching. I'll be doing the writing and I have an experienced illustrator (who prefers to remain anonymous for now) willing to work with me; I'm VERY excited about this project. It's an sf/fantasy graphic novel for young people. I'm also planning to put together some nonfiction book proposals, also geared toward young people.
You've got a link to http://www.filking.net/ on one of your many websites – I've already learned that you play in a band called Urban Tapestry – do you play filk songs too? (I didn't know what that word meant until Rob Balder (both musician and comics creator) told me – he runs a site called The F.U.M.P. – The Funny Music Project)
Yes, Urban Tapestry plays filk. Talk to five filkers, though, and you'll get a dozen definitions of filk. Here's my own definition. All three of us (Allison Durno, Jodi Krangle and me) write songs for the group, and we all have different songwriting styles and interests. We don't tend to do many parodies.
As for filk, I've put together a Filk FAQ, which is intended to be an informal guide to filk, filkers and the filking community. There are filkers around the world, not just in North America. My music group has performed in England, Germany, across the U.S. and Canada. We have a concert coming up at FilKONtario in Toronto next year, and we're the Music Guests of Honor at Balticon (May 23-26 in Baltimore, MD). Balticon also has a strong comics programming track (or at least it did this year), and I'm looking forward to checking that out when I attend.
You may have heard of my friend's band, Ookla The Mok; they play at a lot of comic book conventions (Rand knows Rob Balder). Ookla The Mok appeared in Art Baltazar's Patrick The Wolf Boy, Rich Koslowski's Geeksville, and the Amazing Spider-Man Annual 26. If you go to their MySpace page right now you can hear their song "Arthur Curry," which is one of their many comics-based songs (another is "Stop Talking About Comic Books Or I'll Kill You").
To find other samples of filk, see this entry in my Filk FAQ. I also recently polled my filk friends about songs related to comics for this interview, so you can read their answers at the bottom of this Livejournal entry.
You've obviously thought a lot about and put into practice making a living as a writer. What kind of advice would you give to someone who set out today to try and make a living from creating comics. I imagine at least some of the advice you would give to a writer would work equally well for a comics creator.
I'm not qualified to give any advice about how to make a living from creating comics since I don't, but if there are parallels with having a writing career I could offer the following:
Practice. A TON. Draw comics for fun, carry a sketchbook around with you, draw everything and everyone. Constantly strive to improve your craft, no matter how good you think you are.
Read comics. Constantly. Read a wide range of comics, not just the type you like to draw. Learn to analyze: what do you like and what don't you like?
Learn about the industry. Read Comixtalk and other useful online resources. Network with other comic artists and writers.
Learn how to promote yourself. Sounds obvious, but there are right ways and wrong ways to go about this. Also, some comic creators think that word-of-mouth will be enough; why should they sully themselves with something like PROMOTION? Their art should speak for itself, shouldn't it? Bad plan. While it's possible you may luck out, the harsh reality is that there are already so many comics out there that you need to work to get noticed. I notice Comixtalk has some great advice, like Corey Marie Parkhill's Webcomics Promotion article (and Part 2) as well as Outside-The-Box Promotion by Scottstory.
In webcomics we've seen a huge opening up in terms of the publication and distribution of comics. Prior to the web there were two main platforms in North America for comics – the newspaper page and the monthly comic book. Newspapers seem intent on shrinking a dwindling roster of comics into nonexistence and monthly comic books are largely distributed one company, Diamond and through specialty shops that don't aim at the vast majority of the population. The web has given creators and companies much cheaper tools to deliver comics to an audience. The graphic novel format has also gotten comics into the bookstores alongside other text-only books.
There are lots of debates, however, on where comics go now. Many webcomic creators are independent and give their work away for free, making money from merchandise and sometimes printed collections of their work. Is this something fiction writers are exploring as well? I know for example Cory Doctorow is a big proponent of putting his books online and licensing them under a Creative Commons license. What are the pluses and minuses to such an approach versus more traditional models?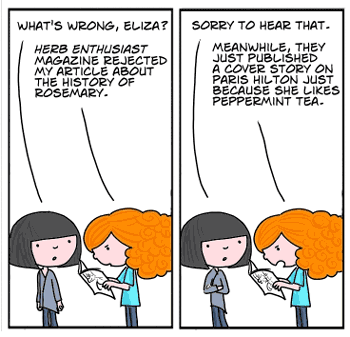 Publishers and authors are definitely experimenting with offering free content, as are others in the publishing industry. Baen Books is only one of many publishers offering free titles online. Criticised for being elitist, the Man Booker Prize people are apparently trying to get back in touch with the general public by placing all its shortlisted novels online, available free to anyone worldwide. Like Baen, they theorize that readers who like the novel will want to buy the real thing.
Many comic artists are hoping for the same sort of thing. They know that chances that their strips will be picked up by a paying mainstream venue (like a daily newspaper) are low. It's more important to them to increase their audience, and hope that this translates into some kind of income later on. This is my mindset as well. Eventually I'd like to compile some of my writing-related comics into book format, possibly with some writing advice, and pitch that to publishers. It would greatly help my book proposal if I could prove that I already have an audience.
The main risk to this strategy, of course, is that you'll put all kinds of time and effort into the project and end up with no money to show for it. While this fear isn't groundless, comic artists should keep other benefits in mind. I've been doing comics for the National Novel Writing Month site this month, for example, as well as the NanoWrimo Young Writers Program. Compensation is minimal but when I did this last year, I got a ton of traffic and new users as a result of the project. Plus I have a soft spot for hopeful young writers (having been one myself, years ago).
Comics has also had a somewhat unfortunate history of corporate ownership of copyright – both in the newspaper comic strip format and especially in the monthly comic book format. What are your thoughts on keeping your copyright versus doing essentially work for hire (i.e., not owning the copyright).
My advice, at least in freelance writing, is to avoid doing work for hire whenever possible. Some people don't realize that when you sign a "work for hire" contract, you lose ALL rights to your work. Whoever buys your writing can publish your work without your byline, if they want to, or even under someone else's byline. They can edit, reprint and resell your writing without your permission.
I'm not saying that doing work for hire is totally unacceptable. I've known writers who sign work for hire agreements because as much as they hate the idea of losing their copyright, they hate the idea of not paying their bills even more. Whenever possible, however, re- negotiate.
I'm not as familiar with work for hire agreements in the comics industry though I assume that writers and artists have to (understandably) sign something like that when writing for a venue that's already established, like Batman or Spider-Man. If you've created a new character or idea, however, I'd be HUGELY leery about signing away your rights to someone else. You never know what might happen.