Aya Takeo is the story of a princess and a soldier, living in a parallel world loosely based on classical Japan, who are torn apart by — hey, this is manga — giant robot spiders.
Creators Sonia Leong and Lloyd Prentice hope the webcomic will serve as the starting point for serious discussions, a web equivalent of the Left Bank of Paris, and they even hold out the possibility of audience participation as their site matures.
That may sound as crazy as giant robot spiders, but Leong and Prentice have the experience to back up their plans.
Print comics readers may be familiar with Leong's work as a member of the Sweatdrop Studios collective, where she pitched in on such books as Blue Is For Boys and Pink is For Girls. Her career got a big boost when she won the first Tokyopop Rising Stars of Manga UK competition last year, and more recently, she was the artist for the manga version of Romeo and Juliet just published by the UK firm Self Made Hero.
Leong provides not just art but the cultural experience of someone who has been immersed in the comics world as a creator for quite some time. "I'm able to give Lloyd feedback about what has been done before, and what we can do to make it different," she says.
Prentice is a writer and former software entrepreneur who developed web applications for the conferencing industry. Having survived several rounds of booms and busts, he has not only the technical knowhow but also the flexibility to adjust to a constantly changing environment. His was one of the first two companies to use floppy disks as a marketing medium, creating interactive games and catalogues when that was still a novelty. When the internet made that technology obsolete, he switched over to web conferencing. He recently sold that company and decided "I want to do something that is fun again."
And that's how Aya Takeo was born. Prentice dreamed up the original concept and went looking for an artist to illustrate it; when he found Leong's website, her art caught his fancy. "The art was spectacularly beautiful," he says. They began collaborating in November, and the webcomic launched on March 16. They put up a new one-page episode every Sunday.
Aya Takeo is a love story set in a parallel world that is like a sci-fi version of classical Japan. The title refers to the two main characters, the princess Aya and the warrior Takeo. "Aya means colorful or woven silk in Japanese," says Prentice, who took the name as the inspiration for Aya's chief weapon: She can generate cosmic strings that she uses to protect people from the giant, flesh-eating robot spiders that periodically descend on their world.
"The spiders were originally developed by a decaying petro-culture that sent them out into the universe to harvest hydrocarbons," Prentice says. "The robots evolved a bit and developed specialized tastes for living flesh. They are invading Aya and Takeo's world and harvesting people."
The story begins in the middle of one such invasion, when Takeo sacrifices himself to save Aya from the spiders. In one way, the plot is straightforward: Two lovers seek to be reunited. But there are complications; Aya and Takeo were orphans who were raised together, but she outranks him in their social system. "Circumstances are such that both the world and psychology keep getting in the way of the relationship," Prentice says.
And there is a larger story as well. "I want to play with the idea of how fragile the relationship is in contrast with how fragile civilization is," says Prentice. "It takes the strength of a warrior to maintain that relationship, because you are fighting the dark forces within yourself, and it takes the strength of a warrior to fight the greed of the decaying, fallen civilization."
Mixing media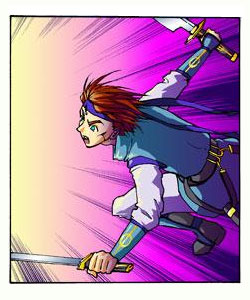 Leong started out doodling dragons and wolves as a kid but stopped her formal studies at the age of 14: "All they had me do that year was design shoes," she says. She focused on music and drama instead but always had it in the back of her mind that she could draw comics.
In 2004 she joined Sweatdrop, a group of amateur artists who put a lot of money and energy into producing high-quality printed comics. "Sweatdrop is still a comic collaborative of people who draw manga for fun," she says, and most members of the group have day jobs, but Leong has been able to make enough money to quit her job and become a full-time artist.
Freelancing requires flexibility, and Leong has stretched into a number of media. In addition to Romeo and Juliet, she worked on the Herocard Cyberspace collectible card game, served as a judge for the International Manga and Anime Festival (IMAF), designed a mascot and ad campaign for Wacom, and supplied art for the British film Popcorn. "The story is about a manga-obsessed comic geek who is really into this Charlies-Angels-esque character," Leong explains. She drew comic strips to be used as props in the film, and it snowballed from there. "They had cosplayers resemble my characters, they made up the stars to look like my work, I had this huge influence on the film and I didn't even know it," she says. "They even used the same fonts!"
Drawing a webcomic is a new experience for Leong. "I have always considered something straight to print, how it would be to hold physically," she says. She finds the once-a-week schedule manageable: "It's a little easier than trying to draw 200 pages in 7 months." But this is the first time she has worked extensively in color, which adds a new dimension and new challenges.
Building a community
Aya Takeo is a free comic, but Prentice is taking the long view. "Our challenge here will be trying to build a community of followers," he says. "I hope to build a community that is very involved. We have talked about perhaps getting community input into the direction of the story and the plotlines, but we haven't settled that yet."
At the moment, the comic and its background information are all that is on the site, but eventually, Leong and Prentice hope to offer subscriptions and set up a web store to bring in some income, with tie-in products like heart pendants that hold digital photographs.
The communication will go both ways. "We want to create a world online that people can get into and talk about," Leong says. "Hopefully people will support it, but we want to give subscribers a chance to have their say as well. It's very much in its infancy."