As the holiday season is upon us, here's my recommendations for what to buy for a special loved one or the like:
Octopus Pie: A Brooklyn Drama by Meredith Gran
The hit of the year has to be Octopus Pie. To be honest I don't know where it came from, I can't recall how I found out about it, but suddenly it was on my radar and linked everywhere and anywhere. So it's not shocking that Octopus Pie actually has it's own webcomic book out there.
Fitting the usual 56 pages of story (it's new, so hence the smallness) with artwork and bonuses, it's a fantastic book and great as a Christmas present. Alas us Brits probably won't get it before the big day.
Mental Health Sketch Book by Various Artists
I'm always a fan of charity and this one goes all out to help by donating all proceeds towards Mental Health charities. The Mental Health Sketch Book is 295 pages of different artists — each one continuing a page that continues the sketch from the previous page. So if you shoved all the pages side-by-side they would all join up (and even the last page wraps around to the first page).
This book is utterly fantastic. Okay, it doesn't have a story, but it does have really fantastic artwork and sometimes beautifully done and shows off talented artists even I didn't know exist. The book itself is free (one per household) but to cover the postage costs (it's a BIG book) it's £5. Whatever they get they're donating towards Mental Health and also hey, it's a wonderful book, whether it's a present for yourself or someone else.
Stuff Sucks Vols. 1 through 6 by Liz Greenfield
The last ever Stuff Sucks book is finally here. It was a beautifully done webcomic and I was quite sad that I only got into it by late 2006 (and only now and then went to visit it in 2007), but it was an utterly good ending and the collection of books was fantastic, although each one being smaller than I presumed they would be.
So the sixth book would be a fine collection for any Stuff Sucks fan out there, being the final piece of the puzzle. A bit like the end of Angel or Buffy, it's as epic as that in my opinion but a wonderful way to end a series. Or just get all six to read the entire series at once.
The Everyday by Adam Cadwell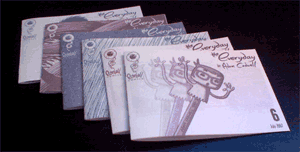 The Everyday is a collection of little comic strips providing an intriguing look on how the artist not only looks at life, but at himself. Something cheap and cheerful and very funny. They're based on his life and as so many other artists are now seemingly doing, they're writing about their own experiences in art form. This book is by no exception just that, but in a weird way. Sometimes you get involved in Adam's head and therefore get to see imaginary floating mini-versions of himself (or his conscious) telling him what to do.
They're only a few pages long but great stocking fillers and set to make whoever reads them chuckle at at least one of the stories inside.
The Kid's Book Project by Various Artists
The Kid's Book Project was an extremely interesting project gaining a lot of support and news coverage from all over. The book itself, just like the Mental Health Sketchbook, is helping raise money for the Make-A-Wish Foundation International and is donating £3-£4 per book to help kids of terminal illnesses. So not only are you buying a book for a loved one, but also helping a cause as well. Although the US probably won't get it before Christmas, the UK might just squeeze it in their stockings. A good one to own, I should know, I've got 300 in my living room!
Can 54 artists create a story and make sense? Well, you have to buy the book to know the answer!