One of the odd ironies of Internet publication is that even while it guarantees that no creative work need ever go out of print, it is somehow even more a slave to the new than print publication. Long series, once completed, are forgotten in a fraction of the time it took to create them. Short pieces barely register at all, no matter how interesting or masterful they are. It seems all too often that the only way to stay relevant as a creator is to create a series that never ends.
And yet there are readers who enjoy endings. There are readers who like to start at the beginning of a story with certain knowledge that they can read the story all the way through to its end without having to wait for any further updates. There are readers who value completion. Full Story: An Index of Completed Webcomics was created for readers like these. And beginning today, highlights from Full Story will be featured each month here on Comixpedia.
For our first installment, we will be violating our mission ever so slightly — ordinarily, age will not be a factor in presenting stories. The old will be presented alongside the new, as we believe that a story's age has very little to do with how enjoyable it is. But for the December Year-In-Review issue at Comixpedia, we present instead a collection of short stories and completed series that have (or will) wrap up in 2006.
Narbonic by Shaenon Garrity
Shaenon Garrity's epic tale of evil genius, mad science, and comic romance begins with a job interview: recent computer science grad Dave Davenport finds himself applying for the position of henchman to Helen Narbon, mad scientist, and her evil intern Mell Kelly. After being blown up, poisoned, overrun by mutant ur-gerbils, and assaulted by the great Hero, Antonio Smith, Forensic Linguist, Dave does the natural thing: he takes the job. Garrity never rests her comic on gags alone, weaving her sharp wit into a surprisingly complex and entertaining plot, to craft a madcap comedy that has it all: smart humor, engaging characters, and a well-realized story. Narbonic updated daily for almost seven full years, from July 31, 2000 until December 31, 2006.
Cooking with Anne by Ben Bittner
In a world where food is scarce, flavor is the ultimate luxury. Cooking with Anne tells a story of surviving in Seattle after the end of the world, framed by a scavenger's recipe for chickpeas. Follow Anne as she hunts for ingredients and turns them into a surprisingly savory meal. Chapters of the main story are alternated with additional strips presenting irreverent yet vital survival tips.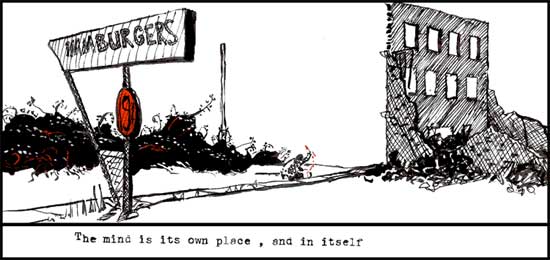 The Front by Jerzy Drozd
Thirsty, Knox and Gibson are three otherwise ordinary boys with limited superpowers they have no particular use for. It's their misfortune that an ancient villain considers them very useful indeed. The second story in The Front series is due to begin in 2007.
The Tyger, illustrated by Korshi Dosoo
Artist and comic-creator Korshi Dosoo illustrates William Blake's poem The Tyger (Songs of Experience, 1794) in a powerful set of chapbook-style images.
Europe's First Smoker by Neal Von Flue
Never be the first… The unhappy story of Rodrigo de Xerez, sailor with Christopher Columbus and the first European to take up the tobacco habit. This short bit of historical non-fiction is inspired by The Smoke of the Gods: A Social History of Tobacco, by Eric Burns. (Not to be confused with the Eric Burns of Websnark.)
Find more completed series and short stories at Full Story.