Think xkcd is the most popular stick figure webcomic around? Don't be so sure – Cyanide and Happiness consistently pulls in similarly large numbers on publicly available sources of data such as Alexa and Compete.
C&H resides on the website explosm.net which features work from creators Matt Melvin, Kris Wilson, Dave McElfatrick and Rob Denbleyker. We recently interviewed one of the four: Matt Melvin about the webcomic, the website and what's next.
Explosm.net is run by you, Matt Melvin, and three others: Kris Wilson, Dave McElfatrick and Rob Denbleyker. How did the four of you meet up? Have you ever met in person?
The short version is Rob and Matt made bad stick figure death movies together after posting their stuff at Newgrounds.com back in around 1999 and 2000. We knew Dave from the community, who later joined what was then StickSuicide. Kris was an active member on our forums.
I guess you can't trust everything you read on Wikipedia, but the entry there on your webcomic Cyanide and Happiness states that the the comic was initially created by Kris and that explosm.net was built around that? Is that accurate? How did the current site get launched?
Not exactly. Kris did start the style of the comics himself. In fact, he was posting them on our forums back in the SS days. When we decided to branch off from just stick figure death movies and do something more with the site, we started Explosm and brought Kris on board.
All four of you are credited with individual Cyanide and Happiness comics. Do you all work solo on creating them or do you collaborate in anyway on them? Is there any kind of schedule to who is on board to make one or do you just let whomever has the inspiration go with posting the latest one?
Most of the comics are conceptualized from start to finish by each person, but we show the comics to each other before putting them on the site. We keep a schedule of sorts, but it's nothing completely set in stone.
There's also a number of short animated episodes of Cyanide and Happiness. I thought those were pretty damn funny (sometimes awfully tasteless too but…) and I wonder which format you enjoy working in more – the comics or the animated versions? For the record I think my absolute favorite is Dave's Cyanide & Happiness #4 – I Love Noodles. The entire singing bit is hilarious, but the last shot is just… priceless. Very funny.
Personally, I like the comics more. I don't have the attention span to animate and I can't voice act for crap. There are some things I've written I'd prefer to be done in an animation, just for timing's sake, but the comics are perfect for a lot of the quick jokes we do.
There's a lot of content on explosm.net – from comics to movies to the forums and blog. How much of the site's pretty significant traffic do you think is driven by the comic itself?
The comics as a whole get a majority of the traffic, but that kinda comes with the territory of daily-updated content. Our articles and movies for example, aren't updated nearly as often, but each one gets a lot more traffic than a single comic does.
I saw a short article on the comic in the UTD Mercury where it talked about how you've encouraged people to embed your comics in their blogs. Do you know how much of your readership is offsite like that?
We've actually been approached by people who don't even know we have a site, but are fans of seeing our comics on deviantart and myspace. It's a small amount of people, but they're there.
It sounds like you've also made great use of social networks to get the word out about Cyanide and Happiness – how do you promote yourself through those and are there any other strategies to build readership to the site that have worked well for you?
I'm still the only member who doesn't have a myspace, but we have an account for the whole group of us. We also allow fans to post our comics to their myspaces, livejournals, etc. Word of mouth has been our sole form of advertising.
Are you all making a living from the site?
Along with outside projects like what we did with Orange Mobile, yes.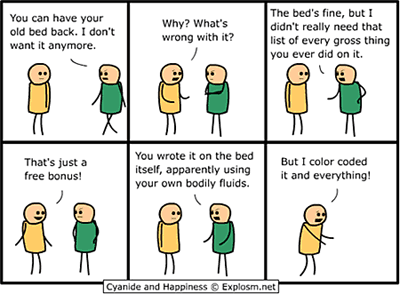 I saw some very funny ads for Orange that featured the Cyanide and Happiness characters – how did that gig come about? Have you done any other work like that featuring the comic?
We were approached to come up with comics that would be run as ads to promote Orange Mobile. The characters we used weren't really C&H characters, but were definitely based on them. We wanted them to be similar enough for fans to make the connection, but not be carbon copies.
I see two books of the comic are available at lulu.com. How have the books done and are you working on a third collection now?
We're working on plans to create a big collection of all of our comics (not just Kris') along with some fancy extras.
Do you read any other webcomics out there?
I've been reading Toothpaste For Dinner for a very long time. And then anything Drew's connected with (Natalie Dee, Married to the Sea, and a photoblog of sorts Where Are the Dogs Humping?). I also like PBF, White Ninja, xkcd and although it's not a webcomic, I've enjoyed The Far Side for years.
Who are your influences in terms of comedy?
I'm a big fan of stand-up, so I really like Lewis Black, Mitch Hedburg, David Cross, Patton Oswalt, Demetri Martin, Sarah Silverman, and pretty much all the "alt" comics in that little circle. On top of that, I'm a huge fan of sketch comedy like Monty Python and The UCB.
Obviously the art on Cyanide and Happiness is pretty minimal, but my impression is it's gotten better over the archives of the strip and really for awhile now has been pretty good. It's still stickmen, but it's a slicker stickman style then the very beginning (if that makes any sense). How much do you think about the art in the comic?
At first, I just didn't take it very seriously and half-assed the drawings. Now, though, all our styles are much more refined. We purposely keep them a little "rough" looking to conserve the style. There's something endearing about cute, sort-of-badly-drawn making really bad jokes.
What's planned for 2008? Any changes or new projects coming out?
We've got a lot of stuff planned for the new year. I can't really say anything about it, but I've been working my ass off for the last couple months on a huge addition to the site that we plan to release early next year. Besides that, though, we want to do more interactive stories, more articles and more shorts. We're also organizing translations of our comics into other languages, which should be very interesting.