Contributor Dave Sherrill talks with Shannon Wheeler about Too Much Coffee Man: The Opera and Wheeler's new comic How To Be Happy.
Performance art isn't hit/miss. It's more like, miss, miss, miss, miss, hit, miss, miss.
Too Much Coffee Man by Shannon Wheeler is one of those comics you catch in the back of the hipper weekly newspapers that float around for free at the bus stops and record stores of the bigger cities in these United States. It features a bug-eyed, over-weight, wired guy who happens to have a skull shaped like an enormous coffee cup, which is an insanely marketable idea. It such a good idea you kind of hate the comic right off the bat for having such a great concept. Who doesn't know someone that is addicted to coffee and can't resist buying any knickknack associated with it?
Sure, you can hate Shannon cause he's clever, but once you read through his comics you can see that each one has the same great insight and biting social commentary that you expect from Life In Hell or Tom the Dancing Bug. The art is fantastic, the characters are interesting and the writing is funny without being contaminated by standard issue gags.
So go grab a great big skull full of coffee and check out the Comixpedia interview with Shannon Wheeler.
Let's start at the beginning, what was Shannon Wheeler like before he did Too Much Coffee Man?
In high school I wanted to be an artist. My first thought was that I needed to figure out what that was. Comic-wise, I started out by doing single panel comics for my college newspaper. They were Bizarro rip-offs.
What sparked TMCM?
I was making fun of coffee shop patrons by trying to make a character that I knew they'd like.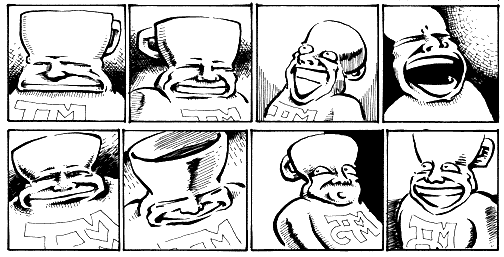 What were the first few years of TMCM like, when did it really start getting popular?
Is it popular? I think I'm still pretty underground. The mini comics sold well right out the gate. I sold them through a bookstore called Europa in Austin and Comic Relief in Berkeley. Over 5-6 years I sold about 20,000 of them.
When did you realize you had cursed yourself to endless rattling suggestions and random coffee talk from caffeine enthusiasts nationwide?
I saw the pit from early on. It's my cross to bear. I start complaining about my situation then I realize that I'm complaining to someone who still works a retail job.
Some of my favorite TMCM comics are the ones that feature the whole crew staring at a television. How much of TMCM is you? Are any of the other cast based on anyone?
I steal conversations from my friends. It's important to retain friends who (1) are smarter than you, (2) are funnier than you, and (3) have no filters. Unfortunately, some of the funniest stuff is x-rated.
I never noticed how much TMCM schwag is out there until I started going to conventions. How much merch do you have?
Not as much as Hate or Eightball but I have a fair bit.
What's your favorite thing made out of TMCM?
It may sound boring but it's the mugs. I use them every day. They make useful gifts for people too. I always try and make things that are useful. Toilet paper, guitar picks, playing cards, zippo lighters, sponges, post cards… If it's useful and it doesn't sell I haven't wasted my money. I'll just consume it myself.
Speaking of things made out of TMCM, someone is making an OPERA out of your comic strip?!?! Is this the first time that's been done?
This is the first opera based on a comic book! It's more than someone. It's me. I worked with Daniel Steven Crafts and Damian Wilcox. It's being co-produced by PCPA. It's pretty exciting. I like it better than the various attempts at animation. It's funnier.
When did you first hear that someone wanted to make a TMCM opera andhow did that feel?
Daniel first proposed the idea to me a few years back. I thought it was a terrible idea. It was a dream where I was watching too much coffee man sing that made me think it might be viable.
Do you like opera?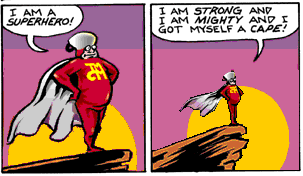 When I see it live I like it. I'm not too fond of the recordings. There's something about the inhuman vocal power of opera singers that makes them a bit like superheroes. Opera also works in movie soundtracks when it's complimenting a village being napalmed or knights riding through fields as flowers bloom. Mostly, opera sort of sucks.
When's the opening night?
We open September 22.
Are you going to wear a tux?
Hell yes.
Are you helping with the writing?
Damian Wilcox and I wrote the libretto. Daniel Steven Crafts is the composer. We shoot drafts back and forth to each other. It's been an interesting process.
I didn't know you were working with Damian on stuff, he's awesome.
Yep. Damian did an amazing job on the opera. His rhymes are very unexpected.
Can you give me a preview of the story line?
Too Much Coffee Man falls in love with his barista. He and Espresso Guy compete for her affections. She rejects them both.
The strange this is that the opera is just beginning, but the fat lady is singing on TMCM. You've switched the title your comic to How To Be Happy and it's much more autobiographical, which was a popular trend in indie comics in the late 80s. Do you think blogging and the Internet are bringing back the personal comics?
Yep. You hit the nail on the head. There are some great comics out there.

…but Too Much Coffee Man's not dead (again) is he?
It's funny. I was trying to distance myself from the character, just to take a break. Then this opera thing fell in my lap. Once again I'm immersed in the fat fellow.
I have a couple TMCM stories that I want to do. I have a new comic book brewing.
What's next?
I have a bunch of other projects that are primed. I just need to knock them out. I'm working on illustrating a graphic novel written by Jesse Michaels (Operation Ivy). Another friend of mine wrote a bunch of kids' poems that I want to illustrate. I'm also working on a Rock/Scissors/Paper murder mystery comic book. Lots to do…
I'm also trying to get quoted… Harpers, Wikipedia, Funny times… where they pull quotes from people like Douglas Adams.
I want to get quoted before I die. It would make me happy.
Quotes from Too Much Coffee Man:

Our pasts wax while our future wanes.

The future: everyone is housed, clothed and fed — because everyone is in jail.

The key to productivity is to rotate what you're avoiding.

One's expectation is the scriptwriter of one's experience.

If one cup of makes me feel good, then two cups will make me feel even better.

Do they pick bad art to go in offices, or does the office make the art look bad.

"No smoking is allowed?" that's good, because people shouldn't have to smoke if they don't want to.

It's better to have loved and lost than to have loved and caught something.

Unrequited love is like hitting you head against a wall that isn't there.

When I die I want an apple tree planted over my head. Then when people eat the fruit they'll be eating me.

Performance art isn't hit/miss. It's more like, miss, miss, miss, miss, hit, miss, miss.
(Want more quotes from Shannon Wheeler? Try Wikipedia)