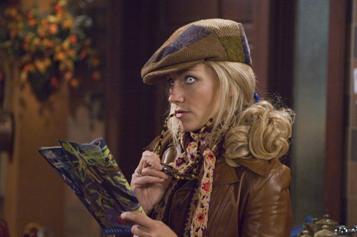 A soap opera on tv with a superhero? I just got this joint press release from Marvel and CBS:
Television's longest running show, GUIDING LIGHT, is teaming up with Marvel Comics to produce a very special "Inside the Light" episode unveiling a new super powered character, to be broadcast Wednesday, Nov. 1 on the CBS Television Network.
GUIDING LIGHT'S episode, titled "She's a Marvel," written by headwriter David Kreizman, focuses on mild mannered and harried cop, mother and wife Harley Davidson Cooper, played by Beth Ehlers. Zapped by an electrical current, Cooper finds herself infused with the energy, and is able to channel it, giving her the powers of a superhero — levitation and electricity conduction.
For a special GUIDING LIGHT "She's A Marvel" trailer, visit www.cbs.com/daytime/gl/.
Additionally, in a first for daytime television, Marvel Comics will release a "comic back-up" featuring some of Marvel's mightiest heroes (and villains) who will descend on GUIDING LIGHT'S city of Springfield to determine if this new super powered being is friend or foe. The "back-up" is an eight-page addition to the following Marvel Comic books: (Oct. 25) "Civil War: Choosing Sides," "Spider-Man Loves Mary Jane 11," "Marvel Select Flip Magazine 18," "Marvel Tales Flip Magazine 17"; (Nov. 1) "Marvel Adventures Spider-Man 21," "Spider-Man And Power Pack 1," "Marvel Adventures Flip Magazine 18," "Marvel Heroes Flip Magazine 18"; (Nov. 8) "Amazing Spider-Girl 2," "Franklin Richards: Happy Franksgiving!," "Marvel Adventures Fantastic Four 18"; (Nov. 15) "Ultimate Marvel Flip Magazine 19," "Ultimate Tales Flip Magazine 19."
"Joining forces with Marvel is such a natural fit for us because comic books and soap operas have so much in common," says

Kreizman

.

"Both feature long-running characters and larger-than-life stories that appeal to a loyal and passionate fan base. We hope that our viewers will be excited to see their favorites in the pages of a comic book and that Marvel fans will tune in to see how we put our twist on a classic superhero story.

What working mom hasn't wished for superpowers every now and then?"
GUIDING LIGHT'S innovative Wednesday "Inside the Light" episodes debuted in January 2006, giving audiences a unique, in-depth perspective on the lives of their favorite characters. Executive Producer Ellen Wheeler conceived the idea, and each "Inside the Light" episode focuses on a particular character, couple or storyline and often features bold or unique storytelling techniques not usually seen on daytime television.
GUIDING LIGHT, the longest-running show in broadcast history, has always stayed ahead of the times debuting on radio in 1937, transitioning to television in 1952 and recently becoming the first television show to podcast audio-only episodes in 2006. The show, which tapes in New York City, will celebrate its 70th anniversary on the air in January 2007 and can be seen weekdays on the CBS Television Network (check local listings).
Call 1-888-COMICBOOK to find a comic shop near you or visit www.marvel.com for more information on the eight-page GUIDING LIGHT "back-up."
Marvel, and all related character names and the distinctive likenesses thereof are trademarks of Marvel Characters, Inc. and are used with permission. Copyright Ó 2006 Marvel Characters, Inc. All rights reserved. www.marvel.com.