Ted Rall talks up and talks to webcomics with attitude for Attitude 3: The New Subversive Online Cartoonists. It's a great addition to the ongoing Attitude anthology series that pays some well-deserved attention to webcomics.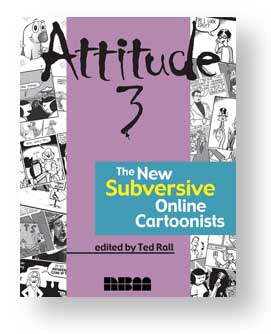 Ted Rall is a fairly well-known, controversial editorial cartoonist. He's also been the editor for a series of books called Attitude: The New Subversive Cartoonists. In the third installment, Rall turns his attention to the web and manages to cover a lot of the better opinionated webcomics out there today.
In an introductory essay to the book, Rall recounts the shrinking market for the traditional daily newspaper editorial cartoonists as well as the saturation of the "alternative weekly" format. The implication being that he is has rounded up a collection of cartoonists every bit as good as those occupying the limited space of America's newsprint. And for the most part I think he has.
It's also interesting to note that in the introduction, Rall largely seems to understand that despite the possibility of micropayments, most webcomic creators have to be much more entrepreneurial to make a return on their art, whether its through t-shirt sales, self-published books or other ancillary merchandise. One has to think this d-i-y approach may be the training needed to help the most talented of this new generation to forge new paths for themselves as more traditional corporate newspaper opportunities get downsized away.
So who made the cut? A few Keenspotters: D.C. Simpson (Ozy and Millie, I Drew This) and Thomas K. Dye (Newshounds); a few Dumbrellistas: R. Stevens (Diesel Sweeties) and Steven L. Cloud (BOASAS), a few Modern Talers: Dorothy Gambrell (Cat and Girl) and Eric Millikin (Fetus-X) as well as many others familiar to readers of Comixpedia, including: David Hellman & Dale Beran (A Lesson Is Learned But The Damage Is Irreversable), Nicholas Gurewitch (The Perry Bible Fellowship), Rob Balder (Partially Clips), Ryan North (Dinosaur Comics), Brian McFadden (Big Fat Whale),and August J. Pollak (XQUZYPHYR & Overboard). Rall includes several more web-centric creators as well as one high profile escapee from print: Mark Fiore who has done animated editorial cartoons for CNN.com for some time now. It's not a bad mix and it's hard to quibble with anyone he's included in the book.
Like the previous two installments of the Attitude series, each of the 22 creators profiled in the book (all work solo except for Hellman & Beran) gets a chapter filled with selections from their work alongside an interview conducted by Ted Rall. For myself, I'm aware of and have read the work of the vast majority of the profiled creators so I'm not discovering a lot that is new. But Rall is a decent interviewer and manages to cover topics both biographical and artistic with each of his subjects and I found myself in most cases getting a better sense of the creators and their work after reading each chapter. For folks less webcomic savvy, this is really an even more valuable book as it provides a ready map to a slew of quality opinionated comics online.
Specifically a slew of left-of-center webcomics, which is not a surprise as Rall is quite liberal in his own outlook and I suppose there's nothing stopping the guy who makes Mallard Fillmore from editing his own anthology. What may be surprising to some, however, is how most of these comics are opinionated, but not all of the time and generally not overtly editorial. Several of them in fact, such as Diesel Sweeties, Ozy and Millie and Newshounds are much more "story" comics than out and out political comics. Besides probably resulting in generally funnier work overall, such blending of approaches seems to extend the appeal of such work to a larger audience.
It seems a bit silly for me to talk about each of the creators' profiles here. This is a good book – if you're interested in the subject you should pick it up and read 'em yourself. But I will throw out some general observations after reading the book:
Steven L Cloud's BOASAS is kinder, gentler than Jason Pultz's Comic Strip, but if you like one you should like the other.
I love R. Stevens' Diesel Sweeties, but it seems like the one comic in the book that least belongs. Yet it's the first one that Ted Rall recruited in his new position as talent scout with United Media. (And was Overcompensating not out when Rall made his selections? Jeff Rowland has as much or more to say about the world around us as Stevens.)
D.C Simpson gets coverage for both of his comics: Ozy and Millie and I Drew This. Why not cover Dorothy Gambrell's brilliant The Ralph Bunche as well as Cat and Girl?
Rall also thinks Brian McFadden's Big Fat Whale is influenced by Ruben Bolling. If you're going to imitate, imitate from the best I always say.
I'm beginning to think that the brilliance of both A Lesson Is Learned and The Perry Bible Fellowship simply transcends genre.
I like Newshounds and Ozy and Millie, but if you're looking for talking-animal political humor you've got to include Monkey Law in that mix. I'd be curious as to whether Rall hadn't heard of it and/or saw it and passed.
There is nothing quite like Fetus-X is there?
Rall goes on with Rob Balder about similarities to David Rees' Get Your War On which also uses clip art like Balder's Partially Clips, but I don't see the two as very similar really. Clip art, like pixel art, photo art and other means of crafting visuals without "drawing" is just part of the toolset of webcomics at this point.
If you think Ryan North's use of the exact same clip art of dinosaurs in every episode of Dinosaur Comics is something, it looks like Michael Zole uses exactly one panel with a number "1" and a number "2" for characters over and over and over again in his comic Death to the Extremist.
The full list of creators profiled includes:*
Note: A free copy was provided to ComixTalk for review purposes.