I'm going to try breaking these longer posts up into categories – tell me if it's helpful or not…
News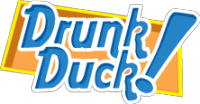 I started a thread to discuss the Platinum-Drunk Duck deal here – I added links to other discussions in the comments if you're interested in reading more about it.
Aaron MacGruder AWOL from Boondocks return. Or so the Washington Post reports. The Comics Reporter notes that the Dallas Morning News also has a good story on this subject.
The Comic Reporter also points to a deal between McClatchy-Tribune and PopMatters.com to carry PopMatters.com stories on McClatchy's MCT Campus wire service for college and highschool newspapers. PopMatters.com was founded in 1999 by Sarah Zupko and also carries several webcomics on its site.
Interviews
Wizard interviewed Jon Rosenberg (creator of Goats) yesterday. I just want to highlight this part because I think Jon's answer makes a lot of sense:
What professional title do you prefer: webcomicker, webcomics artist, creator or what's the standard these days? Or is there one?
ROSENBERG: When people ask me what I do, I tell them I draw comics. Titles are a pretty silly thing, I don't know if there is a standard but I'm sure it is a topic of heated debate on some message board somewhere.
The people who concern themselves with those sorts of things, I find, would do better to focus on their comics.
Random Interviews has one with Fred Grisolm, creator of Hate Song.
Plugs and Reviews
I missed it but Mitch Clem is updating NN2S again. Huh-zah!
Over at CBR, Meaghan Quinn plugs the new webcomic from Petie Shumate, Girl/Robot. G/R is kind of a one-note affair (girl says/does something, robot takes it literally, hijinks/disaster ensues) but so far Shumate is consistently cracking me up with it. I'd give it a try if you haven't already.
Gilead's got a post on Phil Kahn's I'm Just Drinking vidcast – webcomics and alcohol… who'd thunk it? I watched part of it last night – not bad and Phil does a decent job of actually demonstrating how to make the drinks which is good since that's probably the key part of the show. 🙂
Fleen links to Scott Marshall's post about the Halifax edition of the Word on the Street festival where he met Hope Larson, Joey Comeau, and Ryan North.