Happy (Belated) Canadian Thanksgiving Day! And this weekend was 24 Hour Comics Day – catch up on the haps at the 24 Hour Comics Day website.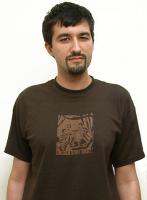 PREMIERES
A new Blamination from Kurtz and Straub. Who knew these guys liked video games?
Yesterday, Grounded Angel (previously at Komikwerks) relaunched simultaneously at three webcomics sites: Graphic Smash, WebComicsNation, and DrunkDuck. Grounded Angel is the story of 16-year-old Gloria, who finds out during a really bad day that she's an angel, the herald to the end of the world.
Dramacon (Vol. 2) by Svetlana Chmakova is available in stores today.
INTERVIEWS
Digital Strips has an interview with Platinum Studios Chairman Scott Rosenberg and Drunk Duck's Dylan Squires.
The Santa Barbara Independent has an interview with Garry Trudeau, creator of Doonesbury.
Scott Kurtz interviews Adam West?
OPINION
Astute political commentary from… Sinfest?
AROUND THE WORLD IN 80 BLOGS
Bookslut reviews Scott McCloud's Making Comics.
Drawn! interviews illustrator Bob Staake who has a new book out called This is Not a Pumpkin. Staake who embraced digital art tools early on also was an early presence on the web with his Planet Cartoonist site.
(From Lines and Colors) Line Rider is a Flash interactive that allows you to draw a line that represents the two dimensional topography of a hill. When your line is drawn, you click play and the Line Rider, a small character on a sled with a trailing scarf, will go sailing, bouncing and, if you're not careful, tumbling down the hill according to forces of imaginary gravity.