People think of manga as coming in 20-volume doses, and sometimes that's true. But not every story is an epic, and some creators have used the techniques of manga to tell brief tales of romance, magic, and adventure.
Some of these are Japanese and some are not, but all are worth a look. Let's start with two artists who occasionally post short stories on their websites: Queenie Chan and Jen Wang.
Queenie Chan
Australian creator Queenie Chan is probably best known as the creator of the Tokyopop manga The Dreaming. She has a clean, manga-influenced style that is expressive without going to extremes, and her storytelling range is impressive; her work ranges from cute love stories to teen comedy to horror and even a "samurai blood opera," which alas, she never finished. Many of her short stories are exercises in working under different types of constraints, such as limiting herself to a certain number of pages, doing a comic without words, etc. While these formal limitations may be of interest to fellow artists, her stories are little treats that anyone can enjoy.
I particularly like two of her romances: Message to You, a sweet, wordless romance tale, and The Two Dollar Deal, a romance with two cute twists. On the other hand, Ten Years Ago Today is anything but cute; it's a horror story with a supernatural twist. Chan uses a classic manga sense of timing in this story, slowing down the action and setting the scene by showing simple objects — a calendar, a telephone — that build the suspense. But she isn't afraid to show splattering blood, either.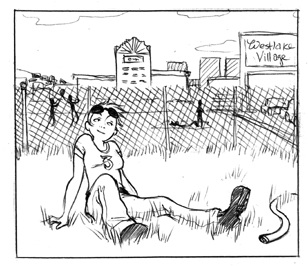 Jen Wang is an artist who seems to do a lot of print work, but she has put a few brief stories online that are absolutely exquisite. She has an easy, natural style and a flowing line that just looks effortless.
The handful of short stories on her website manage to pack considerable depth beneath a serene exterior. Home Portrait is about love and loss and somehow manages to convey both sadness and coziness at the same time. Touchfood is a strange little tale of a beautiful green creature in a cage and the man who admires her from the outside. And Dance of the Flight Attendant is just that — it transforms the preflight safety briefing into a dance, and it's really more a sequential-art poem than a story.
Wang has drawn several pieces of art for the manga magazine Shojo Beat, and I hope she will find more time to draw comics soon.
Moresukine isn't exactly manga, but it's very Japanese-influenced and well worth a look. For six months, while he was living in Tokyo, artist Dirk Schweiger made himself the subject of a remote-control Internet experiment: He invited readers to tell him to experience some aspect of Japanese culture, and he drew a comic about each adventure.
The result is a series of four-page comics, drawn in his Moleskine notebook ("Moresukine" to the Japanese) and uploaded to his LiveJournal. With experiences ranging from eating the potentially deadly blowfish, fugu, to staying in a cubicle hotel, to visiting Mount Fuji, this would be an interesting comic even with crappy art. But Schweiger's drawings are creative and often lyrically beautiful, despite the fact that he is working with the simplest of materials. No clever computer tricks here, just good draftsmanship.
This isn't the greatest story ever told, but it is kind of cool: It's a Japanese webcomic that was translated into English by a group of Australian students. The setting is a future society in which humans and fish-headed creatures called Kihada get along pretty well — until the Kihada start going on a rampage. The plot is straightforward and the moral is obvious, but we have a good time getting there. The style is classic manga, with smooth curves, well-defined backgrounds, and sound effects in Japanese. The main character is also a classic manga type, a pretty girl who wears form-fitting armor and totally kicks ass. Unlike most manga, Cosmic Police is in color, mostly eye-pleasing pastels.
This is a novelty, but it's also a nice little story. This is part of "manglish" — a regular feature in the Mainichi Daily News that is actually supposed to help Japanese people learn English. It's a webcomic in Japanese, but when you mouse over the Japanese characters, the text appears in English in a separate box. It tends not to work too well in Safari, my default browser, but it's fine in Firefox.
Most of the stories on the site aren't complete, and only a few show real promise, but Tears of a Crow is one of the best. It's the tale of a boy who gets between two crow lovers who can take on human form, and for such a short story it is surprisingly emotional. Sometimes the action is a bit hard to follow, but the art is well done in a classic, moody style.
Tears of a Crow is by Fumiko Mikami (translated by Roger Hutchings and Akiko Uematsu).