SugarShock!, reviewed by Larry "El Santo" Cruz
|
SugarShock! is a short webcomic. If the pages were removed from the anothology and printed in a separate collection, you'd have enough for about one comic book. So, basically, it's a one-shot. Believe me, I'm not complaining. I thought that Whedon's Astonishing X-Men, while frequently delightful, tends to be ridiculously drawn out for what little plot it has. The shorter, more condensed storytelling in SugarShock! was not only more efficient, but it did a better job of highlighting the most magnetic aspects of Whedon's trademark style... things like witty banter, shocking and humorous reversal of expectations, and strong female characters who actually act like women and not men in disguise.
I assume the series was so named because Whedon was on a monster Krispy Kreme bender when he was writing this story. I refuse to believe that the story was anything other than sugar fueled. In issue 1, Dandelion spends half her time hating on Vikings. That's at least a Level 3 sugar rush. And there's a totally non sequitur rant on Abraham Lincoln in issue 2 that rates a Level 5. I don't know how the frolicking squirrels in issue 3 rate, but I imagine they were influenced by mounds and mounds of delicious, super-refined sugar. In case you haven't caught on yet, SugarShock! is primarily comedic. I mean, it's about rock stars and alien warriors and robots and bikers --- it pretty much has to be. Thematically, SugarShock! reminds me a lot of The Adventures of Dr. McNinja, where ridiculous random elements were thrown around to form a similarly absurd story.
At the same time, Whedon does not whiff on the storytelling and character development. It would have been fairly easy for a busy guy like Whedon to simply stamp his name on a comic book and then hack out some utterly lazy tripe. (Is that your ears turning red, Kevin Smith?) How about when the product in question is a short webcomic buried within an anthology? But Whedon, classy guy that he is, does not ever sell his fans short.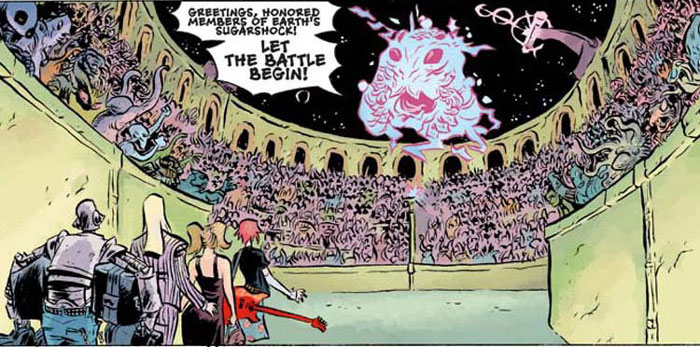 Take the tender loving care that went into writing the character of Dandelion, for example. She's the sort of obnoxious, bouncy ADD-addled chick that's supposed to remind readers of their cute little sister, but, most of the time, reminds you of the little sister you wanted to abandon at the supermarket. She bawls over tiny slights, generally acts on emotion, and annoys the hell out of the more straight-laced characters. Yet surprisingly, Dandelion turns out to be the most charming and likable character in SugarShock! Witness the power of Whedon's storytelling. He builds up the kind of sympathy where you root for the villains a little even if you like the heroes at the same time.
There are probably college courses out there that analyze exactly how Whedon does this ("So you see, class, pathos is generated between the villain and the audience when the villain is confronted by a seemingly vast alien armada"). I'll try to take a stab at it though: no matter how grating the personality, we identify with the characters who realize that they are way in over their heads... mainly because we, as readers and human beings, share the same oppressive feeling every single day.
(Incidentally, it's possible that Whedon heroines are so popular among fanboys because they're anime girls brought to life. I get that same vibe from Dandelion... only instead of emulating Rei Ayanami or Utena Tenjou, she's channeling the manic spirit of Excel Excel.)
In only a few pages, Whedon builds a fun, silly universe that I wouldn't mind revisiting. Heck, I could see it following in the steps of Concrete and Sin City to become Dark Horse's next break-out hit. Maybe, some day in the distant future, we'll see the SugarShock! movie hit theaters. Is SugarShock! the best Digital Comic of 2008? Probably not. Read through archives of the other nominees (Abominable Charles Christopher, Panda Express, Billy Dogma, and The Process) and tell me if SugarShock! is anywhere in their league.
Again, I appreciate SugarShock!'s breeziness, and I like the seemingly effortless craftsmanship Whedon invests into it. There isn't much to the comic beyond being a light comedy... and there are plenty of comedy webcomics out there than match or surpass the work of Whedon and Moon. However, is SugarShock! still my pick as the Eisner Award winner? You bet your River Tam PVC figurine it is.