The ComixTalk End of 2007 Roundtable
|
Xerexes: Without limiting things to webcomics what do you think the biggest stories in comics were this past year (and how much, if any, does the web show up in those stories)?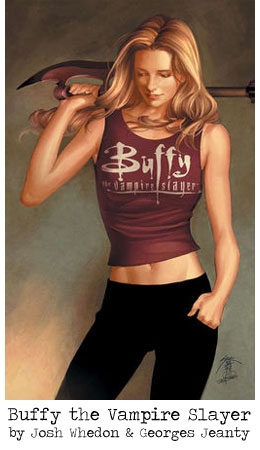 Deppey: We're in the middle of a grand, sweeping upheaval in the comics industry that will likely take several more years to fully get a handle upon. Much of it is already visible, of course: The rise of the bookstore market for graphic novels (and media profile for same), continued inertia on the newspaper funny page (and financial instability of newspapers in general), growth in manga and online comics, to name a few. Much of what we saw this year have been a continuation of existing trends -- even the explosion of Islam-related censorship in comics only comes as a surprise to people who've forgotten Salman Rushdie, or have never heard of Theo Van Gogh. We'll see further high-profile stories in 2008, of course, but the seeds for them have already been sown, I suspect.
For me, the biggest news of 2007 may well be the success of softcover books collecting stories based upon the existing properties Buffy the Vampire Slayer and The Dark Tower, which point to a potentially sizable market for genre comics that don't feature vigilantes in their underwear -- a market that may well tempt Marvel toward a major publishing push involving books not featuring superheroes. THAT would be news.
Spurgeon: The big story for me remains the explosion of censorship and hysteria regarding cartoon imagery in places like Bangladesh, India and perhaps scariest of all, Spain. The maturation of the North American book publishing market for graphic novel material is another -- the kind of material being bought, and from whom. The nature of the latest comics boom worldwide and the ways that comics isn't prepared for sustaining that success due to things like over-publishing and keeping the avenue for deep catalog sales in a constantly fragile state is another. DC Comics' inability to shift its event-comics momentum into sales of its regular titles is a huge story for that part of the industry. The way that replacements for FoxTrot's slots in the newspaper went to a variety of strips instead of a new hit or two was a fascinating snapshot of that market. Jay Kennedy's passing. Chattanooga losing Bruce Plante but gaining Clay Bennett and a general sense of a bottom being reached in terms of editorial cartoonist attrition.
Dijkhuis: Again, what Tom said, though I'd argue that the increasing censorship of cartoonish expression is part of a larger movement towards a culture of manufactured outrage followed by repression. I don't think there's a single instance where someone was outraged by a cartoon, or comic, or a musical, that there wasn't someone involved who had been patiently waiting for an opportunity to get outraged and helping that opportunity along.
Tyrrell: Buffy Season 8 has the potential to change how cult properties get treated in future. I mentioned Fabio Moon before, and I'm going to again. These past few months, I'm seeing Moon and his twin brother Gabriel Ba's names everywhere. I think they're the most promising talents of the decade. The webcomics retrospective at MoCCA (you still have time to see it) hit much, much bigger than I hoped. The differences between webcomics and traditional comics has blurred so much that it's largely a matter of semantics.
The McCloud Family Death March set the bar for all future promotional junkets. More importantly, I'm certain that Scott's creative juices got good and agitated just hanging around and talking with so many creative people in such a concentrated form for so long. Having seen him in large- and small-group dinners a couple times during the tour, I could practically see the ideas churning in his skull. His graphic novel is gonna be awesome.
As mentioned before, the Modern Tales/ComicSpace merger has huge potential for next year and beyond. A number of more mainstream news outlets started spreading news of webcomics to the wider world: Lev Grossman at Time and the Daily Telegraph (UK) come to mind, and there were others in there.
Badman: The number of comics stories I've heard on NPR this year. The explosion of reprints of old comic strips and comic books. History is starting to get its due, and I think that can only bode well for the future (learn from the past).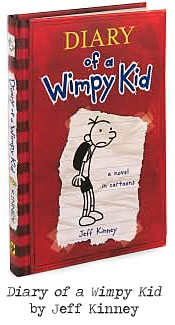 Alverson: I think the trend of prose writers like Stephen King making comics is huge. There are lots of projects in the works, and if they are marketed well, they can bring more readers to comics and more comics readers to the prose work as well. Tokyopop is working that strategy pretty hard in the young adult department, and their manga based on the Warriors young adult novels was the first global manga to crack the USA Today booklist.
And that's the second big story: The increasing acceptance of global manga. Just a few years ago, many critics turned up their nose at non-Japanese manga, but now sites like Manganews are reviewing it, and publishers like Del Rey and Go!Comi, whose bread and butter is licensing quality manga from Japan, have projects by non-Japanese creators in the works. What I think this means generally is a loosening of boundaries and a much bigger market for creators, as their work sits on the shelf next to wildly popular books like Naruto.
MacDonald: I do think that the move to monetize comics on the web was the biggest story of the year, although the jury is out on all the initiatives. The other big story of the year was continuing success and acceptance with graphic novels in bookstores, with 300, Dark Tower, Buffy, Diary of a Wimpy Kid, Naruto, Black Dossier, the PBF collection, an probably about a dozen books I'm forgetting selling in respectable to spectacular quantities.
The biggest story of the year that no one has talked about is probably Diary of a Wimpy Kid which started as–GOOD GRIEF!–a WEBCOMIC. This book has sold MORE COPIES THAN SOME VOLUMES OF NARUTO. I'd estimate that there are at least half a million copies of this book in print, and it has been on the NY Times bestseller list since MAY. It is a megahit. And what can we learn from it? Like manga, it's a book that speaks directly to its target audience -- middle-graders -- about the foibles and insecurities that hit them every day. It's a ground-zero hit. I'm not in the least bit shocked to find out that a humorous kid's comic is the biggest seller of the year. That's a no-brainer. If Marvel, Zuda, ComicMix and Platinum really wanted to make money this is where they would be going.
Shea and Gallatin: Well there's the Funky Winkerbean breast cancer storyline, and that For Better or For Worse creator Lynn Johnston announced that she was going into semi-retirement. The big webcomic stories like the changes to the Blank Label Comics collective and the new Halfpixel.com didn't really measure in the mainstream media. So maybe the only BIG stories were that DC and Marvel threw their very different hats into the webcomics ring.
Xerexes: I used to ask a question in past roundtables about whether the medium of webcomic grew in the past year or not, but I think this year it may be better to ask about comics as a whole. Do you think the medium of comics grew over the course of 2007 or did it hold steady? What changed for the better and worse and who were the people contributing to that?
Tyrrell: There's no one answer there. Traditional superhero comics are wheezing from one publisher-wide crossover stunt to the next; manga translations are through the roof; we keep getting more terrific original graphic novels; we're starting to get more Eurocomics on this side of the pond; and every time I step into my LCS (Midtown Comics, Times Square), I see more and more webcomics reprints on the shelves.
Dijkhuis: Incremental growth for webcomics, not much to report on otherwise. Print comics in the Netherlands and Belgium have seen further contraction of the market, with more publishers dumping their stock and reducing their opportunities for artists to be published - or at least, that's been my perception, which is heavily influenced by the collapse of one magazine that I was in. Or at least, that's my impression, which is at best semi-informed, and that impression is strictly limited to the market side of things. The culture of comics here has seen some positive developments over the past few years - not just the rise of webcomics but also an expansion of opportunities for artists to teach about comic creation in the classroom. This could result in an increase in the talent base in the next few years.
Spurgeon: I don't think I know what the question means, but let me try. In terms of being a consumer, this is the best time ever to be a reader of comics. In terms of the medium growing artistically, I think there's at once more great work and also more incentive to settle for not doing great work, which makes me wonder if there will be fewer great works from fewer new cartoonists as the years pass. I'm afraid that no matter what the overall growth is like, not enough money from that growth is being returned to the cartoonists, and that no one seems to care about this, and that 15 years from now all we'll be doing is raising money for cartoonists who are broke and need the cash.
Badman: I think that would depend on what aspect of comics one is considering. Certainly in the "mainstream recognition" and "publishing" sense there have been changes (for the better, I think). In the sense of new and innovative uses of the form, not so much. Where are the experimenters and innovators? Where are the critics and theorists? For the worse, Sturgeon's law still holds true.
Deppey: Strangely enough, I think I fall exactly on the opposite end of Tom's pessimism. Thanks to the rise of the bookstore market, there's greater financial incentive to earn decent royalties from niche-market graphic novels -- from Minx and Scholastic's youth-oriented approach, to tie-ins for things like Halo and Dark Tower, to high-concept items like the 9/11 adaptation -- and while I can see why Tom might see this as a distraction from great art (if I have his argument correct, and I'm not quite sure that I do), I think that building a wider base of support among the greater public will be far better for the industry in the long-term than the publication of a hundred Mauses and Fun Homes. What we need more than anything right now is a diverse, wide-ranging appeal to as many different kinds of readers as possible; the single biggest weakness in the North American comics industry -- the reason that manga publishers continue to whip them like ugly dogs -- remains the sharp divide between literary comics and the One True Genre, superheroes. That this divide is being filled by traditional prose publishers rather than longtime comics publishers is telling, but I'm all in favor of whatever gets us there.
Alverson: I think the medium is growing in a very significant way: People who never read comics before are picking up comics because they are interested in the content as much as the medium. I mentioned that a number of fiction writers are making comics based on their work, and I think readers have also been drawn titles like Cancer Vixen, American Born Chinese, and Fun Home because of what they are about as much as how they are presented. Dirk mentioned With the Light, the story of a family with an autistic child; from trackbacks and comments to my own review I know it is being read by people who are interested in autism, people who may have seen manga before but never read one until they were struck by the subject of this one. This is happening in part because the marketing folks are sending out review copies to the mainstream press, getting those NPR stories, and placing the books where readers can find them.
Shea and Gallatin: I think things have grown. It used to be that I would pick up good new comics maybe once every 6 months and be hooked on it. Lately though I have felt like good projects are coming out of everywhere. Some real veterans have picked up new projects. Pro artists are dipping into webcomics and doing great things and projects like Comicpress (the webcomic-specific theme for the blogging software Wordpress) are making it easy for people to independently publish online. It's been very exciting.
MacDonald: I'm somewhere between Tom and Dirk. It's an incredible time to be reading comics, but some people are being squeezed out: ephemerally beautiful indie work is not a huge moneymaker in any medium, and comics are no different. However, we are getting to a place where this kind of material has an audience that can support it. It's all about getting it in front of the right people and maintaining the delivery system.
Comics grew in that a lot of genres and formats that have been considered unmarketable are slowly beginning to be marketable again (see kids comics and humor comics, above.) It grew in that we have generations of cartoonists who are influenced by really good literary comics and not superhero comics, and the work is getting more and more interesting and nuanced. People are taking creative chances.
The other thing that is awesome is that you have generations of cartoonists coming out of SVA and CCS and MCAD and SCAD who are being taught by really good cartoonists who grew up on the good stuff, so there is a real lineage of craft beginning to assert itself as well. The kids getting out of art school are years beyond where the kids used to be in terms of savvy and awareness, and while they still have a lot of seasoning to get under their belt, I think they will take the medium to places we've never dreamed of. The only problem is finding a place for them to get that seasoning. (Turning out two mini comics a year is not going to teach you the things you need to know to be a great cartoonist.) And that is where the web will come in.