I'm having trouble taking it all in. It was an amazing experience. I'm still shutting my eyes and taking myself back to the time I spent there, with all the good times I had and all the new friends I made.
There are three important things to know for reading this: I have never been to a gaming convention before. I have never been to New Jersey before. And I have never been a guest to a con before. So bearing those things in mind, here's my report…
This was the sixth bi-annual installment of UberCon, a New Jersey-based convention that bills itself as "the ultimate gaming experience." It also featured a healthy supply of webcomics as well. Creators on hand this year included Pete Abrams (Sluggy Freelance), Rich Burlew (The Order of the Stick), Jennie Breeden (The Devils Panties), Rob Balder (PartiallyClips), Onezumi and Harknell (Onezumi Studios), T Campbell (Search Engine Funnies) and naturally, myself.
Friday:
My plan for Friday was to A) Get to the Con, B) Check into my room, and C) Get down (tonight). The portion of the day worthy of note began around 2:30PM, right after I'd finished a spectacular powernap. I am a procrastinator by nature, so my packing had yet to be finished. I packed up everything I'd need for the Con. Clothes, Comics to sell, Stickers, our brand new Biscuit Press Demo Binder, and a copy of the Webcomics Telethon Book (because AleX and I are in it, making for a good demo piece, not to mention spread awareness for the book itself). I awaited my friend who we refer to as Trill (a gal who I met at prior Otakons, is an aspiring webcartoonist, and a swiftly made pal) to come and whisk me away to the Great Meadowlands. This was crucial to completing part A of the plan, because I do not have a car. Not having this ride would've forced me to take three trains and a cab to get there, so I extended my gratitude by letting her have my co-guest pass.
We spent the car ride catching up, telling stories, and psyching ourselves up for the impending convention. Having never been to Jersey before, I stared in awe of the intricate highways, overpasses and cloverleaves. Yea verily, New Jersey is a great homage to Trafficus, the god of automobile locomotion.
The Hotel was nice and easy to find. We entered and proceeded to the reception desk so I could check myself in. I had two really heavy bags, mind. I gave T. Campbell a ring to see where he was, and serendipitously enough he showed up at the same time we did. So we checked him in and made our way to the 16th floor, where we were stationed.
Checking in to the convention itself was a delight on its own. Trill got a free pass on my account and there was much rejoicing. The goodie bags were splendid, containing a sourcebook for Heroes Unlimited probably worth at least $13 on its own.
The three of us made our way to the convention hall to witness the glorious spread. There were six major areas in the hall. First there was the well-stocked dealer's room containing tons of gaming supplies, plush Lovecraft monsters, and lots and lots of swords. Impressive swords. They had an Ocarina of Time Master Sword that looked very realistic (and fragile). There was this great Buster Sword, Sephiroth's blade, and a Sword of Omens. I need to pick me up one of those. Also in the dealer's room was the UberCon guest of honor, Jennie Breeden with all her books, arts, buttons and things.
The video game area seemed well run. Although all I ever saw anyone play was Soul Calibur II. Not that there's anything wrong with that, it's a fantastic game. The LAN was both impressive and helpful. If you weren't down for playing any games or tournaments, you could just surf the web if you wanted.
There were countless game tables, games for borrowing, and gamers at said game tables. It was definitely a comfort to see so much solid gaming going on. This was split with a partition from the RP room, where even more gamers sat and gamed the night away. Then there was the Guest's row, or Artist Alley, or Vendor's Aisle, or whatever you want to call it. Bottom line, us guests were situated here to peddle our wares.
So the evening saw us retreating to the other part of the Convention, referred to as the Churchill Downs room. We were treated to a stand-up comedy performance by Aaron Wood of Rabdu Productions, chock full of Tabletop and MMORPG humor. I'll never forget his analogy of playing World of Warcraft to going to McDonalds.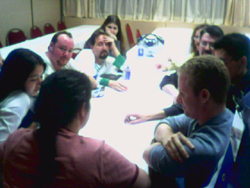 Midway through, Rob Balder popped in carrying a boom box. I thought nothing of it at the time. At the performance's conclusion, Rob decided to give us all a grand presentation of Filk. For those unfamiliar, Filk is the hobby of writing and singing amateur parody music, typically on acoustic guitar and with a geekish theme. Balder went without hesitation into "Don't Shoot," a spoof on No Doubt's "Don't Speak." The performance was entertaining to say the least. Complete with a full on physical performance as well as vocal, and audience participation. He asked us to pantomime a paintball fight, but everyone pretty much took aim at him, which he dutifully RP'd. After Rob filked himself over, there was much Pass the Pigs.
To sum up the rest of the evening, let me say this: If you're ever at a convention where Rob Balder is present, stay close to that man. That's where the party is.
Saturday:
Around 10:30AM, I headed down to the Guest's Alley to set up shop. I was placed next to T because both of us had a smaller assortment of goods for display, and could therefore share the table. Not that we minded, of course.
I was informed shortly before 1PM that Trivial Pursuit was going on back in the Churchill Downs room. I told Kim, the guest director, that I might check it out. Upon arrival, I found myself to be one of the people "Running the event," so to speak. This was a sort of "Play Trivial Pursuit with the Guests," thing. So Pete Abrams, Brian from Thousand Hats Productions, and I each had a team of attendees playing together, doing a bit of speed-Trivial Pursuit. After the 40 minute time limit for the event it was revealed that my team (which I named "Team Awesome") had won the day, despite Pete's team having like nine people on it.
At 4PM was the Webcomics Panel, which had a decent turnout, in that the people who were there were genuinely interested in talking about webcomics, which is all I ask. The panel, featured Pete, Jennie, Myself, Rich Burlew, T. Campbell, the Onezumi Crew, and Rob. We talked about the ever-present web vs. print battle, getting started in webcomics, and generally what makes a webcomic good.
Afterwards I grabbed a quick bite with the Onezumi crew, and raced right back to help run the Dirty Pictionary event. This was a blast. Team "Cry more, n00b," was Myself, Chris Moreno, Erica Henderson, and Aaron. The other team included Balder, Breeden, Keith R. A. DeCandido, and one of the convention-goers. The room was packed. I'm serious, the turnout for this event was amazing. Who knew, right? Unfortunately, Team "Cry more, n00b" cried more, as we were defeated 4-3.
The clock struck 7, and it was time to prepare. Prepare for what, you ask? Prepare for Slugween. Slugween is the Sluggy Freelance hosted Halloween Party. Costumes were mandatory, and the theme was Zombie Pirates. Why? Because they were Living Pirates last year.
I donned my Naked Snake (Metal Gear Solid 3) costume and snuck around the convention below for a little while. Getting a few laughs and some stares. The most delicious irony was that the LARPers gave me funny looks. Let that sink in for a minute.
The party started to go underway, and I realized my Snake costume was just so out of place. So I decided I was not Snake, but a Space Pirate, which caught on very well. After losing a hand at blackjack I would shout "DAMN! I mean… SPACE DAMN!" The way the games worked was delightfully simple: You were given 5 Doubloons at sign-in, and you would use these Doubloons for mass amounts of gambling and purchasing drinks. Whoever had the most Doubloons at the end of the night won the grand prize: Framed Art by Pete. There was also a costume contest, where everyone had a blast strutting their stuff.
Let me tell you about Rob's costume. Now this is tricky to explain, as it's a pretty visual joke. He started off with this Cardinal outfit (think Spanish Inquisition). On the way to the con, he bought this Zombie Pirate mask from a Halloween shop. He cut a large hole in the back so you could see his face, and the mask itself was on the back of his head with the Cardinal Cap topping it off. So what was he? He was a Cardinals-Pirates Double Header. Unfortunately (though not surprisingly), no one really got it without having it explained to them.
Slugween was amazing. I was terrified to discover there was an additional guest/crew party immediately afterwards. Terrified, realizing that I definitely should've paced myself better. But this last party was amazing as well, everyone crowded back into the Churchill Downs room kicking back over drinks, while Aaron and I belted out songs at the top of our lungs accompanied by the three dudes that brought their guitars and saxophone.
At 3AM, I had to retreat if I had any hope for conserving enough energy to make it through the next day.
Sunday: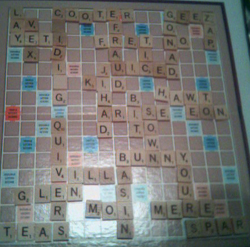 I headed down to the Vendor's room to keep T company as he sold more Faans, How to Break into Comics, and Penny and Aggie books. I also made my rounds and picked up Jennie's for-print exclusive Devil's Panties books along with Rich's Order of the Stick Prequel Book (with free buttons!). Not to mention Penny and Aggie #1-3, illustrated by Gisèle Lagacé, and How to Break into Comics, illustrated by our good bud Jami Noguchi.
We had a good game of Scrabble with Erica. Scratch that. Erica and T had a good game of Scrabble while I got totally trounced by T, while Erica managed to hold her own quite well (losing only by about 10 points). Although I definitely learned a lesson. Don't play Scrabble against a professional writer.
After one last parting discussion with Balder about the upcoming "Get Nifty" Sluggy Freelance card game, T and I made our departure. We gabbed about everything webcomics while we sped down the Turnpike. I briefly showed him around Temple University (my campus), and we spoke for a little while about stuff we're working on over Wendy's. Then I sent him back home to D.C., and I went back to my apartment, tying to take in all that I had just experienced.
Summary:
UberCon was probably the most fun I've had in years. The staff performed with flying colors. They always smiled in our direction, they kept us pretty well fed, and they loaded us with goodies. They treated us guests like Kings, whether we were Pete Abrams or, well… Me. And that's what made them awesome. It's no secret that I don't have much going for me in the way of readership, traffic, or profit. But they treated me just as well as everyone else, and that I think is the most important thing about any convention staff. Equality.
UberCon remains a gaming convention at heart, but the webcomic presence is building. Hopefully, it'll continue to flourish. So all you people in the North Jersey area and beyond can come out and have a blast. Next one's in February.
See you there.